New Series
In this series, I suggest 5 books every pastor should read related to every book of the New Testament. I will do one post per NT book (so today is Matthew). Now, I am going to try to recommend books that are not commentaries. Commentaries are great, and you should use them, but this series is focused on more thematic books that will shape your understanding of that NT book.
*Caveat: I want to try to keep myself to recommending only (or very close to!) 5 books to be concise. There are many, many great books out there, but I am choosing 5 that have been particularly formative for me. Feel free to comment with your own favorites.
**Caveat 2: These lists are not for scholars or PhD students. They are for pastors and non-academic Christian leaders. So, I have been mindful of recommending books that are affordable for individuals.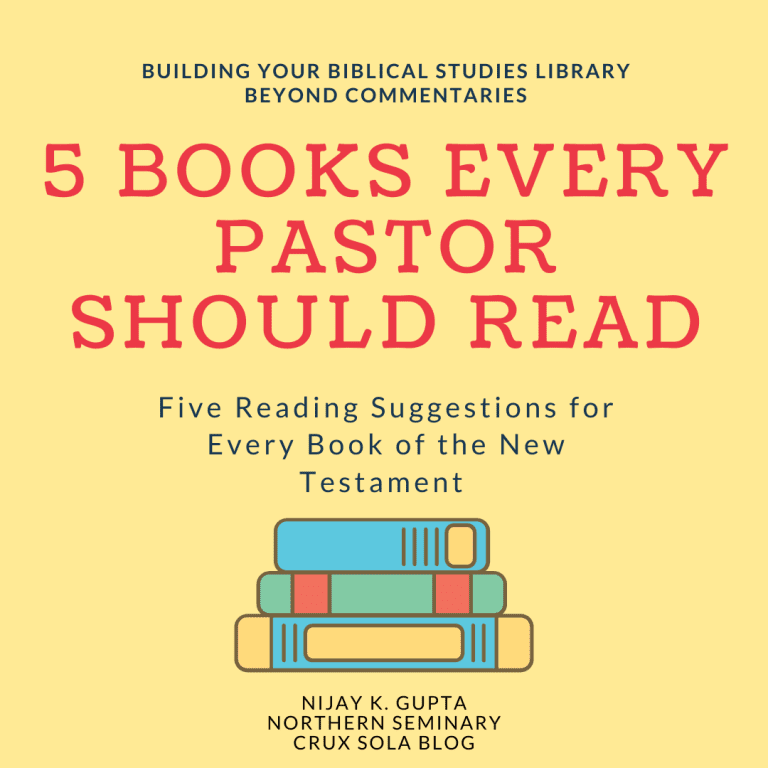 The Gospel of Matthew
Dietrich Bonhoeffer, Discipleship
If you haven't read this classic, you are missing out. This has been hugely formative for both my understanding of Matthew and my Christian life in general.
David Bauer, The Gospel of the Son of God: An Introduction to Matthew
This is a new book, but I read it cover to cover and it is truly a comprehensive guide to Matthew from a respected Matthew scholar.
Morna Hooker, Beginnings: Keys That Open the Gospels; Endings: Invitations to Discipleship
Ok, I am already cheating because Hooker's two books here are not just on Matthew. But her work on beginnings and endings will really open your eyes to the framing elements of Matthew (and the other Gospels). Bonus!
Mark Allan Powell, God with Us: A Pastoral Theology of Matthew's Gospel
Powell is a master writer, teacher, and scholar; he talks about how Matthew's Gospel can inform the work and lifestyle of pastors. I have used this as a textbook before.
Jerome Neyrey, Honor and Shame in the Gospel of Matthew
Reading this book in seminary was my first taste of social-scientific criticism. Neyrey's work opened up my eyes to a whole new way of looking at the New Testament, i.e., through the lens of honor and shame (social dynamics and values in the ancient world).
The Sermon on the Mount through the Centuries
OK, now I am cheating again with another book, but I couldn't help myself. I used this as a textbook as well and it is SUPER eye-opening. I would say a "must-read": Chrysostom, Augustine, Luther, Calvin, Dante, Bonhoeffer, Yoder, Boff, Stott.
Recommended Introduction to the Gospels
For each Gospels post, I want to recommend one introduction to the Gospels.
Richard Burridge, Four Gospels, One Jesus? A Symbolic Reading
This is not a traditional "survey"; it is a short, but insightful perspective on what the gospels are, and how they come together as a fourfold witness to the one Jesus. You need this on your shelf—read it asap. It's a modern classic.