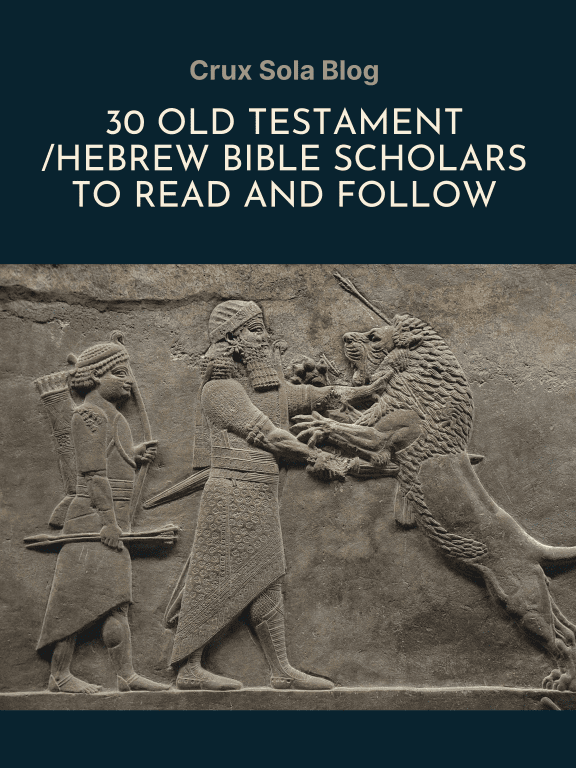 L. Michael Morales, Professor of Biblical Studies at Greenville Presbyterian Theological Seminary
---
Why do you love teaching and researching about the OT/HB?
Studying the Torah never fails to leave me with joy and a sense of wonder–its view of God's glory, strength, and especially of his long-suffering forbearance and mercy as brought out through Moses' intercession is magnificent (see, e.g., Num. 14:17-18). As the intended foundation for the rest of the Hebrew and Christian canons, the Torah contains the root message of Scripture that eventually bears fruit in the New Testament–the more I understand Moses, the more deeply I understand the Gospels and its message concerning the person and work of Jesus Christ.
As an aside, Hebrew narrative also happens to be one of the most engaging genres to work with: filled with humor, beautiful structure, and profound teaching. Even passing on a hint of these things to students, whether in the classroom or through writing, makes for a rewarding vocation.
---
What is one "big idea" in your scholarship?
I find captivating the biblical message that God made us and then saves us to know life-yielding fellowship and communion with him in the house of his creation. This is the goal of the covenant and the heart of redemptive history: 'I will be your God, you will be my people, and I will dwell in your midst.' To the glory of God, this is what Jesus Christ is accomplishing: drawing the Jewish people and the nations to the new Zion (Isa. 2:1-4; Rev. 21:3).
---
Who is one of your academic heroes and why do you admire them?
I remain grateful for the time and friendship I have had with
Gordon J. Wenham
, beginning with my doctoral studies and beyond. He is not only a gifted and able scholar, but a humble man who loves the church and who writes with both simplicity and brevity–qualities that have eluded me. Several of his writings have spurred my own research and work.
---
What books were formative for you when you were a student? Why were they so important and shaping?
Formative biblical studies books would include the works of
Brevard Childs
and
Gerhard von Rad
, Samuel Terrien's
The Elusive Presence
, and especially Jon D. Levenson's
Sinai & Zion
.
In terms of my own approach to biblical theology, based on patterns, my thinking was greatly stimulated by Yves Congar's The Mystery of the Temple, and S. H. Hooke's Alpha and Omega, along with, more generally, the work of Mircea Eliade and Northrop Frye.
I should also mention the writings of W. J. Phythian-Adams (e.g., The Way of At-one-ment), who wrote in the early to mid-20th century. While not agreeing with him in many areas, his approach to biblical theology was stunningly on point and still useful today.
---
Read Morales' Work
Who Shall Ascend the Mountain of the Lord? A Biblical Theology of Leviticus (IVP, 2015)
---
Follow Morales Online
---
If you ran into me at SBL, and you didn't want to talk about OT/HB studies, what would you want to talk about?
Ruling out OT/HB studies, I would likely want to talk about New Testament studies, especially the Gospel of John, Hebrews, and Revelation (and maybe how Spain's victory in 2010 was the greatest World Cup in history). I enjoy spending time with my wife Elise and our four sons, especially exploring new places, old Spanish Florida (historical places like St. Augustine), or the beach. Since I'm usually reading biblical studies articles and monographs, I give my mind a rest by listening to fiction, mostly the mystery and espionage genres (recommendations always welcome).
---
What is a research/writing project you are working on right now that you are excited about?
I am in the midst of work on a commentary for the book of Numbers, for the Apollos series (IVP Academic). It has been intense and slow-going work, but a delight as well, giving me a greater understanding of the Pentateuch as a whole, new appreciation for the tremendous human being and faithful servant that Moses was for Israel's sake, and, as noted already, a deeper insight into God's character, including his forbearance and goodness. Numbers is currently my favorite book in the Hebrew Bible.