Yesterday, I made the exciting announcement of the launching of a new commentary series—The Bible in God's World (Cascade Books).
Today, I am able to share the list of OT volumes and the contracted contributors. We are excited about the diversity and expertise represented in this list!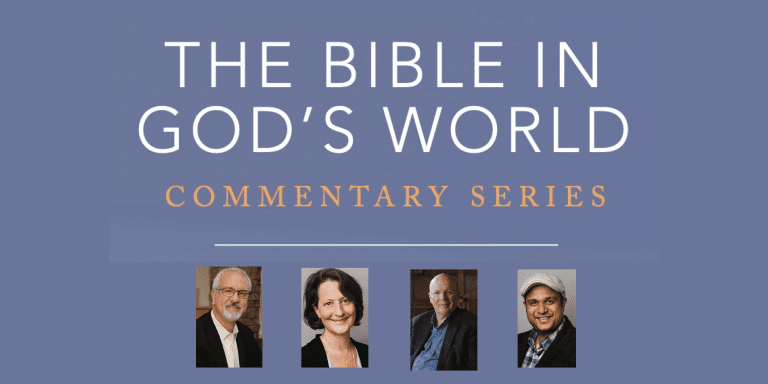 ---
Genesis/Matthew Schlimm (Dubuque Theological Seminary)
Exodus/T. Desmond Alexander (Union Theological College) and Justin Young (Gordon-Conwell Theological Seminary, Jacksonville).
Leviticus/G. Geoffrey Harper (Sydney Missionary & Bible College)
Numbers/Helen Paynter (Bristol Bible College)
Deuteronomy/TBD
Joshua/Michelle Knight (Trinity Evangelical Divinity School)
Judges-Ruth/Divid Firth (Trinity College Bristol) on Judges, Lissa Wray Beal (Providence Theological Seminary) on Ruth
1-2 Samuel/Denise Flanders (Taylor University)
1-2 Kings/David Schreiner (Wesley Biblical Seminary)
1-2 Chronicles/Nathan Lovell (George Whitefield College)
Ezra-Nehemiah/Aubrey Buster (Wheaton College)
Megilloth: Esther/Brittany Melton (Palm Beach Atlantic University)
Job/TBD
Psalms/Andrew C. Witt (Tyndale University College)
Proverbs/Lindsay Wilson (Ridley College)
Ecclesiastes/John Goldingay (Fuller Seminary)
Isaiah/Matthew J. Lynch (Regent College)
Jeremiah/Jill Firth (Ridley College)
Ezekiel/TBD
Daniel/TBD
Lamentations-Song of Songs/Chloe Sun (Logos Evangelical Seminary)
Minor Prophets:
Hosea/Beth Stovell (Ambrose Seminary & University) and Mason Lancaster (Point Loma Nazarene University)
Amos/Brent Strawn (Duke Divinity School)
Micah/Esteban Voth (United Bible Societies)
Nah, Hab, Zeph/Dominick Hernández (Biola University)
Joel, Obad/Jerry Hwang (Singapore Bible College)
Jonah/M. Daniel Carroll R. (Wheaton College)
Hag, Zech/Joel Barker (Heritage College & Seminary)
Malachi/Chip Hardy (Southeastern Baptist Theological Seminary)