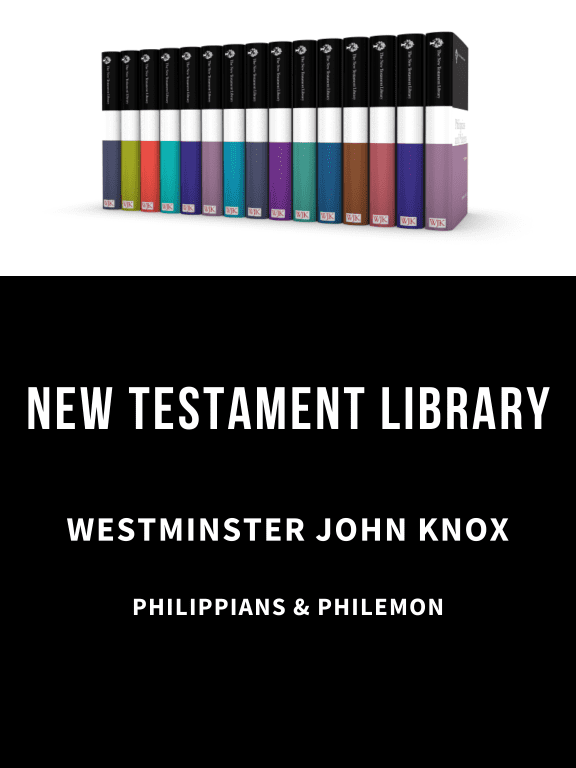 I am excited to announce that I have signed a contract to write a volume on Philippians and Philemon for the New Testament Library series (Westminster John Knox). I really enjoy writing commentaries and I value them as a resource for students, scholars, and pastors. I have long appreciated the NTL series, going back to Brevard Childs' classic Exodus commentary, to NT volumes like Marianne Meye Thompson's John and Luke Timothy Johnson's Hebrews. (And I am especially looking forward to Beverly Gaventa's highly anticipated Romans volume.)
Wait, didn't you already publish a commentary on Philippians? 
Yes! I co-wrote the volume on Philippians with Mike Bird for New Cambridge Bible Commentary. Mike and I split up Philippians, he wrote most of Philippians 1 & 3, and I wrote most of Philippians 2 & 4. This NTL volume will give me a chance to write my own commentary with all of my own continuous analysis. Mike and I are very like-minded, so that is why the Cambridge volume process worked so well, but I am excited to have a chance to expand on my own exegesis (the NTL volume will be substantially longer and more technical; 50+ percent more).  Also, I have been researching and publishing some newer scholarship that does not appear in the NCBC volume, on Paul and emotions, politics, cruciformity, women, and church leadership. So, there will be plenty of "new" material.
Wait, isn't there already a NTL volume on Philippians and Philemon by Charles Cousar?
Yes! And Cousar is an excellent scholar, I have learned from his great work in Pauline studies. But his specific volume in the NTL series is very short (106 pp.), offering only about a dozen pages total on Philemon. I am excited to write a longer volume overall, but especially to devote about 100 pages to Philemon. Did you know that not only are most Philemon commentaries short (and seemingly an afterthought as a tag-a-long with another Pauline text), but to my knowledge there is only 1 Philemon commentary by a scholar of color in a major commentary series (Cain Hope Felder, NIB; Callahan's work is a classic, but not in a major series). I could be wrong (please let me know in the comments). In any case, what excites me most about writing this volume is the chance to dig deep into some of the latest scholarship on Philemon, an area of study that is booming at present.
When will this new commentary be published?
Since I haven't written a single word of it yet, it's not gonna happen soon. My hope is to see the volume published by 2027/2028.
Does the world need more commentaries (*eyeroll*)?
Believe it or not, people continue to buy them out of a sense that certain voices and certain series have something substantial to offer. NTL has done a good job of choosing great scholars with fresh insight into biblical texts. I am honored to write for NTL and I hope I can do the series proud. I do think there are too many commentary series out there, some have discontinued their series (i.e., flopped), others have sold very well. I am willing to "let the market decide" on these matters. I think I have some new and interesting things to say about Philippians and Philemon, and I hope that readers will find my research useful, but that is for them to decide in due time.
In the meantime, what are my (Nijay's) favorite commentaries in Philippians and Philemon?
Philippians: I love the work of Joseph Hellerman, Morna Hooker, Markus Bockmuehl, Lynn Cohick, Steve Fowl and more recently Elsa Tamez (and check out Jeannine Brown's new TNTC volume).
Philemon: Check out Scot McKnight, Seth Ehorn, Cain Hope Felder, Bruce Longenecker, and Marianne Meye Thompson.
Also, be on the lookout, sometime in the next few months I will be publishing an annotated bibliography on Philemon scholarship for Oxford Bibliographies Online (behind a paywall, fyi).