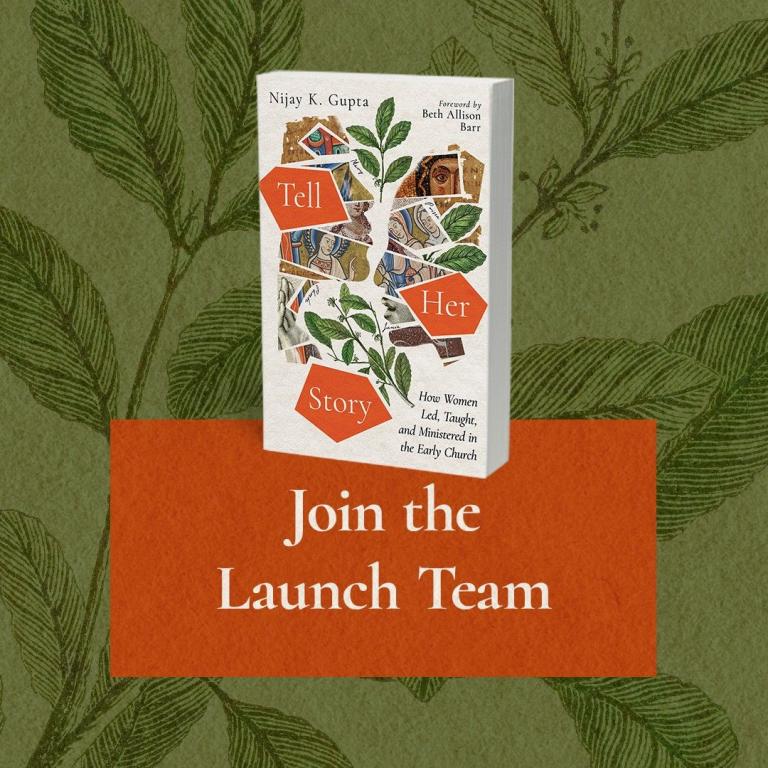 If you would like to start reading Tell Her Story now (more than a month in advance), please consider joining the launch team, which is designed to generate interest in the book and help the book with a strong rollout. Joining a launch team means you are wanting to help get the word out and share about the book among your friends and ministry colleagues.
We are pleased to offer several benefits for joining our launch team including:
-A digital copy of the book to read in advance before the official release.
-A private Facebook group with me (Nijay) with access to exclusive content (created just for the launch team!)
-A private weekly book study of Tell Her Story led by me (Nijay) in the FB group.
-A **free** t-shirt that has the names of the women leaders of the early church highlighted in my book
-Exclusive book giveaways of some of my other books (via the FB group)
-Special invitations to online events related to Tell Her Story (currently planning an online seminar with Dr. Beth Allison Bar, who graciously wrote the foreword to my book)
-Other IVP Academic perks!
Expectations
-We will ask the launch team to buy the book from Amazon or their preferred bookstore (this allows them to post a verified review)
-We will ask the launch team to write a review for Amazon and/or Goodreads, blogs, etc.
-We will ask the launch team to share about the book in their communities and networks
There will be absolutely no expectation or hard sell for anyone to write a positive review. We just want to spread the word and spread the love for women in ministry then and now!
---
How to join the Launch Team:
Fill out this form: https://bit.ly/tellherstorylaunchteam
You will be added to the private Facebook Group on February 14, 2023 (you will get digital access to the book, the book study will begin that week, and your t-shirt will be ordered!)
---
Book Description
Women were there. For centuries, discussions of early Christianity have focused on male leaders in the church. But there is ample evidence right in the New Testament that women were actively involved in ministry, at the frontier of the gospel mission, and as respected leaders.
Nijay Gupta calls us to bring these women out of the shadows by shining light on their many inspiring contributions to the planting, growth, and health of the first Christian churches. He sets the context by exploring the lives of first-century women and addressing common misconceptions, then focuses on the women leaders of the early churches as revealed in Paul's writings. We discover the major roles of people such as:
Phoebe, Paul's trusted coworker
Prisca, strategic leader and expert teacher
Junia, courageous apostle
Nympha, representative of countless lesser-known figures
When we understand the world in which Jesus and his followers lived and what the New Testament actually attests about women in the churches, it becomes clear that women were active participants and trusted leaders all along. They were welcomed by Paul and other apostles, were equipped and trained for ministry leadership, instructed others, traveled long distances, were imprisoned—and once in a while became heroes and giants.
The New Testament writers tell their stories. It's time for the church to retell them, again and again.
---
Endorsements
"At last, an analysis that gives thorough attention to Scripture's context, culture, and history! Nijay Gupta's Tell Her Story unearths the stunning leadership of biblical women and their allies. It may be the final nail in the coffin of Christian patriarchy."
"A first-rate introduction to the place of women in the earliest churches. With care and sensitivity to the ancient context, Nijay Gupta skillfully uncovers the stories of a range of female leaders, teachers, and missionaries, and highlights their relevance for today. If you think that only men held leadership roles in the first-century church, you need to read this book! Highly recommended for students and church groups alike."
"Oh, what we can learn when we tell her story! Wherever you stand on women in the church, Tell Her Story will enrich you. This book shows that we still have a lot of work to do in making women visible. What do the stories of women in Scripture teach us about our God, discipleship, and ministry? How we listen to these stories can reveal what we value. Nijay Gupta gives witness to God's work in the unfolding of the prominence of women in the Scriptures, which also makes visible the overarching story and our location in it as the bride of Christ."
"This book is a significant contribution to the ongoing conversations about women in leadership in the early church. Nijay Gupta takes the reader on an important journey throughout the New Testament and demonstrates that 'wherever men were doing ministry, women were there doing it as well,' leading, teaching, and ministering not as second-class citizens but as equals bearing witness to the power of the gospel to transform lives."
"The history of Christianity is filled with untold, even hidden stories of women's contributions to the ministry of the church from Scripture and beyond. That's why it's my pleasure to recommend biblical scholar Nijay Gupta's most recent book, which features the stories of prominent women from Scripture and the early church based on the most current scholarship. In a readable, informed, vulnerable, and engaging way, Gupta sets the record straight that women could and did serve in significant roles in ministry leadership from Christianity's inception."
"In Tell Her Story, Nijay Gupta brings to the topic of early Christian women (and some of their foremothers) a mastery of New Testament texts and backgrounds. Combining academic expertise with approachable prose, Gupta takes a fresh look at stories, people, and contexts—from judge Deborah leading Israel to deacon-patron Phoebe delivering the Epistle to the Romans to apostle Junia doing prison time. In exploring the prominent place of women in the history of our faith, the author recovers lost meanings and casts a vision for men and women partnering to serve God's people."