"50 Shades of Grey" has become a worldwide phenomenon which has stirred up a lot of conversation and debate about sexuality, fantasy and marriage. My wife Ashley wrote a hugely popular post on "The Truth about Women and Porn" which had some excellent insights about "50 Shades," porn, fantasy and sex. You should check it out.
I'm not writing to critique the book or movie, but rather to help you have a red-hot, real-life marriage (instead of merely a fictional fantasy).
Below are 50 quick marriage tips which could potentially transform your sex life, communication, and overall health of your marriage. Give them a try!
In no particular order…
1. Don't keep secrets from each other. Secrecy is the enemy of intimacy.
2. Turn off your phones and TV at least 30 minutes every night for uninterrupted conversation.
3. Say "I love you," but also say specific attributes you love and appreciate about each other.
4. Be each other's biggest encouragers; not each other's biggest critics.
5. Foreplay tip: Make out for at least 20 minutes before anyone takes off their clothes.
6. Cuddle more, argue less.
7. Find some "couple friends" who have a healthy marriage and hang out with them.
8. Make "Date Night" a priority (even if it's just watching Netflix on the couch with microwave popcorn).
9. Ask each other these 21 questions.
10. Watch this new video series on sex and marriage.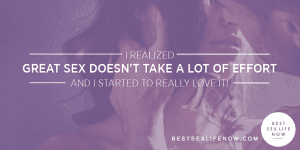 11. Don't put your marriage on hold while you're raising your kids or you'll end up with an "empty nest" and an empty marriage!
12. Kiss each other in front of your kids. Here's why.
13. When you're in a disagreement, never interrupt each other.
14. Don't have arguments via text message. Talk it out.
15. Try to learn something new about each other every single day.
16. Dream together. Set collective goals (not just individual goals).
17. Give each other foot rubs.
18. Serve each other around the house (voluntarily do "chores" your spouse normally does).
19. Watch our FREE video series on The 4 Pillars of a Strong Marriage.
20. Get matching "I love my hot husband/wife" tee shirts.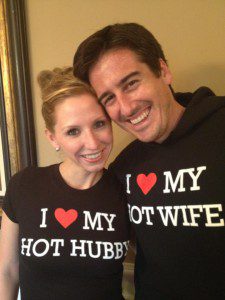 21. Serve together (in your church, community, etc.)
22. Pray together.
23. Follow these 8 timeless marriage principles from the Bible.
24. Snuggle.
25. Adopt these Ten "House Rules" in your home.
26. Love your spouse even when they're acting unlovable (that's usually when people need love the most).
27. Be thoughtful.
28. Be courteous. Say "please" and "thank you" to each other.
29. When you've blown it, admit fault and humbly seek your spouse's forgiveness.
30. When your spouse has blown it, offer grace and forgiveness.
31. Don't talk negatively about each other in public or online (NEVER vent about each other on social media).
32. Don't tolerate anybody else talking negatively to or about your spouse (even your own families and in-laws).
33. Don't take marriage advice from anyone who doesn't love marriage.
34. Connect with me on twitter for daily marriage-building tips and tools.
35. Read my wife Ashley's blog. (She's the smart one in the relationship!)
36. Don't nag each other. It frustrates the nagger and the one being nagged.
37. Follow a financial plan. Money stress can wreck a marriage. Here are 4 simple ways to get started.
38. Don't watch porn. Read this to see the reasons why porn hurts marriages.
39. Give your best to each other, not your leftovers after you've given your best to everyone else.
40. Never stop flirting with your spouse and never start flirting with anybody else!
42. Be patient with each other. Your spouse is always more important that your schedule.
43. Wear your wedding ring.
44. Connect into a community of faith. A good church can make a world of difference in your marriage and family.
45. When you have to choose between saying nothing or saying something mean to your spouse, say nothing every time!
46. Read "iVow: Secrets to a Stronger Marriage" and you can also Download the ebook straight to your iPhone or iPad.
47. Celebrate each other's victories.
48. Mourn each other's losses.
49. Stand by each other faithfully through all the seasons of life.
50. Never give up on each other!
If this post encouraged you, please share it on social media using the links below so we can encourage others too!