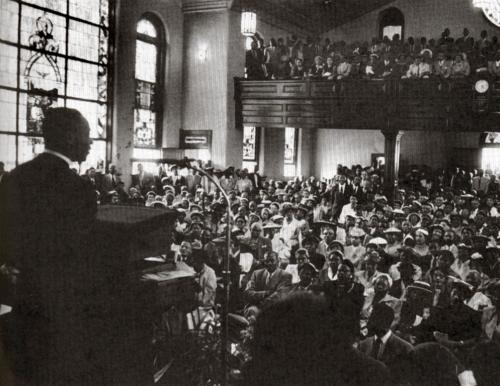 "Now there is a final reason I think that Jesus says, "Love your enemies." It is this: that love has within it a redemptive power. And there is a power there that eventually transforms individuals. That's why Jesus says, "Love your enemies." Because if you hate your enemies, you have no way to redeem and to transform your enemies. But if you love your enemies, you will discover that at the very root of love is the power of redemption. You just keep loving people and keep loving them, even though they're mistreating you. Here's the person who is a neighbor, and this person is doing something wrong to you and all of that. Just keep being friendly to that person. Keep loving them. Don't do anything to embarrass them. Just keep loving them, and they can't stand it too long. Oh, they react in many ways in the beginning. They react with bitterness because they're mad because you love them like that. They react with guilt feelings, and sometimes they'll hate you a little more at that transition period, but just keep loving them. And by the power of your love they will break down under the load. That's love, you see. It is redemptive, and this is why Jesus says love. There's something about love that builds up and is creative. There is something about hate that tears down and is destructive. So love your enemies.
There is a little tree planted on a little hill and on that tree hangs the most influential character that ever came in this world. But never feel that that tree is a meaningless drama that took place on the stages of history. Oh no, it is a telescope through which we look out into the long vista of eternity, and see the love of God breaking forth into time. It is an eternal reminder to a power-drunk generation that love is the only way. It is an eternal reminder to a generation depending on nuclear and atomic energy, a generation depending on physical violence, that love is the only creative, redemptive, transforming power in the universe.
So this morning, as I look into your eyes, and into the eyes of all of my brothers in Alabama and all over America and over the world, I say to you, "I love you. I would rather die than hate you." And I'm foolish enough to believe that through the power of this love somewhere, men of the most recalcitrant bent will be transformed. And then we will be in God's kingdom. We will be able to matriculate into the university of eternal life because we had the power to love our enemies, to bless those persons that cursed us, to even decide to be good to those persons who hated us, and we even prayed for those persons who despitefully used us.
Oh God, help us in our lives and in all of our attitudes, to work out this controlling force of love, this controlling power that can solve every problem that we confront in all areas. Oh, we talk about politics; we talk about the problems facing our atomic civilization. Grant that all men will come together and discover that as we solve the crisis and solve these problems—the international problems, the problems of atomic energy, the problems of nuclear energy, and yes, even the race problem—let us join together in a great fellowship of love and bow down at the feet of Jesus. Give us this strong determination. In the name and spirit of this Christ, we pray. Amen."
— Dr. Martin Luther King, Jr.
Dexter Ave. Baptist Church, November 17, 1957
Read full text here.