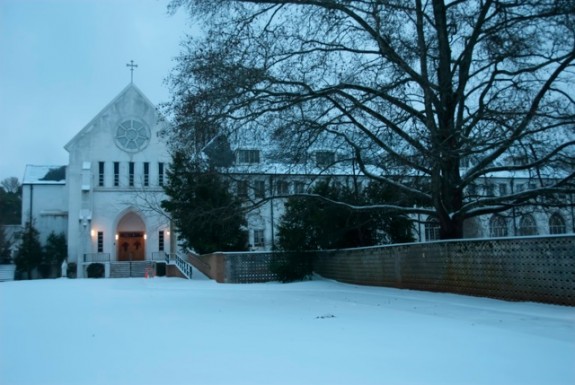 Lest we forget, some beautiful words from my friend, Trappist Fr. James Stephen Behrens:
The world is a feast of mysteries and we see but really do not understand them. We cannot penetrate them with our knowledge, our alleged sophistication. Yet they come again and again. We cannot catch them and hold them, to better see what we have, what we are given.

It is believed by many that Jesus is the greatest mystery of all mysteries. Son of God, gift of the Father, Divine Savior, Master of the Universe, Holy Infant. His names are many.

Christmas is here and gifts are exchanged, greetings are warmly extended, cards are sent, decorations adorn streets, homes, offices. We hope to at least temporarily dispense the darkness that surrounds us, at least for this season.

We hope for what we cannot see, for what we long for, but cannot yet understand. We hope that the Lord will come, that He is real, and that we do what we can to make Him real and true. Yet we are left with wonder and our gifts to each other.

What precious gifts they are. For they are gifts that are exceedingly delicate, fleeting, and, try as we might to keep them, they are not ours to hold and keep. They are given to us only for a while…

…For these mysteries must move on into life, where we hopefully have prepared them to welcome all the mysteries that will surely come their way. For all of life is Christmas, an eternal gift from God."
Give yourself a gift. Read it all.