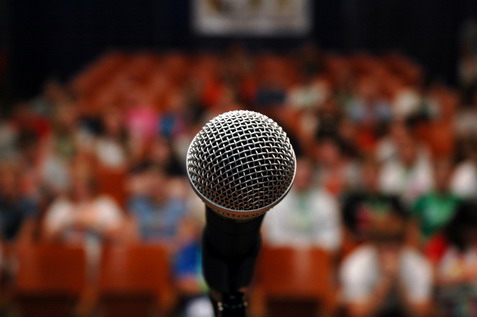 So a school teacher in Montana has been fired for conceiving a child out of wedlock—evidently violating the terms of her contract.
I've argued on Facebook that there was a better way to handle this, and someone asked me how. Okay.
The next time something like this happens, and the school decides the only recourse is termination, and it looks like it's going to generate a lot of bad publicity, the principal of the school should call a press conference.
And this is what he should say:
Ladies and gentlemen of the press,
Thank you for coming here today.
A few weeks ago, Mary Jane Doe, a talented woman who serves as a teacher in our school, came to us with the news that she is expecting a child. Mary Jane is unmarried.
Confronted with this news, we considered prayerfully and thoughtfully our options as an institution that is charged with forming the minds and hearts of young people. We also considered our purpose and mission as an institution that is first and foremost Catholic.
In consultation with Mary Jane and with other members of the school leadership, we are announcing the following:
First, we are moved and inspired by Mary Jane's choice to bring this life into the world at a moment when the pressures of our culture are great to do otherwise. Her choice is decidedly pro-life, and profoundly Catholic, and we applaud her courage. To that end, we plan to do whatever we can to support her in this decision and to see that her burdens are eased during this challenging time.
Second, while we admire her courage, this does not remove Mary Jane's responsibility for her actions. She understands that. The fact is: she violated the moral clause of her teaching contract. After consultation with lawyers, we have concluded we have no other choice but to terminate her employment.
Third, though she has violated her terms of the contract does not mean we abrogate our responsibility as Catholic Christians. To that end, we are going to pay Mary Jane the severance required by the terms of her contract. But we are also going to go beyond that. We will continue to pay her health care up to the time of her delivery. We will also work to help her find employment, so that she can fulfill her obligations to the life she is bringing into the world. None of this is required of us in our contract with her. But we are doing this, as I indicated, out of Christian charity and out of our support for the most precious gift of all, the gift of life.
It is our sincere wish that in taking these actions, our school will serve as a witness to the world, standing up in defense of the unborn and in support of women making this most difficult choice. It is important that these mothers know they are not alone.
Discussing this among parents and faculty, again and again people have said that this is a teachable moment. But what, exactly, do we want to teach?
We want to teach that the most profound choice we can make here and now in this country is to choose life.
We want to teach that our mistakes and our sins do not define us. We want to teach mercy.
We want to teach that we who proudly proclaim our faith as Catholics also live it in how we treat one another. Do we show compassion to the defenseless? Do we support life in all its forms? Do we live our lives as examples of love and mercy? This is how we will ultimately be judged. This is what we want to teach our students and, by extension, through this moment, what we want to teach the world.
Jesus said, "Whatever you did to the least of these, you did to me." We believe we are teaching what Jesus taught.
Pope Francis has reminded us: we are a church built on the boundless mercy of God, trusting in his generous love—a love that we seek to model through the actions we are taking today.
As the Holy Father put it so beautifully in his exhortation, "The Joy of the Gospel":
"Jesus' sacrifice on the cross is nothing else than the culmination of the way he lived his entire life. Moved by his example, we want to enter fully into the fabric of society, sharing the lives of all, listening to their concerns, helping them materially and spiritually in their needs, rejoicing with those who rejoice, weeping with those who weep; arm in arm with others, we are committed to building a new world. But we do so not from a sense of obligation, not as a burdensome duty, but as the result of a personal decision which brings us joy and gives meaning to our lives."
It is our prayer that Mary Jane Doe will carry this joy forward as she goes on with her life. We pray she and her child will be a vital and loving part of the "new world" our Holy Father envisions. We wish Mary Jane well and we will keep her in our prayers.
And so we pray:
O God, our Creator, all life is in your hands from conception until death. Help us to cherish our children and to reverence the awesome privilege of our share in creation. May all people live and die in dignity and love. Bless all those who defend the rights of the unborn, the handicapped and the aged. Enlighten and be merciful toward those who fail to love, and give them peace. Let freedom be tempered by responsibility, integrity and morality.
Amen.
Thank you.
POSTSCRIPT: Various people have written to suggest the piece above is incomplete, or flawed, or lame-brained. Why do you have to fire her at all? Why not pay her salary a while longer? Why not include a public act of repentance? Why is only the woman being forced to pay the price? And why does it seem like getting pregnant is a sin?
Decent questions, all. But that's not the point. I want to offer here another way of looking at this unfortunate set of circumstances, and confront the problem not with legalisms and catechism lessons, but with something that is all-too-often missing: love.
Look, I'm not a lawyer or a school administrator. I'm a preacher, a clergyman and an evangelist. And I can tell you right now that these cases—there have been a couple of them hitting the headlines in the last several months— are not handled in a way that inspires faith or affirms life. Quite the opposite. And the result, again and again, makes the Church looks like a sexist, intolerant, pelvic-obsessed bully.
We need to do better.
Consider the screed above one man's prescription for what ails us. It's far from perfect. But it's a start.
UPDATE: The diocese is Montana today defended the firing. Read all about it.