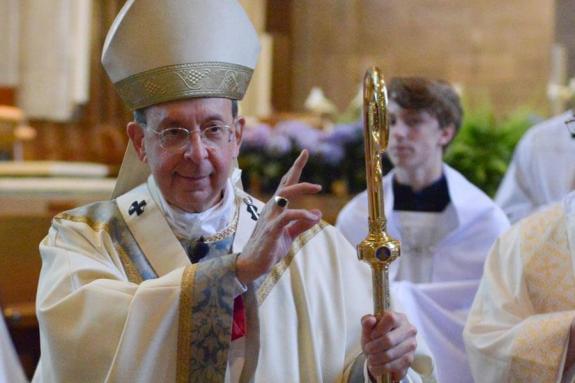 Here's part of an excellent homily delivered Saturday at the ordination of priests by Archbishop William Lori of Baltimore:
[St.] Paul's life was an open book and if you wish to have enduring priestly joy and fruitfulness in ministry, your lives also must be an open book, marked by transparency and deep inner integrity.

The way to such integrity for you, for me, and for us all is sound spiritual direction and the worthy and frequent use of the Sacrament of Reconciliation.

A bishop friend of mine of many years, who died recently, once was asked why he was always so happy, why he never seemed to be discouraged.

"I guess," he said, "it's because I go to confession every two weeks. If God loves me so much that he forgives my sins, what's there to be sad about?"

My brothers, with the support and love of your bishops and brother priests, as well as good lay friends and co-workers, may you always know the joy of a clear conscience in your life and ministry.

…Jesus, the Good Shepherd, undid Peter's three-fold betrayal by asking him three times, "Do you love me more than these?"

Contrite of heart, Peter answered three times, "Yes, Lord, you know that I love you."

Each time the Lord responded, "Feed my lambs," "Tend my sheep," "Feed my sheep."

Jesus concluded this poignant dialogue with the words, "Follow me"– "Be my disciple."

If you wish to be joyful priests whose ministries bear the enduring fruit of the Gospel, then spend time each day in prayer, meditating on the Word of God, spend time each day in prayer, encountering the Risen Lord.

Let him search the inmost chamber of your heart and ask, "Do you love me?"

Do not be distressed if he asks you one, two or three times.

Allow the Good Shepherd to form your hearts anew each day in love so that, like him, you will be willing to lay down your lives, to give of yourselves, for the people who are entrusted to your pastoral care, especially the poor, the sick, the vulnerable, the disconnected.

In your solidarity with the Good Shepherd, never fail to love the flock of God of which you are both a member and a shepherd.
Read more. There's much wisdom and joy here for anyone who ministers to the "flock of God."