David Russell Mosley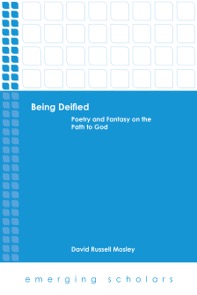 Lent
4 April 2017
The Edge of Elfland
Hudson, New Hampshire
Dear Readers,
Fortress Press, the publisher who put out my PhD thesis, Being Deified, is having an ebook sale running from today (April 4th) until April 30th. Over 1500 ebooks will be on sale, starting as low as $2.99. My book, will be available for $9.99. This is significantly cheaper than the $62+ it costs on Amazon Kindle and the $45+ it costs on Barnes and Noble Nook. You can buy it from Amazon or Barnes and Noble.
If you're not familiar with the book's subject, it has two basic theses. The first is that deification is not nearly as important in Western Christianity as it ought to be. So the book attempts to show how deification is knit into our doctrines of Creation, the Fall, the Incarnation, and Redemption. The second thesis is that human creativity––both its consumption and its production (though those are not the right words)––is an essential aspect of deification. I focus on the genre of fantasy and poetry (though I use the term poetry a bit broadly). My basic argument is that we're made in the image of the Creator, which means, to borrow Tolkien's word, we're made to be sub-creators. I argue that the act of sub-creation is how we can both imitate and participate in God.
So, if any of this sounds at all interesting you, and you like or at least don't mind ebooks, consider getting my book while it's nice and cheap. And make sure to check out all the other great books on sale.
Sincerely,
David
P.S. Don't forget that you can also get a copy of my first work of fiction, On the Edges of Elfland, (an attempt, in some ways, to enact the kind of creativity I talk about in Being Deified) in both Kindle and paperback editions.