On Thursday, October 8, I stepped outside a healthcare center in upstate New York where I do ethics and compliance work. The center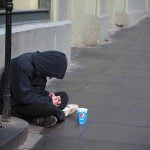 primarily serves the economically disadvantaged. An older man had pushed to the center's front door a grocery cart with his homeless friend sitting inside. A torn, soiled seat cushion provided some comfort to his back against the thin metal spokes that pressed against him.
George the maintenance person was there and immediately offered to get a wheel chair. Both the man pushing the cart and the person sitting inside declined. They'd be fine the person inside the cart said. He was able to walk short distances.
Although there was a certain joy and comfort each man took in the other, it's in these moments a personal battle over faith can occur because of injustice. No theologian or philosopher has ever satisfactorily answered why it exists. They tend to be interesting intellectual exercises, assuming some of the heavy, laborious discussion is understood, but there is no closure.
You can easily end up in an area Dante warned about – "Hell is an endless conversation with yourself". Sometimes it's just best to let certain things go. Don't over think them. If you can't stop talking with yourself, you'll likely end up on the cliff of a very dark, spiritual abyss.
Should you fall in, you'll never reach the bottom because it doesn't exist. Only divine grace can stop your spiritual fall and lift you back to the cliff's edge and hopefully push you far from it.
I texted Will, a close friend about the incident shortly thereafter. He responded, "How sweet".
What Will properly focused on was not the "why" of injustice, but the acceptance that this is life and there needs to be a positive response. He saw the beauty in the friend's actions to help his buddy into the cart, push it for probably multiple blocks, and then help him out to walk.
Will added tongue and cheek, "This is why you shouldn't be in social services".
And maybe the clergy as well.
Ironically, I often underscore to my inner wellbeing classes geared toward professionals who have found sitting between four walls of sacred space unfulfilling, not to ask certain questions like "What is the meaning of life? Why do bad things happen to good people? Why do bad people get away with bad things."
There aren't answers. By the way, it's odd how easy it is to give others advice, rather than follow it ourselves.
Emphasis must be given to crafting better questions of ourselves and the need to find meaning and purpose in "your" life's reality. Your reality is reality and that's reality.1
Meaning and purpose can be defined, in part, in how we respond to the world. Focus on how as a co-creator with the Creator, incremental positive change can be created in the lives of others.
In a special moment, perhaps mystical in some ways, on a late October morning, two of the Holy Author's children were there for one another. In doing so, there was a lesson for the rest of us, if we take the time to reflect on some of the experiences encountered in each day.
____________________________________
Complimentary photo from morgueFile.
Paul P. Jesep is a Christian Sophiologist believing Holy Sophia (Divine Wisdom) is the Holy Spirit. He is an attorney, corporate chaplain, and Eastern Orthodox priest.
1 "Your reality is reality and that's reality" (c) 2014 Paul P. Jesep.