Tax-exempt status for churches is "an evil" and "if permitted to continue, will probably lead to great trouble."
No, that's not from a recent commentary by satirist John Oliver who created a stir when he criticized the IRS for not providing oversight of churches and unscrupulous fundraising tactics.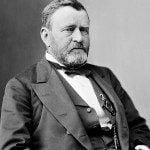 President Ulysses Grant said it.
Oliver is right to spotlight the numerous scams that take advantage of the hopeless, the frightened, and the superstitious. Yet, that's only part of a larger issue that should concern all people of faith.
Christian leaders – yes those very same people who may pastor a church or run a non-profit—have a duty in leading a crusade to better regulate religious tax exemptions.
Megachurches, and televangelists in particular, come up with creative and secretive ways to shake the money tree. Assets for the three largest Christian broadcasters (all conservative) exceed $250 billion. This does not take into account the lavish lifestyles of many televangelists and megachurch leaders.
Property not taxed can't support the repair or construction of roads and bridges. Untaxed property is lost revenue leaving gaps in fire and police department budgets. Public schools have far fewer resources.
The focus on money and lavish living by some Christian leaders secularizes America. Atheists, agnostics, and humanists aren't to blame. Even Pope Francis has questioned the tax exempt status of churches that do not make the neediest and marginalized their priority.
Imagine if Christian leaders, not the non-religious most often accused of declaring war on God, drove the discussion and called on Congress to provide greater oversight and not allow an automatic tax-exemption for religious organizations.
Greater accountability and transparency in religious groups run like for-profits will go a long way in addressing the growing perception organized faith is fraudulent, primitive, and for the gullible.
This is not to suggest the tax-exempt status of churches should change. Rather, salaries, bonuses, and other perks need to be regulated and the operations of religious groups made public and easily accessible.
Accountability, even for those leading churches, is not a bad thing, especially when it brings a level of ethics and integrity long absent from some religious groups whose de facto mission has become a business to raise money while giving lip service to spiritual care, solace, and inner growth.
In New York State, an Executive Order issued by the governor now caps nonprofit salaries and bonuses while regulating perks. Although this does not apply to churches, it could be a potential model, or at the very least starting point, in discussing the lack of accountability among religious groups.
Giving religious groups a tax-exempt status was intended to keep government from encroaching on the sacred.
While government may have been prevented from showing religious favoritism or persecuting religion, the tax windfall has fueled greed, materialism, and consumerism within these groups, compromising faith and contributing to the growing, widespread rejection of religion in general.
Paul P. Jesep is a Christian Sophiologist believing Holy Sophia (Divine Wisdom) is the Holy Spirit. He is an attorney, corporate chaplain, and Eastern Orthodox priest.