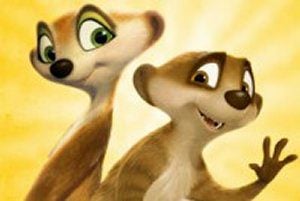 It can take a long time to make a film. Six years ago, an outfit called Unified Pictures announced that it was going to make a computer-animated film about Noah's Ark, told from the point of view of the animals. One of the Unified executives even said he expected the film to be finished within two years.
Then, four years ago, the folks at Unified said they had struck a deal with a company called Rising India, which would allow the film to be finished by 2011.
And now, here we are in 2013, and the trades are reporting once again that things are starting to move on this film. But this time, the news is not about corporate deals, but involves actual animators: specifically, we are told that the film will be overseen by John Stevenson, director of Kung Fu Panda (2008), and Cameron Hood, an animator on several DreamWorks cartoons including The Prince of Egypt (1998) and How to Train Your Dragon (2010). So that bodes well, at least.
From the beginning, the film has had a screenwriter attached, namely Philip LaZebnik, whose credits include The Prince of Egypt as well as Pocahontas (1995) and Mulan (1998). But I don't recall hearing any actual story details until today. This is the synopsis provided by the Unified Pictures website:
To build an ark for all the animals, God chose Noah. To lead them to it, God chose… Gilbert?!?

Gilbert the Groundhog loves Caroline with all his heart. That's too bad for him, because Caroline plans to marry into the upper crust of groundhog society, and Gilbert dwells in the deepest, dingiest tunnels a groundhog can dig. That is, until they start to flood!

When a pair of very special doves warn Gilbert of the troubles to come, nobody in the burrow will listen. To get Caroline away from those crazy groundhog snobs and on the road to safety, Gilbert tells a teeny tiny lie. Of course, lies don't stay little for long! Two-by-two, a menagerie of kooky, crazy animals begins to follow them. Day-by-day, the journey grows more perilous. Pretty soon, Gilbert finds himself leading a rowdy zoo of birds and beasts and all kinds of critters through deserts and jungles and much, much worse…

…all because he told a lie. Now, the storm has come. The waters are rising. All these animals want is to run wild and free, but soon there won't be any place left to run to. Gilbert had better quit digging himself into a hole, because it takes a hero to lead his friends all the way to Noah's Ark!
Incidentally, the trade reports today all say the film's protagonist is a meerkat, rather than a groundhog. They also say that this cartoon will be a "musical", but they don't say who might be writing or performing the music. So make of that what you will.
As I've noted in the past, this is but one of several cartoons about Noah's Ark — whether literal or quasi-allegorical — that have been in various stages of development or production lately. Other such films that I have noted here include:
Noah's Ark: The New Beginning — Promenade Pictures — According to the IMDb, this film, a follow-up to The Ten Commandments (2007), was released in Belgium in 2012, though I have seen no evidence to support this claim. The production company's website was still active back in June, but has since gone dead.
Rock the Boat — Gaumont — This film, about "a porcupine and cheetah who, since their species are already represented on Noah's Ark, disguise themselves as a fictitious hybrid — porceetahs — to gain passage," ran into financial trouble back in 2008. I have heard nothing about it since.
Not the End of the World — Illuminated Films — The company's website seems to indicate that this film, based on the Geraldine McCaughrean novel and told from the point of view of Noah's youngest daughter, is still in development.
Aardvark Art's Ark — Warner Brothers — Executive producer Casey Affleck (yes, that Casey Affleck) hired Adam Sachs to rewrite the script for this film, which concerns "a group of animals who are stranded when they are not chosen to go on Noah's ark," back in 2008. I have heard nothing about it since.
At least two quasi-Noah-themed cartoons have been released overseas as well, in the last few years, and are now available online:
And then there are the seemingly defunct projects that were once being developed by Bill Cosby and Walden Media — to say nothing of such live-action efforts as Sold Out! (in development), Evan Almighty (2007) and Darren Aronofsky's Noah (2014).