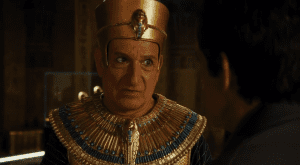 Two movies. Same studio. Coming out only a week apart. Both of them have something to do with ancient Egypt. And both of them star Ben Kingsley in a prominent supporting role.
One of those movies is Night at the Museum: Secret of the Tomb, the third in the series about a bunch of museum exhibits that come to life at night. The series already has a Pharaoh — Ahkmenrah (Rami Malek), who appears in all three films — but Kingsley joins the series as yet another Pharaoh in this newest film.
The first trailer for the film popped up yesterday, and you can watch it below, but be warned: this is the kind of "family comedy" in which a giant monkey urinates all over two small people to put out a fire. (And yes, the trailer does show that.)
The other Egypt-themed film Kingsley will appear in this December is, of course, Exodus: Gods and Kings, in which he will play Joshua's father Nun. Kingsley recently spoke to Den of Geek about that, and he also commented on an even earlier movie about Moses in which he, himself, played the titular prophet.
Kingsley actually doesn't say anything about his own character in Exodus; instead, he says that all the actors tried to make their characters human (it's rare that an actor says he tried not to make his character human, even in a biblical film), and he notes that Christian Bale's performance as Moses will be "gritty; it's a guy struggling, and sometimes very out of his depth. Very human and very vulnerable."
Kingsley also states that when he played Moses himself
in a 1995 miniseries
, there was a priest on set who objected to the way he handled the scenes where Moses talks to God. "He was quite shocked at the way that Moses had to speak with God in scenes. . . . I was arguing with him…I'm talking to my buddy! I'm having a row with the boss."
I haven't seen the miniseries in years, but I'd have to say I probably lean to Kingsley's side of that particular argument. In fact, in my original review of the miniseries — which I wrote way back in 1996! — I praised it precisely for the "sheer human realism" of Kingsley's performance. You can watch it via YouTube and judge for yourself:
Incidentally, Den of Geek also links to my article for Christianity Today on the current Bible-movie revival, and it suggests that I questioned whether the focus on action sequences in Exodus would alienate religious moviegoers. Uh, no. I think how the film depicts God will be a much bigger concern for religious moviegoers, many of whom will probably take the battle sequences in their stride. (After all, as I've been saying ever since Exodus first went into development five years ago, there are a lot of battle scenes in the Bible that Cecil B. DeMille never got around to filming.)