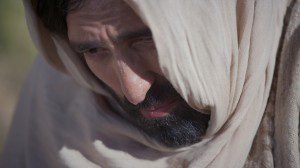 The gospels are coming to Netflix!
Well, one of the gospels is, at any rate. The Lumo Project issued a press release yesterday announcing that The Gospel of John, the first in a four-film series based on all four gospels, will begin streaming on Netflix this coming Monday.
This is the second word-for-word adaptation of John's gospel. The first, produced by The Visual Bible, came out in 2003. (Bruce Marchiano, who starred in The Visual Bible's adaptation of Matthew, has been raising money to make his own version of John for the past eight years, but hasn't actually made it yet.)
Based on the trailer for the series, it appears the Lumo Project will follow the same basic template that the Genesis Project followed for its adaptations of Genesis and Luke in the 1970s: instead of getting the actors to recite their characters' dialogue in English, the dialogue will be presented in the original ancient language (or something that sounds like it), and the English translation will be provided by a narrator.
In fact, there will be two English translations: the New International Version, narrated by David Harewood, and the King James Version, narrated by the great Brian Cox. The Lumo Project will also release a Spanish version on Monday, and the press release promises that there will eventually be French, German, Dutch, Swedish, Finish, Danish, Norwegian, Brazilian and Portuguese translations as well.
I haven't seen the film, so I can't comment on its adaptations of particular scenes yet. But one of the most immediately noteworthy things about this series is the fact that it stars a non-western actor — Selva Rasalingam, of partly Tamil descent — as Jesus. This is part of a welcome recent trend that has also seen actors of Arabic, Iranian and even Maori descent play Jesus and members of his immediate family.
Here are some photos from the film's website: