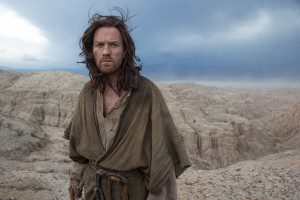 Two days ago, the Sundance Film Festival revealed that one of the many films premiering there next month would be Last Days in the Desert, starring Ewan McGregor as both Jesus and the Devil in a story set during the 40 days of temptation that followed Jesus' baptism.
Yesterday, Entertainment Weekly posted the first official photo from the movie, along with an article that confirms that the "family in crisis" Jesus encounters on his way out of the wilderness is a first-century Jewish family:
While in the desert, Yeshua also encounters a family that is experiencing its own father/son difficulties. Tye Sheridan (Mud) plays the Boy who wants to leave their bleak desert surroundings and travel to Jerusalem for a better life; his Father (Ciarán Hinds) insists he stay close to home.
Hinds, incidentally, has some experience in this genre, having played Herod the Great in The Nativity Story. He also provided the voice of Lucifer in an episode of Testament: The Bible in Animation and, in a more broadly ancient vein, he played Julius Caesar — and played him quite well, at that — in HBO's Rome.
Interestingly, Last Days in the Desert also stars Ayelet Zurer, who was recently cast as the protagonist's mother in Ben-Hur. Zurer previously co-starred with Hinds in Steven Spielberg's Munich, and with McGregor in Angels & Demons.
EW
spoke to McGregor as well, and he makes some really interesting comments:
"You can see the demon as the Devil," says McGregor. "Or you can see him as another side of Yeshua perhaps, an embodiment of his doubt. He's there testing him into trying to suggest that his father doesn't love him, that his father's not interested in his struggle." . . .

Playing Jesus Christ and the Devil was initially intimidating for McGregor, who was immediately won over by Garcia's spare and intimate 62-page script and the lure of working with Oscar-winning cinematographer Emmanuel Lubezki. It helped to tap into the duality of Jesus and focus more on the human aspects of his character. "I thought, Okay, he's a man who's struggling to communicate with his dad," says McGregor. "I felt actually the pressure come off myself. I'm not playing Jesus; I'm playing a man whose dad is God and he's trying to speak to his dad. It's really a film about the relationship between fathers and their sons. In every scene of the film, that's at the heart of it."

McGregor played both main characters, with his longtime stunt double Nash Edgerton standing in for those scenes between Yeshua and the Devil. "I played Yeshua with total conviction that he was the son of God and that his father had asked him to go on this path, which would lead him to death—to die for people's sins—and I tried to imagine what that might be like for a man," he says. "And then when I played the demon, I was trying to chip away at that conviction. The demon's trying to drag him away from that."

That much is very much in line with the Biblical narrative, the story of Jesus being tempted by the Devil during 40 days of fasting in the wilderness, but McGregor is careful to leave the door wide open to interpretation. "It's not a Biblical story. It's a story that Rodrigo García invented," he says. "You could watch the film and not think that it's Jesus. He could just be another holy guy, a rabbi, walking in the desert, looking for answers."
McGregor says he doesn't anticipate any controversy over the film because there's nothing offensive about it except, perhaps, for the fact that it tells a story about Jesus that doesn't appear in scripture. Either way, I can't wait to see it.
Update: The film has a website with another picture of McGregor's Jesus: