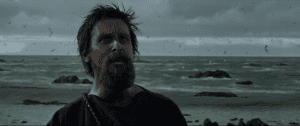 I haven't fully resolved the computer problems that I mentioned a few days ago, but I did manage to finish an article on Moses movies for Christianity Today. It gives a brief history of films and TV productions that have dramatized the life of Moses going back to 1903, and it looks at some of the key themes that have been explored across those films, including the brand new Exodus: Gods and Kings.
For a list of earlier articles I have written on this subject, see here.
A few more videos promoting Exodus have popped up in the last few days, too.
Here, for example, are two new TV spots:
Latino Review posted this featurette, which overlaps significantly with the interview with Christian Bale and Joel Edgerton that was posted two months ago:
And, finally, the Facebook page has posted another video-GIF:
December 22 update: The Latino Review featurette is now available on YouTube:
The film's Facebook page has also posted a 13-second interview clip with Edgerton that overlaps a bit with the Latino Review featurette:
Check out earlier videos and my shot-by-shot trailer analyses here: