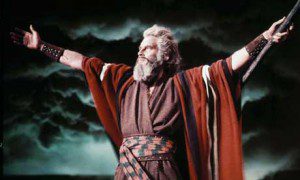 It's Passover this week, so it seemed like an opportune time to dust off and re-post the various articles I have written on movies about Moses and the Exodus.
The grand-daddy of them all would have to be 'Lights! Camera! Plagues!,' which first appeared in the February 1999 issue of Bible Review and, to my amazement, has since popped up on the required or recommended reading lists for various university courses. The article, which was written to coincide with the release of The Prince of Egypt (1998), was originally quite a bit longer than what ended up in the magazine, so now, for the first time ever, I have posted an extended version of it here.
In addition to that article, I also wrote a sidebar for Bible Review on recent efforts to find and retrieve the sets for the 1923 version of The Ten Commandments, which Cecil B. DeMille buried in the California sand once he had finished shooting his movie, to prevent rival filmmakers from making cheap knock-offs of his film.
Other articles re-posted to the archive include:
And of course, I am keeping track of current efforts to make even more movies about Moses; you can see my posts on those films by clicking on the 'Moses' tag.