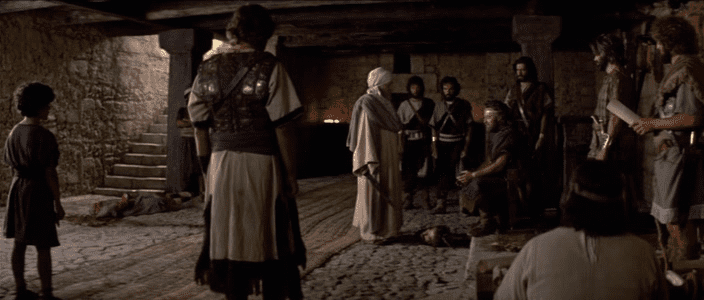 The Wrap reports that ABC has ordered five new pilot episodes — basically test runs for potential full-fledged series — and one of them is biblical in nature.
The official logline for the pilot in question doesn't name the characters, but it's not too hard to figure out who it's probably talking about:
An epic Biblical saga of faith, ambition and betrayal as told through the eyes of a battle-weary king, a powerful and resentful prophet and a resourceful young shepherd on a collision course with destiny.
Sounds like King Saul, the prophet Samuel and the future King David, to me. (The photo at the top of this blog post shows a chastened Saul kneeling before Samuel, with the head of Agag lying on the ground between them, from 1985's King David.)
Now here's where it gets interesting:
The pilot is being written by Adam Cooper and Bill Collage, who wrote the original script for Exodus: Gods and Kings, i.e. the script that 20th Century Fox bought before Ridley Scott got involved and sent it out for rewrites.
And one of the producers involved is Reza Aslan, the liberal Muslim whose book Zealot: The Life and Times of Jesus of Nazareth is also being developed as a possible feature film. The other producers are Jason Reed and Mahyad Tousi, both of whom work with Aslan through a company called BoomGen Studios.
Of Kings and Prophets does not appear to be related to any of the other David movies that are currently in development. Here's a quick list of the ones I know about:
Tim Chey's David and Goliath, which has an awful-looking trailer;
King David, a TV series being developed by Mark Canton and writers Patrick Moss and Jeremy Anderson for Entertainment One;
King David, a TV series being developed by Wolfgang Petersen, Roger Young, Kimberly Miller and writer Ron Parker for Gaumont Int'l Television;
David: The Divided Heart, an adaptation of the book by Rabbi David Wolpe being developed by Matt Phelps, Mike Karz and writer Nick Schoenfeld for Warner;

An untitled King David project being developed by Ridley Scott, Peter Chernin and screenwriter Jonathan Stokes for 20th Century Fox;
Goliath, a film announced four years ago that had Scott Derrickson attached to direct and was described at the time as "a period action movie made with contemporary sensibilities" a la 300 and The Bourne Identity; and
Day of War, an adaptation of the Cliff Graham novel announced five years ago that has David L. Cunningham attached to direct.
Prior to that, there have been countless other David-themed projects as well, including the short-lived TV series Kings, which put a modernized spin on the biblical tale.
If I'm forgetting any, let me know!