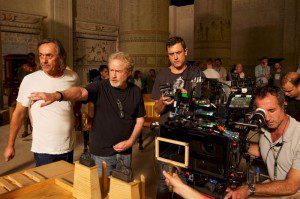 Ridley Scott must have enjoyed his time on Exodus: Gods and Kings. First he decided to tackle another project set in ancient Egypt (i.e. the HBO series Pharaoh), and now he and his Exodus partners are tackling yet another project based on the Old Testament.
Variety reports that Scott has agreed to produce an as-yet-untitled film about King David for 20th Century Fox and Chernin Entertainment, the companies behind Exodus. It is not clear at this point whether he intends to direct it as well.
The studio has hired Jonathan Stokes to write the script, and Variety says "it's likely that the film would focus on the King's reign post-Goliath" — but David didn't become king until quite a few years after he killed Goliath, so will the film look at all the stuff he did in the interim, when he was hiding from King Saul, or will it focus narrowly on the stuff he did after becoming king: capturing Jerusalem, covering up his affair with Bathsheba, fighting off the rebellion of his son Absalom, and so on?
As always, the fact that the film has been put into development doesn't mean it will necessarily get made in the end. Several years ago, J. Michael Straczynski wrote a screenplay about David for Universal, but it never got the green light. When I asked him about it on Twitter a few weeks ago, he said the studio might not have realized just how grisly the story really is when they first commissioned his script:
@ptchat No, once you're done, they move on. I think the problem was they'd never actually read the story (e.g., snipped foreskins).

— JMichael Straczynski (@straczynski) June 3, 2014
Well, if there's one thing we know about Sir Ridley, it's that he likes the brutal violence (it's quite possible that he has made more films with beheadings than without them), and Christian Bale has hinted that Exodus might dip into some of the more "shocking" elements from the Moses story too, so the violence in the David story wouldn't put Scott off at all. Whether the studio would go for it, on the other hand…
Other David movies (and TV shows) put into development over the last few years include:
Prior to that, there have been countless other David-themed projects as well, including the short-lived TV series Kings (2009), which put a modernized spin on the biblical tale, and Bruce Beresford's King David (1985) starring Richard Gere, which was the last big-budget Bible movie before the current revival of the genre.
Moses and David are not the only biblical figures that Scott is involved with right now. He is also one of the producers of the upcoming miniseries Killing Jesus, and he strongly hinted that Jesus was an alien in the back story to Prometheus.
If Scott does direct this movie about David, it could make him the first person to direct multiple big-screen Bible movies since Henry Koster, who made The Story of Ruth in 1960, seven years after he directed The Robe. (Cecil B. DeMille, who practically defined the genre, directed his last film in 1956 and died in 1959.)
But feel free to let me know if I'm forgetting anyone!