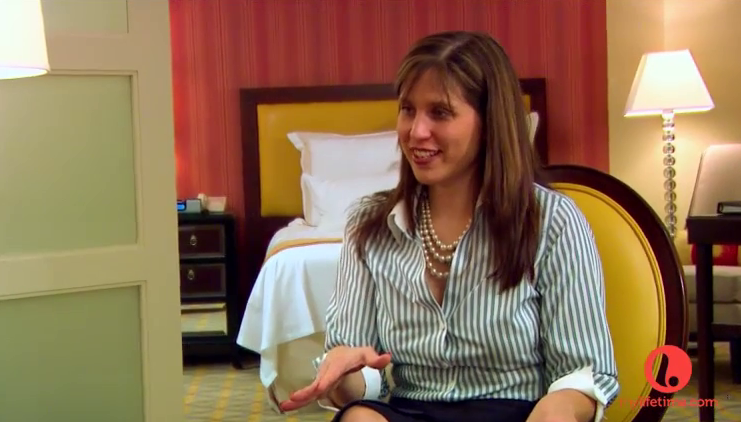 Those who read this blog know that I love reality television.  Ever since Jeff Probst said, "take your buffs," back on the first season of Survivor, I was hooked on reality TV.  I wanted to know who'd get voted off the island, which of the biggest losers would win the weigh-in, whom celebrity Donald Trump would fire, and – of course – which bachelorette would take the limo ride of shame. (I even watched Martha Stewart's Apprentice, pre-ankle bracelet.)
When a producer at Lifetime contacted me about being on Bristol Palin's "Life a Tripp," I was elated.  As many of you know, I helped Bristol write her New York Times Best Selling memoir "Not Afraid of Life: My Journey So Far." Frequently, celebrity collaborators are truly "ghost writers" – not seen or acknowledged. Bristol, however, has invited me to sign books and even insisted I pose in photos with fans.  (In these cases, I imagine the book buyer posting their photo on Facebook, tagging Bristol Palin and then wondering, "who's this person and why is she ruining my photo with Bristol?") Of course, it's always a little intimidating to sign books with a celebrity, but Bristol's book signings are a great deal more exciting than mine.  When I sign my own books, I end up giving directions to the restroom a few dozen times, taking a nap, and buying more books than I've sold.
At any rate, Bristol invited me to go to Washington, DC for a book signing, which happened to coincide with CPAC.  Since my husband and I were already planning on attending the conference, I agreed: I was going to make my reality TV debut!
Well, unless you count Romper Room in 1979.  And yes, I rocked out those bell bottoms.
I had two segments.  The first was to be filmed in the hotel room of Bristol and Willow.  There was one complication.  My segment on Life's a Tripp coincided with CPAC's Ronald Reagan Dinner.  Normally, I'm not terribly interested in dinner ceremonies with long political speeches, but I was told – in strict confidence — that David was going to win CPAC's prestigious Ronald Reagan Award.  He had no idea, so I was in the unenviable position of trying to do both Bristol's show and the Ronald Reagan Award Ceremony – both conveniently scheduled at the same time at opposite ends of the hotel.  Plus, I had all of my kids with me.
"Camille," I whispered to my thirteen year old after dragging her out of earshot of my husband.  "Can you keep a secret?"
I explained David had won this very nice award, and asked her to dress my 4 year old, keep her happy at the banquet until I got there, and make sure her dad stayed seated until I arrived.   My plan was to film a bit on Lifetime during some of the preliminary political speeches, and then head over to the banquet at –hopefully – the right time.  My worst fear was that David would go to the bathroom and miss his own award.  Thankfully, my thirteen year old is very responsible and became my co-conspirator in the charade, along with my friends Ruth and Orit who helped negotiate the details of the evening for me.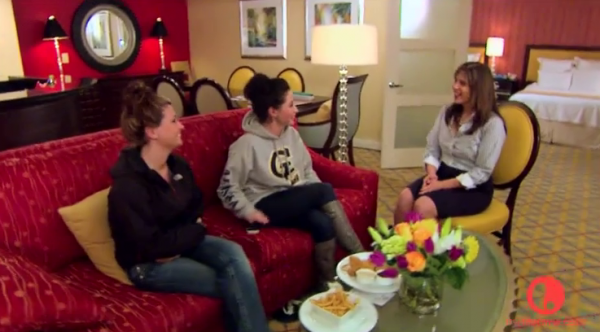 That night, everything went smoothly.  I filmed about an hour with the Palins in their room, which was very colorful — I thought it was perfect for a television shoot. We caught up on several topics, but what made the cut was me explaining how enormous CPAC was this year.
Then, after it was over, I got my mic taken off, said my goodbyes, and scooted over to CPAC.  I still had to shoot one more scene at the book signing the following day, but my main focus now was on getting to the Reagan Award Dinner. Of course, I soon realized I'd forgotten my credentials when a guard at the door wouldn't let me in.  I could see my family sitting in the front, all around a round table right in front of the podium.  Naomi, I was amazed to see, was still behaving. My older daughter Camille had dressed her well and kept her occupied.  My eleven year old son wasn't wearing belt and had his shirt untucked, but David looked completely normal. I could tell he had no idea that he was about to have to deliver a speech on CSPAN.
"Please let me in," I begged the security.  "My husband is the man of honor," I whispered.
"Scott Walker's your husband?" he asked.  The Governor of Wisconsin was scheduled to give the end-of-the-night speech.
My friend had to vouch for me, and the guard finally relented.  I slipped into my seat at just the right time, when this happened:

That's how I ended up being on Lifetime and CSPAN on the same night.
Which was just as well, because I only have one good outfit now that I've outgrown my bell bottoms.
When I was invited to be on Bristol's show, I was thrilled to be a part of that excitement. But as I stood on that stage, I appreciated Austin's untucked shirt, Naomi's incessant grinning for the jumbo screen, Camille's age-defying ability to keep a secret, and David's amazing impromptu speech.
Sometimes, reality really is much more amazing than reality tv.  But that night, I was so happy to have all of my worlds blend into one memorable evening!
And I didn't even have to fast forward through commercials.
See other photos from the episode here!
You might enjoy these reality-tv inspired posts:
Religion on The Bachelorette: It's There, But Just Below the Surface
Mormons Create "The Mormon Bachelor"
Jef Holm: I'm Not a Practicing Mormon
The Bachelorette: I Won't Shack Up Before Marriage
Connect with Me Further by:
Friending me on Facebook
Following me on Twitter
Buying my Books!
This article first appeared here.