Dear Office Depot,
Your newest Back-to-School partnership with Lady Gaga's "Born This Way Foundation" pretends to promote "bravery," "accepting oneself" and "tolerance."  But, as I've written before, it's just a liberal effort to get everyone to accept gay marriage and homosexuality.  After all, these are the so-called "brave acts" celebrated on their website:
"One 'brave' person was Barack Obama for being brave enough to support gay marriage, a student who was brave enough to come out as a transgender, and Chaz Bono for undergoing gender transformation.  Also, the blog announced the winning poster made by a student showing two guys kissing…"
Why would Office Depot decide to partner with that kind of organization? Well, according to your Twitter feed, you believe Lady Gaga represents "inclusive values" all people can support.
Really?  All people?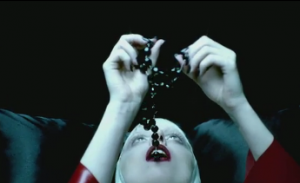 Let's look at Lady Gaga's inclusive behavior.  On her album, Fame Monster, she has a song about her fixation on a man who's "Hot like Mexico." So how does she illustrate this? By wearing panties with a big red cross on the crotch and sucking suggestively on a crucifix and rosary beads.
Office Depot and Lady Gaga don't want to be "inclusive" of Catholic customers who might need printers to make fliers for their bake sale.
Lady Gaga recently showed up at the Yankee's Club House wearing a Yankees jersey matched with lingerie. As a consequence, the team banned her from  clubhouse after she drunkenly slurred her words and groped her breasts while trying to meet the players.
This was also around the time that she outraged Mets fans going to one of their games and flipping off the photographers who dared to notice that she was there and only partially dressed.  Well, if she's not classy enough to hang out with the Yankees or outraged Mets fans, certainly she should have something to help her fill her days…  Let's see…  Why not let her head up Office Depot's back-to-school initiative!
In other words, Office Depot and Lady Gaga are not that interested in respecting the values of Mets and Yankees fans who need poster board for their baseball signs.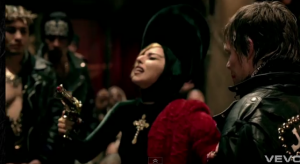 And then, there are the charming lyrics of  "Judas," which celebrates the apostle who betrayed Christ:
In the most biblical sense,

I am beyond repentance

Fame hooker, prostitute wench,

vomits her mind But in the cultural sense

I just speak in future tense

Judas kiss me if offensed, or don't wear a condom next time
She goes on to sing that though Jesus is virtue, she clings to the demon Judas. She also talks about how she'd wash the feet of Jesus as Judas prepares to betray him. I guess when it comes down to a battle between Team Jesus and Team Judas, Office Depot and Lady Gaga are not that interested in being "inclusive" of Team Jesus customers with paperclip shortages.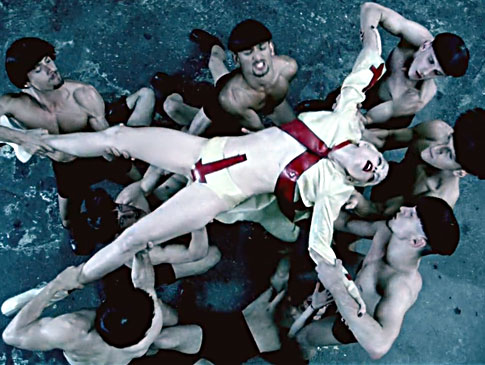 Oh and here are some great quotes from her:
"Sexuality is half poison and half liberation. What's the line? I don't have a line. "

"I don't want the 5 dollars in your pocket, I want your soul"

"I'm a little bit naked, but that's okay."

"A different lover is not a sin…"

"I hate the truth so much that I'd rather have a giant dose of bulls**t anyday"

"I won't speak your Jesus Christo"
Yet you claimed on Twitter: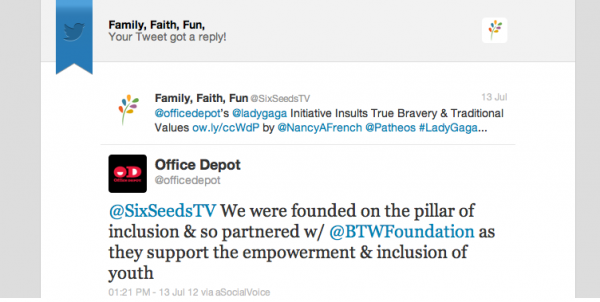 "We were founded on the pillar of inclusion & so partnered w/ [Born This Way Foundation] as they support the empowerment & inclusion of youth."
And this whole time, I thought Office Depot was founded on the pillar of office supplies!  How naive of me to think they wanted to serve both Democrat and Republican customers, both red state and blue state, both religious and non-religious.
Since Office Depot's definition of inclusion includes someone who desecrates religious symbols precious to tens of millions of Americans, perhaps their next campaign can be on behalf of the Mohammed cartoonists.  But I won't hold my breath.  After all, the "tolerant" Left reveres Islam and despises Christianity.  That's "inclusion" in America today, and we can't afford your pencils if they cost $3.99 plus our integrity.
Your former customer,
Nancy French
You might also enjoy these articles:
 Office Depot's Lady Gaga Initiative Insults True "Bravery"
I'm a White Republican Raising a Black Child: Deal with It
Religion on The Bachelorette: It's There, But Just Below the Surface
My Reality TV Debut on Bristol Palin's Life's a Tripp
Six Reasons Mormons are Beating Baptists in Church Growth
Connect with Me Further by:
Friending me on Facebook
Following me on Twitter