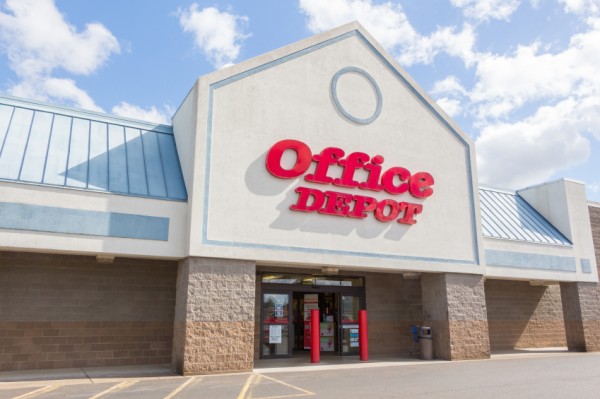 UPDATE:
Great development with the Office Depot issue:
Office Depot has contacted Ms. Goldsteins's representative to explain that the store associate's decision to decline a print order was in no way based on religious beliefs, but on the fact that it contained certain words and phrases that could be construed as graphic or advocates the persecution of groups of people, which is a violation of the company's copy and print policy. Office Depot has long maintained a policy of not allowing associates to print items that violate copyright laws, advocate persecution of any group or contain graphic material. Upon a more detailed review, we have determined that the content of Ms. Goldstein's flyer is not a clear violation of the company's policy. "We sincerely apologize to Ms. Goldstein for her experience and our initial reaction was not at all related to her religious beliefs. We invite her to return to Office Depot if she still wishes to print the flyer," said Roland Smith, chairman and chief executive officer, Office Depot.
Wonderful news! I think this is a great example of what happens when you shed light on an incident and the corporation decides to do the right thing.
ORIGINAL POST:
Check out what happened to a Catholic woman who went into Office Depot to make copies near Chicago:

A suburban Chicago woman is accusing Office Depot of religious discrimination, saying employees told her that making copies of an anti-abortion prayer violated company policy.

Last month, Maria Goldstein, a Roman Catholic, asked employees at an Office Depot location in Schaumburg, Ill., to make 500 copies of "A Prayer for Planned Parenthood", the Associated Press reported.

The prayer was composed by the Rev. Frank Pavone, national director of the anti-abortion group Priest for Life. It calls on God to "Bring an end to the killing of children in the womb, and bring an end to the sale of their body parts. Bring conversion to all who do this, and enlightenment to all who advocate it."

The prayer also includes statistics about abortion in the U.S. and decries "the evil that has been exposed in Planned Parenthood and in the entire abortion industry."
The store backed up the employee, because of a store policy that says they don't have to print material that promotes "the persecution of certain groups of people." They store believed the flier "contained material that advocates the persecution of people who support abortion rights."
Want to see what they called hate speech? Here's a PDF of what the woman was trying to print, which I've copied below: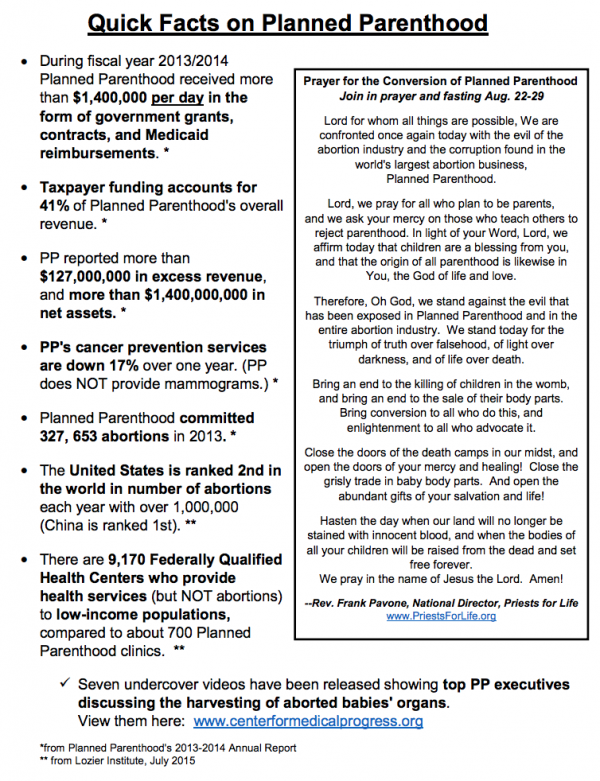 Feel the hate in that? Well, Office Depot does:
… an attorney for Office Depot responded with a letter dated Sept. 11 (PDF) stating the company considers the handout and other similar content "hate material" and denies the decision was at all related to Goldstein's religion.

"Office Depot's decision was not based in any part on the fact that the message here is couched in terms of Ms. Goldstein's religious beliefs. In other words the language at issue would violate Office Depot's policy regardless of the content surrounding it," the letter states.
Here's my quick take. Office Depot is a private business and can certainly only print those messages it finds acceptable.
But, I look forward to their statement in support of bakers in Oregon and Colorado, photographers in New Mexico — they could use a big corporation in their corner just about now.
Read more on the Patheos Faith and Family Channel, follow Nancy on Facebook, Twitter, and Instagram!