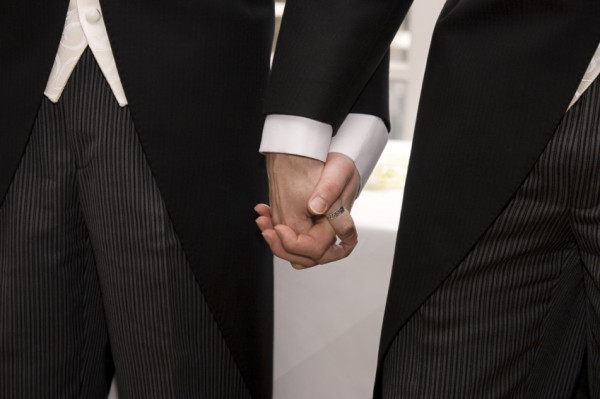 They were friends.
A Washington florist, Barronelle Stutzmen, had a dear client she'd worked with for years. But when he came in asking for a floral arrangement for his wedding, things got complicated.
As a Christian, she said no.
As a gay man who didn't want others to feel "discrimination," he sued.
The Attorney General of Washington and the ACLU have filed lawsuits as well.
Many other florists in the tri-city area offered to provide arrangements to the couple for free, but these newlyweds still felt compelled to take legal action:
The couple recently spoke out about their feelings towards the florist, but Barronelle stood firm in her decision:
Marriage does celebrate two people's love for one another, but its sacred meaning goes far beyond that. Surely without intending to do so, Rob was asking me to choose between my affection for him and my commitment to Christ. As deeply fond as I am of Rob, my relationship with Jesus is everything to me. Without Christ, I can do nothing.

I just couldn't see a way clear in my heart to honor God with the talents He has given me by going against the word He has given us.

This case is not about refusing service on the basis of sexual orientation or dislike for another person who is preciously created in God's image. I sold flowers to Rob for years. I helped him find someone else to design his wedding arrangements. I count him as a friend.

I want to believe that a state as diverse as Washington, with our long commitment to personal and religious freedoms, would be as willing to honor my right to make those kinds of choices as it is to honor Rob's right to make his. That's not endorsing a negative thing, as I've been accused of doing. It's promoting good things: reason, fairness and mutual tolerance.

I don't think that's too much to ask of a court of law — or from a friend I dearly miss.
These three suits have been filed both professionally and personally. Despite the fact that she could lose her house, her livelihood, her whole way of life–she stands firm.
And she does so with grace. Watch her story below:
Read more on the Patheos Faith and Family Channel.
Video: Alliance Defending Freedom via YouTube