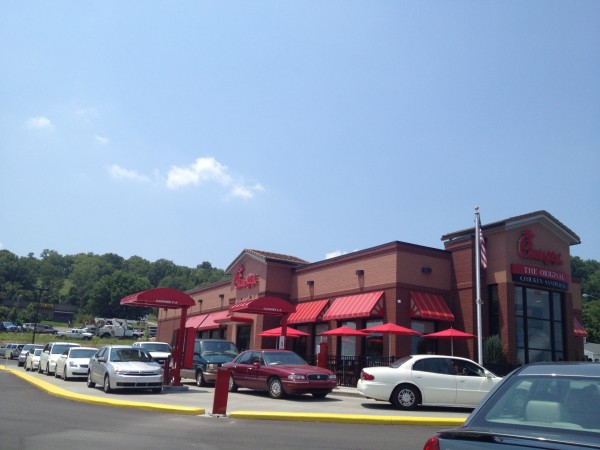 [A version of this article also appears on National Review.]
Today, of course, is Chick-fil-A Appreciation Day, a moment when customers head out to literally "Eat Mor Chickn" to show support to the company which has been under siege after an executive admitted he supported traditional marriage.  Former Arkansas Governor Mike Huckabee is asking customers who appreciate Chick-fil-A's traditional stance on values to enjoy some waffle fries.
And that's exactly what my family is doing.  We live in Columbia, Tennessee, located about an hour south of Nashville.  Because it doesn't strike me as an overly political town, I was curious to see how many people would even know that today was a special day for the franchises.
Well, apparently, word got out.  Five police cars are parked out front, with several police directing traffic, yelling at cars to move on because they're unable to even turn into the parking lot.  We've been here for half an hour and we only now have gotten inside the doors. Literally, it is standing room only, but everyone is in good cheer.  There's a man walking around yelling, "There's hope for America!"
I have to wonder what it's like at the Chick-fil-A in Philadelphia the kids and I used to frequent in Center City.  Nevertheless, here in Columbia, Tennessee the line is incredibly long and the mood is festive.  So, I'm taking the opportunity to interview people I encounter in line.  I asked a few people why they were eating at Chick-Fil-A.  Here are their responses:
Michael Parks Lawrence, 19,  full time student at UT Chattanooga and The VP of College Republican Chapter at University of Tennessee at Chattanooga told me:
"I believe in what they stand for – marriage is between man and a woman."
Steven Dvorak, 19, student at Florida College in Biblical Studies said:
"We came here to support freedom of speech, because the current media is attacking a lot of religious speech."
Alex Dvorak (21), full time student mechanical engineering at Tennessee Tech University, told me:
"Christian beliefs are under attack. We heard of it was Chick-fil-A Appreciation Day, according to Facebook."
Jackie Quillen, a retired teacher, said:
"I came here to support Mr. Cathy's Constitutional right to express his opinion. I heard of it all over Facebook and the news. They are crucifying people for their opinion. I hope all these customers vote."
Donald W. Quillen, engineering consultant, told me:
"I came to honor Chick-fil-A and their purpose. I'm here to honor America, our constitution, and our freedoms.  Plus, they give the cleanest and best food to the people of America."
Steve Konz, elected county treasurer for county Government, said:
"I enjoy chicken. Plus, I think it's important to enjoy first amendment rights.  I ate breakfast here, I ate lunch here, and I may eat dinner here. My favorite item is, of course, the sandwich. I think people have a right to express their interests even though they are business people. Occasionally people try to squelch my opinions, and I have the right to have opinions on things."
Harriet Jett, retired elem school teacher at Columbia Academy in Columbia, Tennessee, said

I support Mr. Cathy 100%
Shelia Butt, Tennessee State Representative, told me:

"First of all, I love Chick fila anyway and would eat here twice a week.  I appreciate that they don't mind speaking their religious beliefs and exercising their freedom.  We should all use that opportunity, because that is one of the greatest things about the United States of America… I represent the people of Maury County and the state of Tennessee, and I'm happy to say that in the state of Tennessee, our constituation says that marriage is between a man and woman."
Barry Hensley, IT computer analyst
"I brought the family and we made it a day to support Chick-fil-A's right to voice their opinion. After all, it's the law of the land. He [Mr. Cathy] has the right to have his opinion… I don't understand why people should boycott what's the law."
Donna Stewart, activity coordinator for a senior center
"I left for work an hour early, to wait in line for forty minutes to eat breakfast – I ordered a chicken biscuit. For lunch, I'll have chicken fingers and waffle fries. For dinner, my husband and I are going to get chicken sandwich or a salad. I came because I want to show support for family values and our right to believe in what the Bible says is truth. I love my gay friends, but I don't agree with the sin."
Ken, retired
"Well, I think when people take a stand for what they believe in, particularly when it's something in the Bible, they should be supported."
Peggy Rector, retired
"Because I believe in the owner's values, and I'm so proud that Mr. Cathy stood up for the American people like he did."
Jean Sherrill, retired from DuPont
"I believe in the cause, I don not believe in gay marriage,"
Joey Hensley, State Representative running for State Senate
"I'm here to show my support of the philosophy of Chick-fil-A, I certainly very much agree with it. I had legislation this year that would prevent schools from teaching about homosexuality in K thru 8th grades.  I believe traditional family, that God meant marriage to be between a man and woman. The fact that we recognize other situations as marriage is part of the problem with this country today.
 Bradd Kimes, Financial Planner, maybe said it best:

"I heard they had chicken."
If you haven't made it to a Chick-fil-A yet, you might enjoy these photos, which really show why that random guy was yelling, "There really is hope for America!"  (And click on the captions for the explanation.)
That's all from the kids' play place in Chick-fil-A in Columbia, Tennessee!
Read more on the Faith and Family Channel