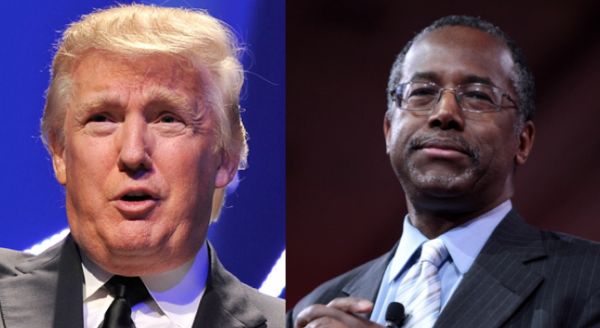 Wow — this is something. I've never seen the political landscape shape up like this.  In the current polls, there's not one senator or governor even close to Donald Trump and Dr. Ben Carson.  They're leading the Republic Presidential Primary race far and away.  In a CBS poll, Trump leads with 29% and Carson is second with 25% of those polled in early primary states.
David French at National Review comments:
A CBS/YouGov poll released this weekend shows that in Iowa, New Hampshire, and South Carolina the alternative to Trump is Ben Carson. Not one senator or governor is within meaningful shouting distance: As for the Democrats, Bernie Sanders is now ahead of Hillary in Iowa and New Hampshire. While Hillary leads in South Carolina, a lead that large won't hold if she loses the first two: Again, it's early. We've had one Republican debate, and there have been exactly zero Democratic debates. But the days and weeks are ticking by without a single Republican politician catching fire. Indeed, the opposite has happened. Soon enough, it won't be "early" anymore, and Trump, Carson, or both will likely still be at or near the top of the polls. We could be in for one of the more memorable political races in recent American history.

For a breakdown of the polls, read David's full article here.
I think this shows that Americans are sick of politics as usual…  even Democrats, who are choosing Bernie Sanders over their "establishment" candidate of Hillary Clinton.
I can't shake the feeling that it's a new era in politics.
Read more on the Patheos Faith and Family Channel, follow Nancy on Facebook, Twitter, and Instagram!