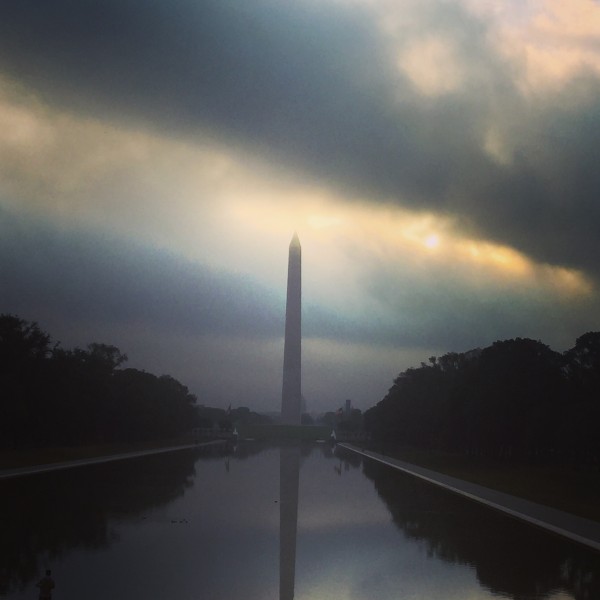 I'm in Washington DC with The Boot Campaign, which aims to "awaken the patriot in all of us:"
Boot Campaign is dedicated to promoting patriotism for America and our military community; raising awareness of the unique challenges service members face during and post-service; and providing assistance to military personnel, past and present, and their families.
They also sell military boots to raise money and awareness for veterans! You may have seen your favorite celebrity donning boots for the cause, like Dwayne Johnson: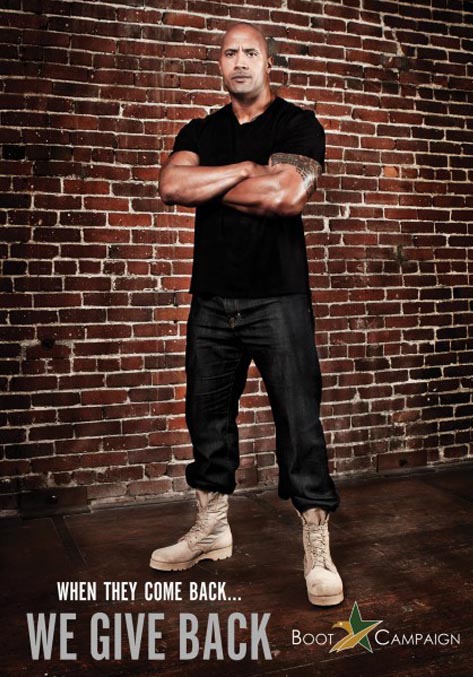 … or Dolly Parton: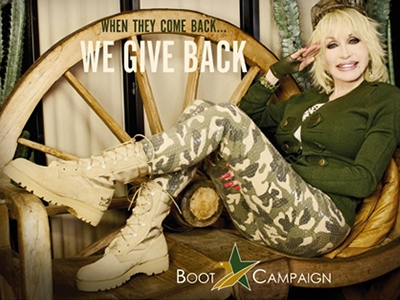 … or Sons of Anarchy: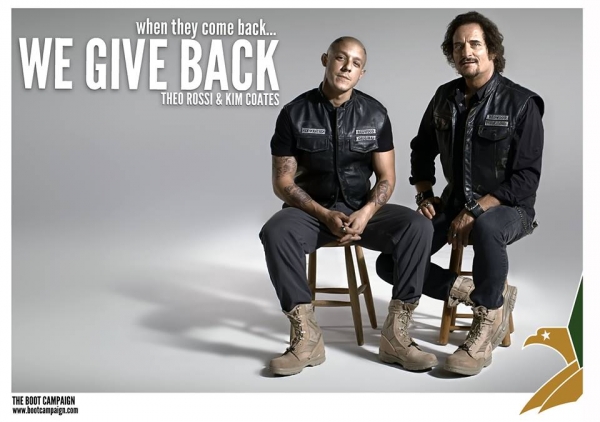 This morning, we met bright and early at the Lincoln Memorial for a push up challenge. The boots I ordered didn't make it to me in time, so I wore my husband's actual combat boots he wore during his deployment to Iraq.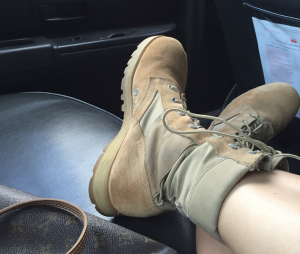 It started with a beautiful rendition of the National Anthem in front of the Lincoln Memorial, with the "dawn's early light" actually peeking through the clouds on us. People everywhere within earshot — even those who weren't in our group — stopped in their tracks when they heard the first notes. The joggers who were running around the reflection pool paused their morning workouts and saluted the flag in silence for the duration. It was very touching to see this sort of respect for our nation in people who are just out doing their morning routines.
Our job for the day was to encourage people to do push ups for charity (or, "pushers" as they called them!).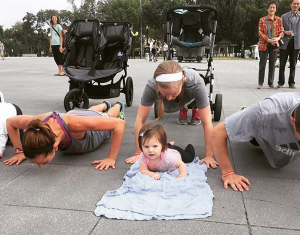 "Come do push-ups for America!" we'd say to passers-by. "Support our troops!"
Many people inspired us: Boy Scouts who'd given up their Saturday morning to clean the Vietnam Memorial, bicyclists, moms with strollers, people in the middle of a marathon, and a huge African American family reunion.
Every time I approached people, I did a quick self-screening process to avoid any awkwardness. I didn't ask people who were elderly, for example. I also tried to ask only people I could tell were Americans. After all, I didn't want to be rude by demanding visitors from other countries also support our troops as well as their own.
"Want to do pushups to support our military?" I asked a family of three. The teenage daughter showed interest, but I detected an accent.
"It's okay if you don't want to," I said. Turns out, she was from Slovenia. I had no idea where that was, but I now know — thanks to Wikipedia — that "it borders Italy to the west, Austria to the north, Hungary to the northeast, Croatia to the south and southeast, and the Adriatic Sea to the southwest."
"I want to!" she said, beaming. Her parents cheered her on as she did pushups and Fox News filmed her group.
"She is on American TV?" her mom asked, absolutely amazed.
"Yes," I said.
"Now?"
"It's being broadcast live!" They were delighted.
Only in America.
After their take, one of our team noticed a "Hero Flight" of WW2 veterans on their tour. We took a break from the pushups to greet them and express appreciation for their service:
This was the highlight of the day, and I could tell the servicemen on our team were particularly touched by the unexpected honor.
But duty called. Every fifteen minutes, Fox News did a live broadcast, so we had to drum up people to do the takes. By the way, it's an interesting challenge to try to get people to do pushups on national television. You never could tell who would or would not do it, but the ones who appreciated the military seemed to be willing to do pushups, hang around, and then do the next segment too!
Sometimes, people would say, "I can't do a push up." But this is hard to utter when you have double amputees like this out there:

Um… sorry, what were you saying? Yeah, that's what I thought. Get down there and do some push-ups for America!
Things got much more energetic when the Georgetown swim team agreed to participate. Here's a video of them waiting for the Fox News hit, keeping their muscles warm by singing a song in honor of their alma mater:
I loved seeing all of the tourists with wide eyes and selfie sticks, standing in front of our very impressive national monuments. In a day of uncertainty, those massive slabs of marble somehow assure you of America's strength, history, and future. It's always pretty jaw dropping to see the capitol for the first time, and the tourists got to see our lively, fun crew celebrating what is best about our nation.
Most, memorably, someone asked a Chinese man with a Communist flag on his shirt if he wanted to do pushups.
To our utter surprise, he looked at them, ripped off his shirt, and fell to the ground for 90 seconds of pushups.
That's when we noticed he had a film crew following him for a documentary. Their cameras were rolling, because he apparently just incorporated his unexpected push up session with American service members into the script. After he was done, he continued to film and speak passionately in his native language while we continued. (I would've given anything to have understood what he was saying!)
The Boot Campaign's motto is "awaken the patriot in all of us." If you're a Democrat, a Republican, or completely apathetic, all Americans should appreciate the blessings of liberty we enjoy that were bought at a very steep cost.
Today, they accomplished that goal, when they caused even a Communist to fall on his face at the feet of Abraham Lincoln.