An Encounter Interruption
I had seen umpteen people and the day was still rolling. A woman named Vanessa came in and asked if her sister, who only speaks Spanish, could come in with her. I said, "Sure". I had no idea that an image in my heart would shift the days business into a more personal encounter. It was about to be something that had all three of us in tears.
The sister, named Maria, came in, and they both sat down. They were short little women, but beautiful girls, both under forty and thin. I went over some paperwork as I was keen to get my work done for the day and time is always of the essence. My heart was pulling on me and I could feel this wouldn't be a normal five minutes, it would be what I call, "a God encounter".
Encounter Across Distance
Vanessa said that they only had each other now. Both sisters had children of their own and neither of them are married. They rarely get to see each other because of the cost and involvement with crossing continents on meager salaries. Maria has her own business outside of the US and has thrown herself into the work. She was beginning to feel also that this was more than just an appointment, it was an encounter.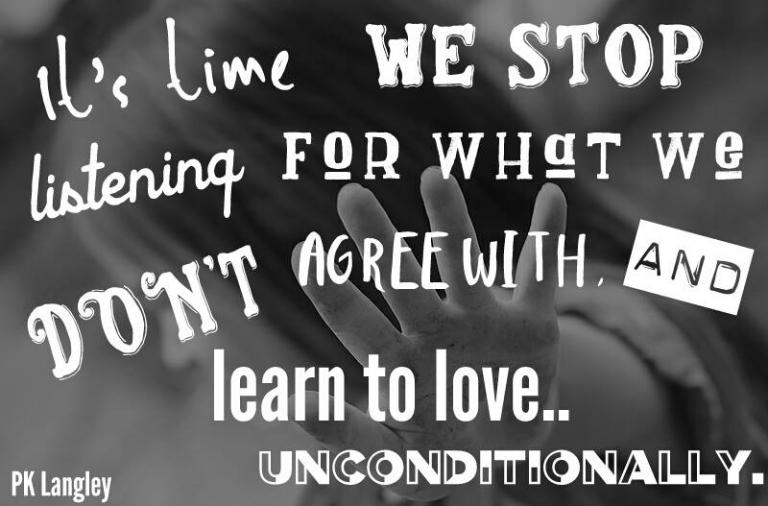 Sometimes, you have to put down the work to tend to people. This was one of those moments. While I was talking to the sisters, I saw an image of a woman in a kitchen, standing by a counter with a mixing bowl in her hand. She was diligently stirring while talking. That kept coming up in my mind as I listened to the sisters. This encounter was one that was discerned by my spirit. I wasn't accustomed to this happening at work, but over the years I've learned to yield.
They went on with their story and I rocked back in my chair, forgetting my work agenda and allowing the encounter to progress. Their mother had died of cancer recently, and they were both hurt by her absence, especially since they had no other family. Maria, the Spanish-speaking sister, was devastated by the mother's passing. Again, an elderly woman surfaced in my mind and, as she stirred her bowl, she began to speak to my heart. When this happens, the image progresses and evolves as I express it.
I now knew that the image I was seeing of an elderly woman with a mixing bowl cradled to her belly was their mother. It wasn't something I had invited, or even sought an impression from. I used to suppress these occurrences when I was a pastor, but now I let them surface in places where they will be received. Yet this was new, it was at my job. My concern is that you have to maintain balance but these two women had pulled on me, and they were pressing me for the words that were within. It's like you become the mail carrier that has a letter from beyond, and they are begging you to read it because it's not in their language.
Forbidden Encounter
I do not often speak out at work, but I was so compelled that I did. "Why are you sisters living in two separate countries?" I prodded them, and I didn't have a clue what was about to pour out of these two girls. They were pulling on the gift within me. It was something I had walled up all those years in Christian ministry. People in church don't want to hear that your prophetic gift is also one that goes outside of "biblical guidelines". If I had talked about seeing brother Henry's father next to him puffing on a pipe and smiling, would I be excommunicated? I learned to suppress that side of the gift and I refused to allow them entrance by speaking it out.
The church pickets psychics and condemns those who speak with the dead. I remember when a popular medium got a television show and how my Christian friends said she was "of the devil". They would say that the devil had a plan for us and if we went to psychics or mediums that we would end up being steered toward Satan's destiny. I had walled that part of me away for the sake of acceptance. The dam that religion had held back for fear of it being demonic, was starting to leak again.
Close Encounter
I told them that I felt that their mother was close, and especially to Maria. Their mother's presence was something I felt so strongly that I was no longer afraid of sharing with them. I told them that their mother wanted them to be together and that Maria could not overcome her fears. I encouraged her to follow her heart and not be afraid. This was all that was impressed on my heart but it would be enough. I watched as both women leaned into me, so intent and hungry to hear what I had to say.
Maria began to roll out in Spanish as she wept openly and her sister continued to interpret. Maria told me that their mother had consistently begged her to go to the United States over the years. She had resisted her mother, not wanting to leave her alone. Maria stayed with her mother until the end. During that time she had forgiven her mother for the difficult past the two had. They became desperately close, so close in fact, that Maria begged her mother not to leave her.
From Catholic to Christian
Maria said that her mother had been a staunch Catholic and Mary statues littered the home. During the time of her illness, Maria's mother had converted to Christianity, and she destroyed all of her Mary statues. In the end, she had found true relationship with her creator and this helped her in the process of dying. The sisters had left religion and believed that they could have a faith outside of all the demands that they had seen in Catholicism and Christianity. They had become free through tragedy.
Between the tears and goose bumps of both sisters, I finally shared with them the image I saw. Maria broke into tears and covered her face as her neck lost the ability to keep her head up. After a minute or so, she recovered. Her sister would reach out to touch Maria's forearm and it was evident that the two loved each other deeply. Then, she told me that when her mother found out she was dying, she went on a baking spree, trying to invest her deepest knowledge with her daughter.
The very image I described was a scene that had played out between mother and daughter. Maria's mother was standing there, mixing that bowl while she was talking to her daughter and imparting her precious wisdom. She had given me that image to let her daughter know she had kept her promise; she was still with her.

When her mother lay on her death bed, she promised Maria that wherever she went, she would always be with her. She would stay close. She lingered for a while, unable to let go. When Maria finally broke down and released her, she was able to finally rest in peace. I encouraged Maria with what was repeating in my heart over and over since they had walked into my office.

"Your mother wants you to know that you do not have to be afraid. Do not think of it as something outside of you that you must get. Everything you have is inside of you. Think of it as gifts within you that you can pull out of you. All you need is inside of you. Don't be afraid Maria. You can do this." I encouraged her to seek her heart and follow it, not me. I always preface these types of encounters with a cautionary note to not follow the person, but the spirit within. That way the decision is, and always will be, hers.
We talked more, about faith and freedom. At one point, I showed them a Frustrated Grace Cartoon. The amazing thing is that the cartoon I showed them to illustrate relationship over religion had a character Vanessa identified with greatly. The beauty of the moment was in seeing two sisters encouraged and two daughters comforted. I don't know what will happen, if anything. I do know that had I held in the image of that woman mixing food in a bowl and talking to her precious child, it would have just been another day at the office.
Available publications by PK Langley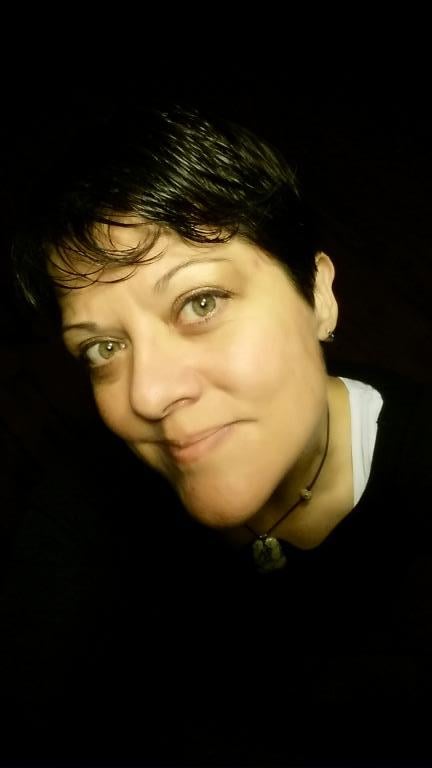 PK's Fine Art Store where you can find many of the Frustrated Grace Prints.
KINDLE E-BOOKS
PK writes short stories about life. They are in the form of ebooks for $1.37 each. Get them here.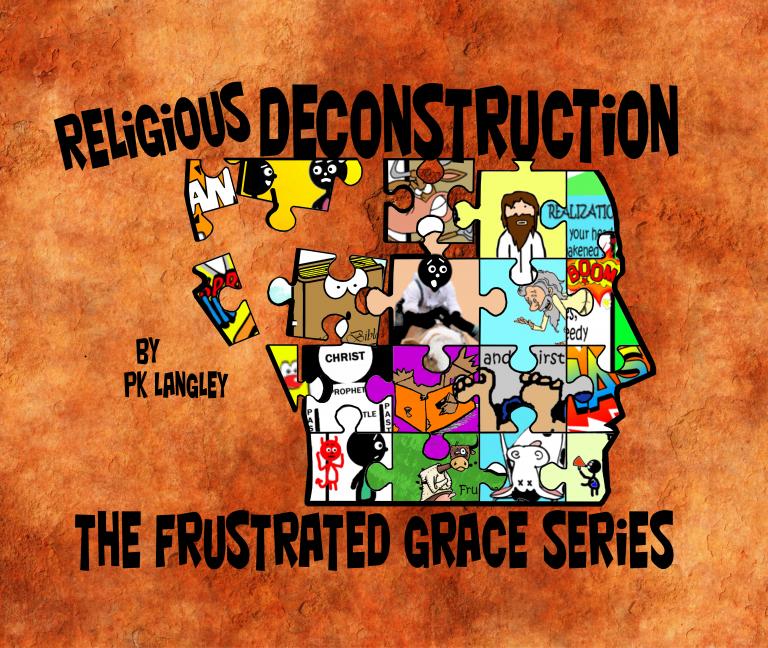 PAPERBACK BOOKS
Religious Deconstruction, The Frustrated Grace Series is now available, with over two hundred comic images on Amazon. You can get a preview of every single one here.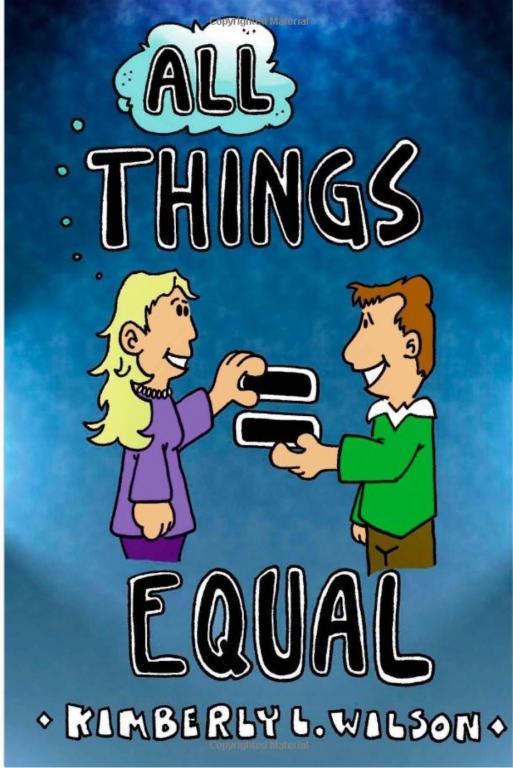 All Things Equal,  is an exposition for women and how God
sees them from a very "biblical" point of view. It was what I needed in my first push toward deconstruction. If you are still in a church, and a woman, this is a great book to start. Get it here.
Deconstruction tools
LangleyTown has a specific page for materials that will help you with your deconstruction. Find them here.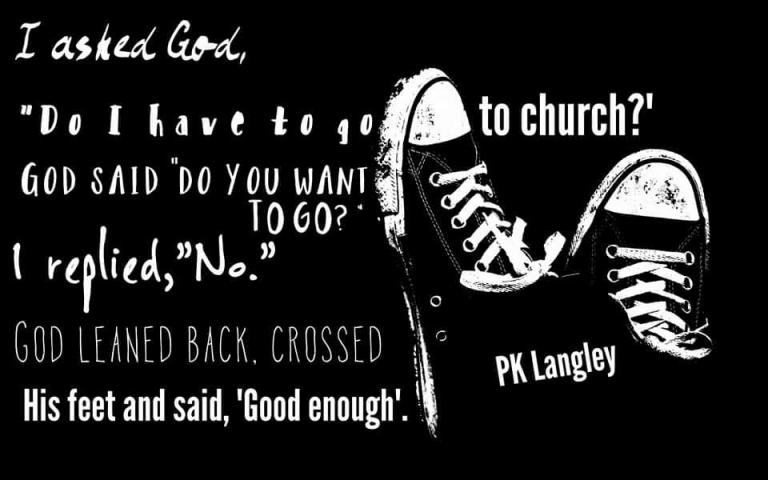 PK Langley's most Popular Blog Posts!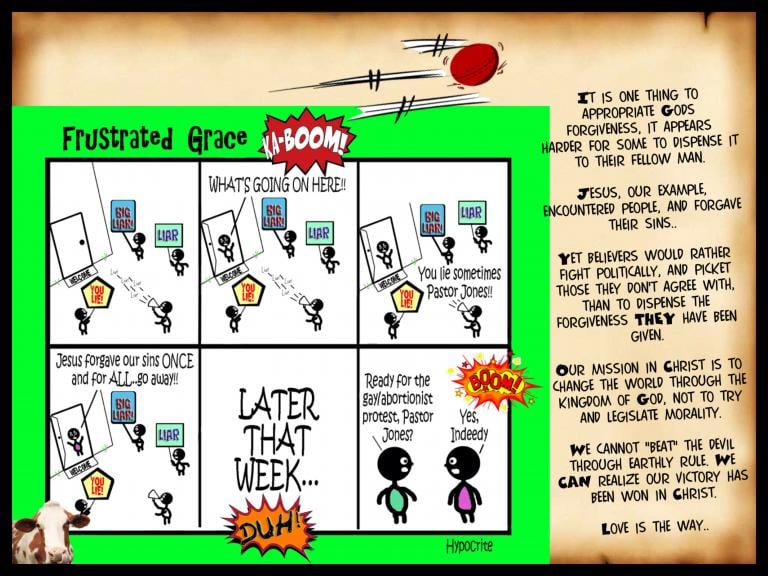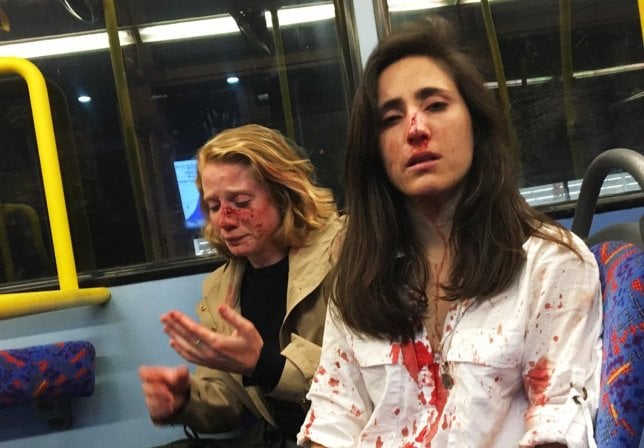 Straight Pride?
Read, "When the Good News Goes Bad" by clicking here.
Social Connections
You can find me on Facebook at "PK Langley"
Thank you for stopping by, I'd love to hear your comments!