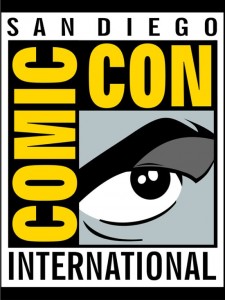 Do you hear it??? Do you hear the sound of 130,000 children, teens and adults squealing with sheer delight and delicious excitement and anticipation? IT'S COMIC CON TIME AGAIN! Yes, living in San Diego means warm sun, palm trees, gorgeous beaches and THE CON! I am lucky enough to be going on a professional pass and can't wait to help spread the news about all the stuff I see and the cool events that are happening here. For anyone who has ever been to the Con, you know the agonizing long lines to special panels and events, the parking hell, the crush of geek boy and girl bodies in the main exhibit hall…but you also know that the Con reverts grown ups into little kids (I've been squealing all week!) and everyone becomes a wide-eyed fan at the sheer array of costumes, displays, panels, stars, posters, giveaways, merchandising and sneak peeks of favorite comics, books, shows and films…and of course, gaming, too (my son already told me about the entire floor of the hotel next door devoted to Xbox Gaming!!!).
So tonight is Preview Night, for those holding special Preview Night badges…and its all about getting geared up and ready for four days of absolute insanity! On schedule for tonight?
Sneak peek Pilot screenings of:
ALMOST HUMAN – A futuristic sci fi series produced by J.J. Abrams about a detective teamed up with an android that will air on Fox this fall.
THE ORIGINALS – A "sexy, new drama" about a hybrid family of vampire/werewolves. Yay! From the creators of "VAMPIRE DIARIES" and airing on the CW this fall.
THE TOMORROW PEOPLE – A paranormal thriller about a group of humans born with supernatural abilities who are being hunted by some elite secret group…coming to CW this fall.
THE 100 – About the survivors of a nuclear apocalypse who were all on board the space station at the time and now must send 100 juvenile delinquents back to earth to test the waters. Yeah, you heard me right! Coming to the CW this fall.
Tomorrow marks the first full day at the Con and, get this, AN X-FILES REUNION! Yes, more on that to come…Scully and Mulder together again. Whoot whoot!
Also on for Preview Night tonight, gaming and people watching. If you need the schedule, go to the Comic Con website at http://www.comic-con.org. If you cannot be there, well, tough luck. Maybe next year! Until then, you have me and the other 130,000 lucky fan girls and boys who get to brave the insanity!
I'mma be getting MY geek on!