From Geek Goes Rogue TV Editor Zach W. Lorton, as told to by the plastic nativity set in his closet…
I am very upset right now.
Just a few minutes ago, I found out that ABC aired A Charlie Brown Christmas already.  Last night, in fact.  Monday, December 2nd, they aired one of the most beloved and revered animated Christmas specials that has ever been produced.
I'm upset because I missed it.  That animated special has wedged itself into a very specific place in my heart reserved only for things related to Christmas.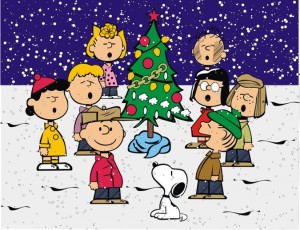 Peanuts is my all-time, desert-island favorite comic strip in the world.  I learned to read when I was very young, and for many years, my mother would check out Peanuts anthologies from the St. Louis County Library for me to read.  I was struck by the precociousness of these characters, and how they seemed to tackle adult-sized issues with kid logic, and sometimes, with absurdity.  There, in the endless pages of my youth, were Linus' wisdom juxtaposed by his need for a security blanket, Lucy's narcissistic rage, Sally's innocence and sense of wonder, Snoopy's literary prose and sense of adventure, and Charlie Brown's failure to succeed at anything — flying a kite, winning a baseball game, even getting the attention of that little red-haired girl — all of these characters were strong, bold, and comforting.  Much of the humor was over my head as a child, but it helped shape my sense of what was funny and entertaining, and it made the comic that much more of a joy to read as I got older.
A few years ago, I was insanely busy in the weeks leading up to Christmas.  Our church was putting on our very first Trans-Siberian Orchestra tribute concert, and in addition to narrating and singing, I found myself having to learn the second keyboard parts with only three weeks to prepare.  I had also written and was starring in a dramatic sketch for our Christmas Eve program, so I was rehearsing for that, and I was kept busy with my second job as a DJ on the weekends.  I was starting to lose my sense of joy in the Christmas season because I was getting wrapped up in all the details.
One day, my wife came home from shopping and told me, "I have a surprise for you."  This was pretty normal, as that's what she does to show someone she loves them — she gives them gifts.  I was expecting a gourmet candy bar or craft soda or something like that, but instead, she handed me a Hallmark store bag.  Inside was a Hallmark Keepsake ornament, one of those kinds with sound and lights that are released only once a year, then retired.
It was Linus, on the theater set from A Charlie Brown Christmas, with his blanket over his head like a shepherd, and a spotlight and a microphone on the stage.
Before I tell you what happened, I have to backtrack a few decades…
==============================
I attended a private school for the first time when I was in first grade.  Our first class of the day was Bible class, where we learned about stories from the Bible, were given Scripture verses to memorize, and took some time to pray for each other's needs and requests.  The first Scripture passage I ever memorized was Psalm 100, but the very next one after that was Luke 2:8-14, the passage that recounts the angels announcing the birth of Jesus to shepherds outside of Bethlehem.  We recited that as a class at our school's Christmas program that year, and we worked a long time on getting it right.  That was how I found out about the real meaning of Christmas.
==============================
After my wife gave me the ornament, I pulled the box open, took out the ornament, put the batteries in and pressed the magic button.  Linus' voice came through clearly from the speaker: "Lights, please."
A little LED light came on above the stage.  Then I heard the following audio, taken right from A Charlie Brown Christmas: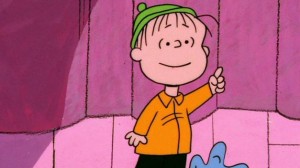 "And there were in the same country shepherds abiding in the field, keeping watch over their flock by night.  And lo, the angel of the Lord came upon them, and the glory of the Lord shone round about them: and they were sore afraid.  And the angel said unto them, Fear not: for behold, I bring you good tidings of great joy, which shall be to all people.  For unto you is born this day in the city of David a Saviour, which is Christ the Lord.  And this shall be a sign unto you; Ye shall find the babe wrapped in swaddling clothes, lying in a manger.  And suddenly, there was with the angel a multitude of the heavenly host praising God, and saying, Glory to God in the highest, and on earth peace, good will toward men."
And then there was a little pause, and Linus continued:  "That's what Christmas is all about, Charlie Brown."
I was immediately reminded of being a six year old boy, parked in front of the television one night watching A Charlie Brown Christmas.  When Linus began to recite that passage, my eyes opened wide and my spirit rose.
He was saying the exact same passage that I had memorized.
I couldn't believe it.  How did so many other people know about this?  It was even the same translation I'd learned in school, the King James Version.  I was discovering for the first time that other people, all over the world, also knew what I had only recently learned, that Jesus' birth was first announced to a group of shepherds, thought to be among the lowliest people of the time, before it was made known to anybody else.  In that moment, something was awakened in me that made me understand the width of God's love for not only me, but all of mankind.  I knew true joy in that moment.
After I played that message from the ornament, everything about why I celebrate Christmas in the first place came flooding back to me in a wave of emotion, and I began to cry.  I had been feeling like Charlie Brown — trying to organize so many things at once, spending all my spare time trying to get the pageantry right — that I had forgotten about the big picture.  As I played that ornament, Linus was telling Charlie Brown about the real meaning of Christmas, but he was also reminding me of why I was put on this earth — to tell people about the love of Jesus through whatever creative means I can.
In that moment, I received clarity and focus.  I was reminded that the productions weren't the point, but merely a vehicle through which we deliver the greatest news mankind will ever hear.  I was reminded that God is big enough to carry me through any seemingly insurmountable assignment, and that in the times that I am weak, He gives me the strength I need to carry me through those moments.  And I was reminded that I am part of a greater whole, a community of believers who have a passion for people that don't know the love of God to experience it first hand.
At the age of six, it took a cartoon character to make the truth of Jesus' birth more real to me.  And to this day, that little ornament is a symbol of that moment in my life.
It is, without a doubt, the greatest gift my wife has ever given me.
Zach W. Lorton is a media producer and professional DJ/MC by trade, and a comedian, actor, and musician by default.  His debut music project is set to begin recording in 2014, and will likely take the world by storm, possibly in the form of a Sharknado.