From Geek Goes Rogue TV Editor Zach W. Lorton, as told to by the bed that is beckoning him from miles away to just give up and take that 17-hour nap…
I've become more familiar with BuzzFeed over the last 6 months than I care to.  For those not indoctrinated, they make, among other things, lists.  Most of the time, the lists aren't that special, and seem arbitrary, depending on who creates them.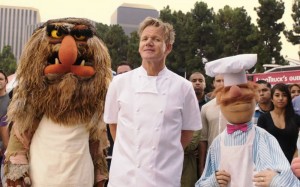 However, yesterday, they did something right by teaming with Disney to premiere an exclusive "Muppisode" on their website.  Everything you've come to love about the absurdity and goofiness of the Muppets is put to the test when the Swedish Chef goes up against Michelin Star winner and celebrity chef Gordon Ramsay (he also used to play professional football soccer, but we won't hold that against him).  
Of course, it's all part of Disney's campaign to promote Muppets Most Wanted, the new Muppet film releasing in March 2014.
Of course, they couldn't resist listifying the article, by including several .gifs of the video at the top of the page.  Instant recap = Minus 4 respect points.
There is so much epic happening in this clip, from Beaker wearing the correct sanitary accessory, to Miss Piggy second guessing her cupcake, to the incredulous look on Chef Ramsay's face when it's all over.  And of course, the zooming close-up of Swedish Chef.
So. Much. Epic.
What's your favorite Muppet moment?  Check out the video, then come back here and let us know what your favorite Muppet moment is.
Zach W. Lorton is a media producer and professional DJ/MC by trade, and a comedian, actor, and musician by default.  His debut music project is set to begin recording in 2014, and will likely take the world by storm, possibly in the form of a Sharknado.