Not long ago, I posted an article about my journey as an aspiring writer and the struggle to find inspiration. Time and again I've wrung myself out, mentally and emotionally into these imaginary people living in my head, found myself stuck and had to refill my cup of creativity. When I encountered road blocks early on, I tried to plow through them instead of taking a detour. Now I know better.
Inspiration can be found in the most unexpected places, and as I've learned this, the itch to go out and explore this great big yet small world has once again taken hold of my psyche. My natural wanderlust rose to the surface and wouldn't leave me. I needed out of my comfort zone. To see the ocean and feel cold sand beneath my feet. To escape into another world if only for a short time.
I booked a flight and headed to the east coast. I walked (more like trespassed) on a private beach at midnight. I tried food I'd never eaten before and found that I loved it. I ran free with no real plan, talked to strangers, visited old friends and made new ones. I randomly had a conversation with someone from "back home" and we talked about the mutual places we had been and marveled at how small the world really is. In five short days I watched the weather cycle from the sixties and sunny to freezing rain and bitter snow and back again, always able to retreat to my hotel room with a cup of coffee and a fresh perspective. I attacked my keyboard with a fervor I hadn't known in months.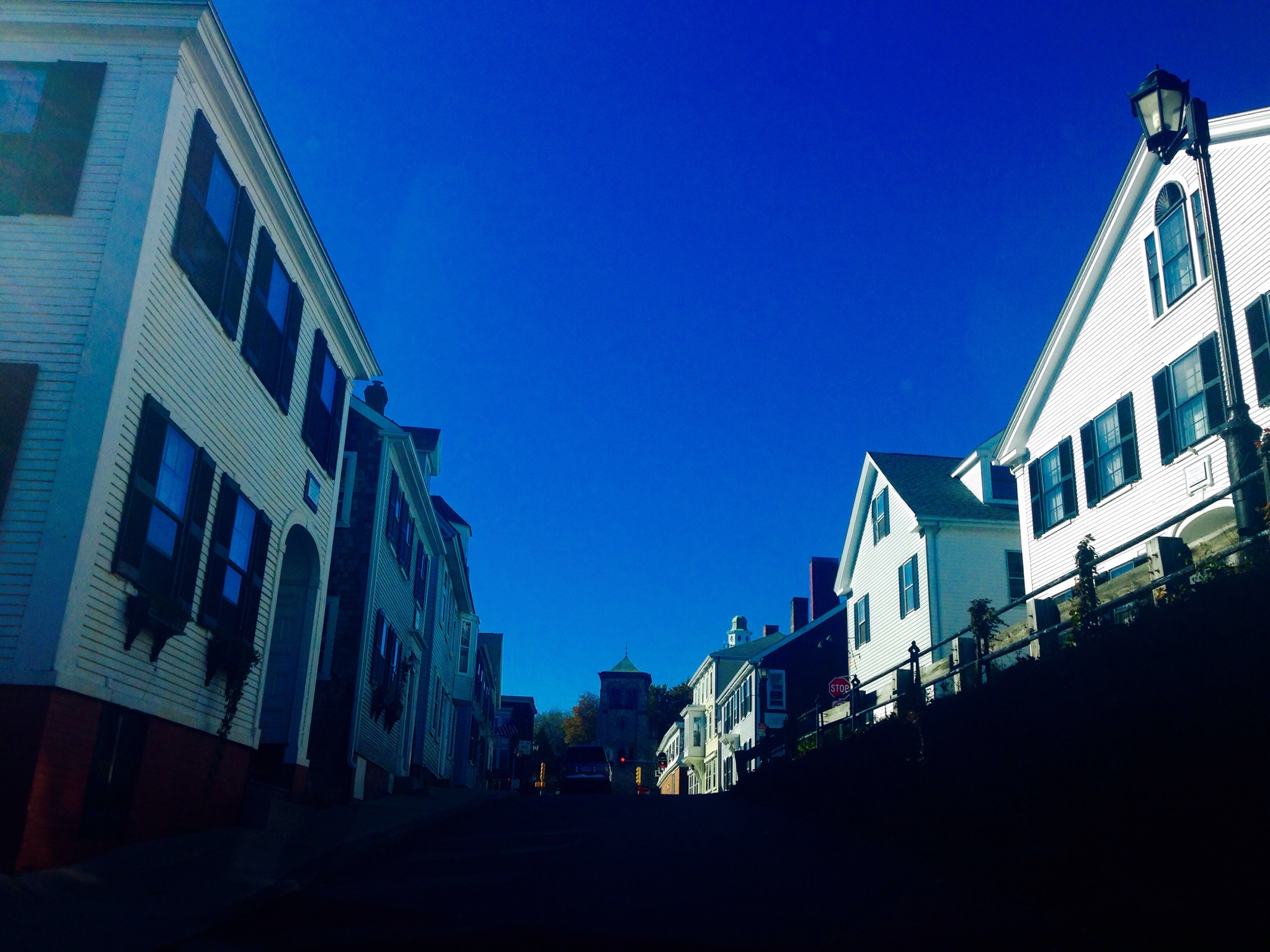 I laughed, I cried, I loved and I loathed at times… but most importantly, I lived. I lived in the moment. Each moment. From one to the next, like the racing beat of my own heart. Every moment became a memory that sparked further creativity. I was in a constant state of sensory overload, lucid in ways I hadn't known yet still living out the ideas exploding in my brain.
My departure day came and the melancholy kicked in. I packed my bags, quietly checked out of my hotel shortly after sunrise, and made my way to the waterfront for one last view and a few pictures. I wanted to leave my mark in this place where I had found so much inspiration that it forced me to change the setting of my work in progress. I chose a tiny spot, completely hidden from sight and etched a simple note. Then I slipped away casually, visiting the shops and dropping some change into the parking meters when no one was looking. In my mind, I couldn't buy more time for myself in this place but I could buy a little more time for someone else. I'll never tell another soul what my note says, or where it is. But if someone happens to find it, I can only hope that they will leave a tiny mark of their own behind for me to find the next time I visit.
I boarded the flight to leave, feeling like I had still missed something. I wept at the view from my window seat while my delayed flight sat useless on the tarmac, wishing I didn't have to leave just yet, completely overwhelmed with thoughts I couldn't process and feelings I refused to label. I waved as we finally got off the ground then prayed that I would make it in time to catch my connecting flight. I didn't. I got stuck. In New Jersey. For the night. Half way between the two places I loved the most. The home of the imaginary people in my head and the home of the reality of my heart. I made the best of it, even with little sleep, eating a salad of questionable freshness and worrying over my "misplaced" luggage.
I caught my flight the next morning arriving cranky and a little worse for the wear but threw my arms around my children with one word in my head. Home. I went through the unpacking, laundry and general post-travel motions. I decompressed and digressed. I've written every day since.
I got stuck again the other day, with too many things going on to quiet my mind. I took a short trip to where I grew up. I visited the Bridge of Dreams, and I found something. Someone had left their mark there, and I couldn't resist smiling as I took a photo of it, hoping that that Bridge of Dreams in my hometown might have inspired someone from far away as much as I had just been.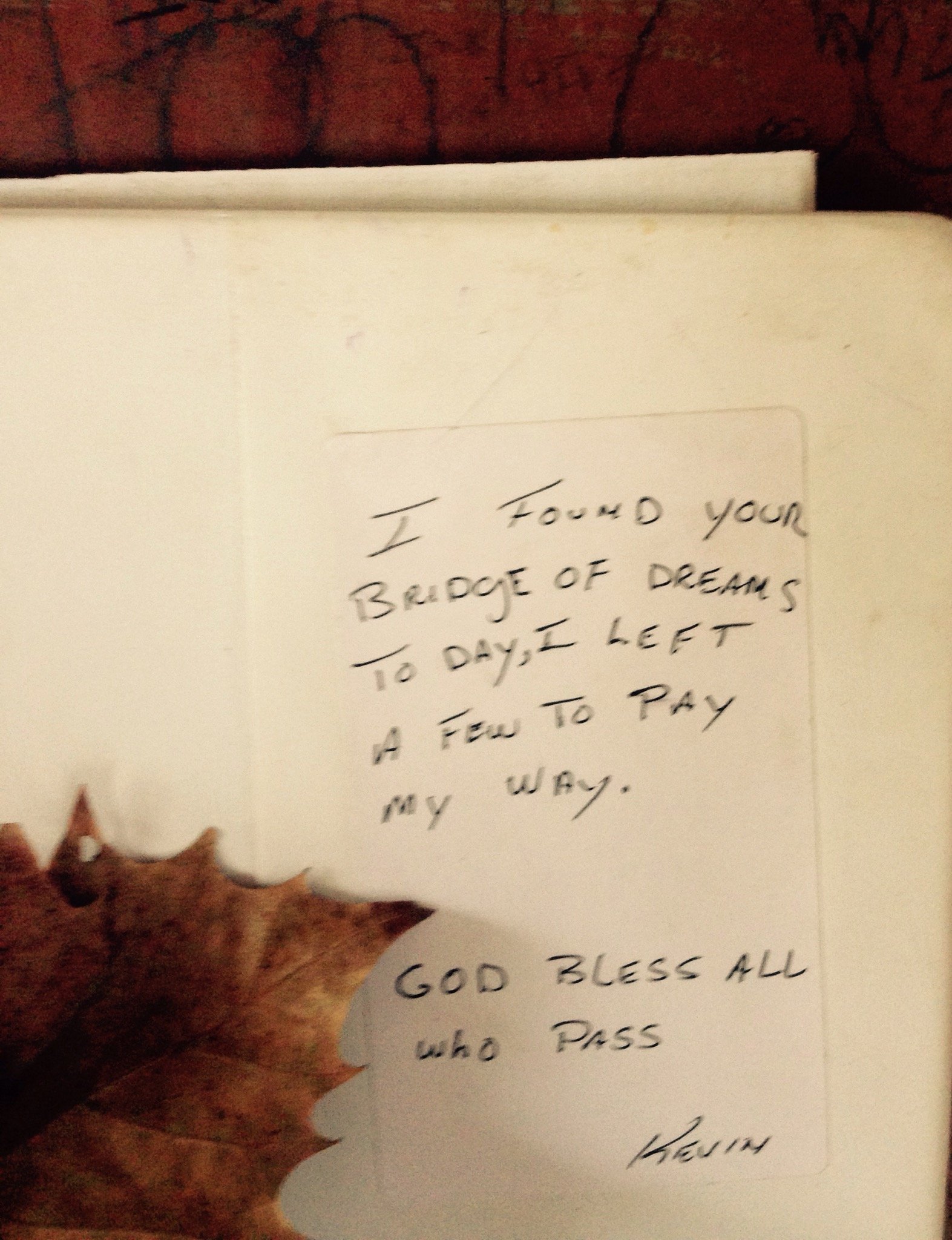 Step outside your comfort zone and leave your mark in unexpected places. You never know who you will inspire.
Melody Evans is Social Media Manager for a family of healthcare companies, and a freelance photographer and book review blogger for Up All Night Novels. When she's not hopelessly attempting to improve her lackluster video gaming skills or forgoing sleep in the endless pursuit of literary satisfaction, she can often be found diligently glued to her keyboard, seeking new outlets to express her love of all things geek chic.
Melody currently resides in Mansfield Ohio, where she enjoys spending time with her family and pets, exploring new places, dabbling in holistic medicine and attempting to maintain a healthy lifestyle.