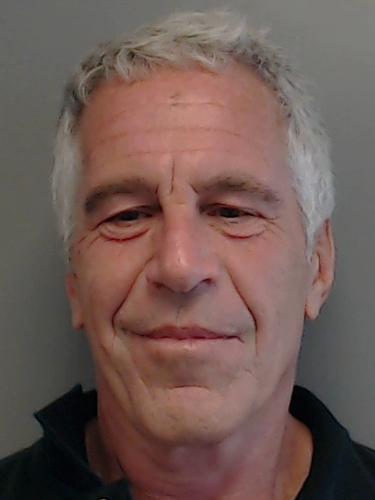 Wealthy sex offender Jeffrey Epstein was found dead in his high security cell, where he was in federal custody awaiting trial for trafficking adolescent girls.  He was reportedly found hanging by his neck.  Authorities called it a suicide.
This was no doubt good news to a number of politicians, magnates, scientists, and celebrities who were guests on his private island and his aircraft known as the "Lolita Express."  Epstein's death came just as more information about his depravities was starting to come out, including the release of 2000 pages of court documents.  He was expected to testify about some of these cronies.
Is it just because I have been binge watching British mysteries that I find Epstein's "suicide" suspicious?  I don't think so.  Others are raising questions.
Maybe this fabulously rich hedonist was tormented by guilt for what he had done and shame for the revelations that were about to come out, so he took his own life.  Earlier, Epstein was found in his cell with neck injuries in what was described as a suicide attempt, though there are reports he said that someone had tried to take his life.
At any rate, he was put suicide watch, which involves constant eyes on the prisoner, as well as the confiscating of anything that the prisoner might use to harm himself, from bedding to shoe laces.
But it turns out, the suicide watch was cancelled.  
Epstein could have been killed by a fellow-inmate.  Incarcerated criminals may have few principles, but they are notoriously disapproving of pedophiles.  But Epstein was said to be in an isolation unit.
The suspicion is that he was taken out by agents of the powerful individuals he was about to implicate. This could have been a murder staged to look like a suicide.  But if Epstein were truly suicidal, all that it would take is a phone call to get that suicide watch cancelled.  Giving a suicidal prisoner his belt, sheets, and shoelaces would be all it takes to have him do the job himself.
So now
conspiracy theories
 are blossoming.  Some people are
blaming Trump , and some people are blaming Clinton.
But there are legitimate questions, and the FBI is investigating.  Some are saying that there should have been video surveillance of the prisoner, which might show what happened, but this report says that the  cameras are not usually pointed inside cells.  That report also said that guards did not follow protocol, which requires every prisoner to be checked on every half hour.
At any rate, for a prisoner to die in custody is always a scandal in itself.  This is true of poor black prisoners, and it is true of prominent prisoners who are possibly on the verge of exposing other criminals who might now go free.
I like these responses:
"Heads must roll," Nebraska Sen. Ben Sasse, a Republican member of the Senate Judiciary Committee, wrote to Barr in a scathing letter Saturday.

"Every single person in the Justice Department — from your Main Justice headquarters staff all the way to the night-shift jailer — knew that this man was a suicide risk, and that his dark secrets couldn't be allowed to die with him," Sasse wrote.

There's no question Epstein should have been under continual watch, said Cameron Lindsay, a former warden who ran three federal jails and who called the death a "shocking failure."

"Unequivocally, he should have been on active suicide watch and therefore under direct and constant supervision," Lindsay said.

"It's embarrassing," one federal law-enforcement source told The Post of Epstein.

 "This is the highest-profile inmate in that facility, and considering that he may have attempted suicide two weeks ago — how could they let this happen?"
Photo, Jeffrey Epstein, State of Florida [Public domain], via Wikimedia Commons