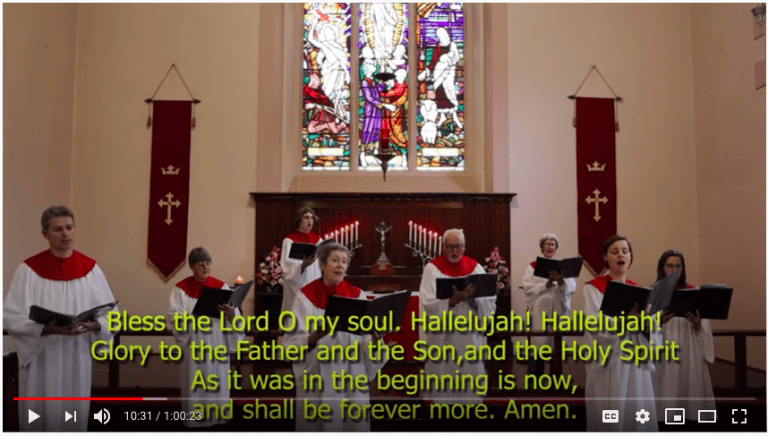 Shortly after writing my critique of "digital church," I clicked the link my Australian son-in-law sent me and viewed his church's online service, which is reaching people down under even from outside the congregation. I was blown away by the video's techniques and production value. It shows the creative possibilities in rendering worship services online (as Australia too is having to do during their pandemic shutdown). And yet its very effectiveness illustrates the potential perils if churches were to go completely digital instead of physical (as this congregation is by no means wanting to do).
Bethlehem Lutheran Church is a large confessional, liturgical Lutheran congregation in downtown Adelaide. We attend there when we visit our family in Australia, and I've frequently blogged about it. (Do a search in the sidebar for examples.) One of the pastors, Joshua Pfeiffer already has an online presence with his YouTube channel Kairos (which I have appeared on and blogged about). So he knows some things about video productions. I suspect the other pastor, Fraser Pearce, does too.
First of all, I want to emphasize that just recording your service with your smart phone can be perfectly sufficient to help your congregation worship at home and to nourish your members and outsiders with the Word of God. What I'm going to show you can give you ideas, but I don't want you to denigrate what you are already doing in your congregation. Few churches have the equipment or the expertise to pull off what I am going to show you, but that's fine.
What turns video–like movies–into an art form is editing. That is, filming many different kinds of shots at different distances and angles, and then assembling them into an effective whole.
What Bethlehem has done is to make their online services with such high production values–but also such compelling content– that television stations in Adelaide and Melbourne have picked them up and are showing them on the air! That means that millions of largely-secularized Australians have the opportunity to see what church and worship look like, to be exposed to good theology, and to hear the Gospel.
First of all, the church website gives people the option of live-streaming the service or watching the pre-recorded made-for-the internet version, which I am discussing here. If viewers just want to listen to the sermon, they can do that also. The site also lets them access the orders of worship. Sunday school materials are also online. So are Bible readings for the week.
Here is the online service. If you don't have time to watch it all, sample it, perhaps dragging through to see how the various parts of the service were handled. The sermon is outstanding. You will especially enjoy the music, as the 10 socially-distanced members of Bethlehem's world-class choir (the number allowed by the epidemic guidelines) do the liturgical responses, chant the Psalm, and sing the hymns gloriously). And note too the virtuosity on the pipe organ from cantor Stephen van der Hoek.
Notice also how the pastors speak differently to the internet audience than they would to actual people right in front of them, speaking more slowly and distinctly. They project more than they would otherwise, but create the impression of addressing, in a personal way, the individual watching on the screen, as if speaking one-to-one.
Now this is NOT just a "digital church." The service is filmed in a sanctuary, not a studio. There is a sense of place, from the highlighting of the congregation's pipe organ to the references to the local parish. And no one can miss that this is a service taking place in Australia.
But imagine if a presentation like this were all there is, if instead of a neo-gothic building, there was just a website. Can you see the appeal? Can you imagine just clicking onto an excellent production like this one instead of going to your local congregation, to either its online services, or, when you are allowed to, to its in-person services? That's the digital strategy some church growth experts are advocating, with, perhaps, some in-person gatherings scattered around the country, or, presumably, the world.
What Bethlehem is doing here is outreach, taking the church to outsiders, and for that the use of technology is ideal and highly commendable, something all of our congregations should consider doing. And it's helpful for shut-ins, for members who cannot attend sometimes, and for members who need another dose of what the church has to offer. The internet has the potential of increasing member's involvement with their congregation, and we should take advantage of those possibilities.
I can see myself taking in Bethlehem's service, but that would be in addition to my participation in my own congregation's service, whether online or in person.
Where we live, we can now worship in person, though under certain restrictions, and I rejoice in that. But our pastor, my other son-in-law, has been putting up no only online and live streamed worship, but also online devotions and Bible studies, which I have been able to benefit from even though I couldn't attend in-person meetings. I hope he continues that sort of thing.
What has the experience been in your congregation? I'd like to hear from pastors having to put on these online services, as well as members of the virtual congregations. Have you come across other notable services or uses of the technology that we could learn from? Please tell about them and post a link to the comments.
I do like the cartoon in the report I linked to in my "Digital Church" post. It showed the Devil gloating, "With COVID-19, I closed your churches!" Whereupon, God comes back: "On the contrary, I just opened one in every home!"
Photo: Screenshot from embedded YouTube.