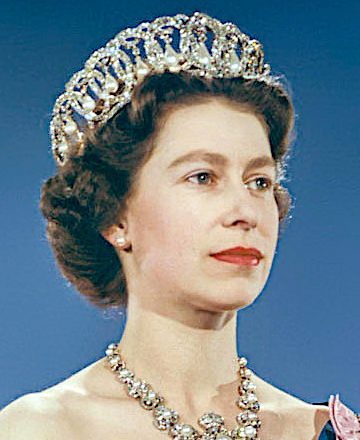 Queen Elizabeth II has died at age 96, the longest-ruling monarch in British history.
She was the head of state of not only the United Kingdom but also 14 other countries: Australia, Antigua and Barbuda, the Bahamas, Belize, Canada, Grenada, Jamaica, Papua New Guinea, St Christopher and Nevis, St Lucia, St Vincent and the Grenadines, New Zealand, Solomon Islands, Tuvalu.  In addition to these "commonwealth realms," she was the head of the Commonwealth that includes 56 independent countries.
I find myself strangely saddened and moved by this, and I'm not sure why.  I'm certainly not a monarchist, but is it that I am feeling some primal ties to our rightful monarch after all?  Is it because she ascended to the throne in 1952, the year after I was born, and that she has been in the background of the news all of my life?  Is it because I watched The Crown?  I suppose I am something of an Anglophile, due to my academic specialty in the literature of that country, my BritBox and Acorn subscriptions, and my family and friends in Australia.
Part of it may be that I envy nations that keep their head of state and their political chief executive separate from each other.  They may be on to something.
Here in the United States, our head of state is the same as our chief executive.  Thus, our political polarization affects our patriotism, with the party out of power always despising the head of state–Democrats not standing Trump and Republicans not standing Biden–at the expense of our unity as a nation. Whereas Queen Elizabeth presided over and was honored by both the Conservative and the Labour parties, and installed 15 Prime Ministers over the course of her reign, including the new one, Liz Truss, just two days before she died.  Brits can take out their ire on those chief executives, like we do our presidents–that's the privilege of citizens in a democracy–while still being loyal to their Queen.
Anyway, Queen Elizabeth made that work.  We'll see if King Charles III can do as well.  For an interesting summary of what is next for him–all of the traditions, ceremonies, and solemnities that will be unfolding and that Great Britain performs so well–see this.
Tributes, of course, are pouring in.  Here is an especially good one from fellow Patheos blogger Adrian Warnock, a British evangelical, launching off from the rainbows that appeared over Buckingham Palace and Windsor Castle just after she died and discussing the Queen's Christian faith.  I appreciate  Serge Schmemann in the New York Times for quoting Shakespeare, reflecting on the death of another Queen: "It is well done, and fitting for a princess/Descended of so many royal kings"  (Antony and Cleopatra, V, ii, 326-327).
Photograph:  Queen Elizabeth II by Library and Archives Canada, CC BY 2.0 <https://creativecommons.org/licenses/by/2.0>, via Wikimedia Commons