Gospel for Asia, Wills Point, Texas, USA
A couple of years ago, I was at a missions conference where we came together to discuss what was happening in the missions world around the globe. One of my friends there asked me, "How are things going at Gospel for Asia? What's going on these days?" We were going through some challenging situations on the field at the time, and I remember telling him, "It's a good time to be alive. It's a good opportunity to walk by faith." Which was completely true!
We don't always have great opportunities in front of us where we get to walk by faith, trusting God day by day, but trials and difficulties allow us those opportunities.
In the first chapter of James we are told, "My brethren, count it all joy when you fall into various trials, knowing that the testing of your faith produces patience. But let patience have its perfect work, that you may be perfect and complete, lacking nothing. If any of you lacks wisdom, let him ask of God, who gives to all liberally and without reproach, and it will be given to him."
In his letter, James is talking to brothers and sisters who were going through more trials, temptations and difficulties than most of us will ever experience. Right off the bat, he tells them to consider all those things as joy and to see the purposes of God in all they were going through, whether good or bad.
We don't always know what is going to happen tomorrow. We plan things out, we have ideas, we see all the lists on our calendars that we know we need to get to, but we don't actually know what God is going to bring us through tomorrow. It is only when you look back on your life, even from just last week or last month, that you can see God's faithfulness in leading you. We get to be a little like the disciples as they walked with Christ, not knowing where He was leading them day by day. In the same way, we are given opportunities once in a while in our own lives to experience what it means to trust God and walk by faith.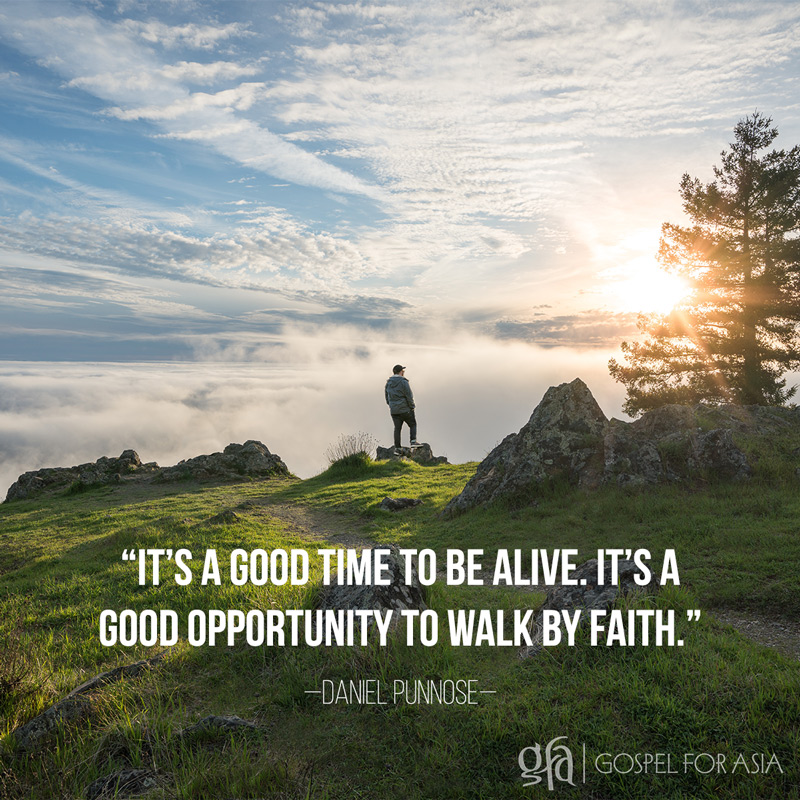 When we can't see the road in front of us, how do we press forward? Is it by guessing what's going to happen tomorrow or by the assurance of what God has already brought us through? You see everything that we go through in our personal lives, or as a family, or in marriage or in our jobs can build our faith. There is no other way for me or for you to grow in spiritual maturity apart from God allowing things in our lives! And through it all, there's always hope because He's right there with us.
God is so faithful to us during these times. He doesn't just throw something into our path and say, "Good luck." That would be completely opposite of His nature. Rather, He gives us His Word to keep our hearts full of faith; He gives us the Holy Spirit to remind us to look at Christ and to empower us; He gives us others to be an encouragement to us; He gives us music to lift our spirits; He gives us nature to reveal His glory. He says to us, "Let Me walk with you through this." In fact, Jesus has already walked ahead of us through everything, so now He can walk alongside us and help us through.
Whatever we are going through, James tells us, "Listen, when you face something in your life, even if you don't feel like it, the proper response is to count it all joy."
Earlier in scripture, Paul encourages us to, "Give thanks in all circumstances; for this is the will of God in Christ Jesus for you" (see 1 Thessalonians 5:18).
In Philippians, Paul instructs the believers to, "Rejoice in the Lord always; again I will say, rejoice." This is what our first response should always be. He goes on to say, "do not be anxious about anything, but in everything by prayer and supplication with thanksgiving let your requests be made known to God. And the peace of God, which surpasses all understanding, will guard your hearts and your minds in Christ Jesus" (see Philippians 4:4-7).
Our proper response in any situation is to rejoice. No matter what we are facing, we can say "Lord, I thank you for whatever You're doing." We bring the situation to God in prayer and leave it with Him. How do we do that? It's a choice we make, and if we sometimes find that we have to make that choice 50 times a day then we need to do it 50 times a day. Bringing the same thing back to the Lord over and over and over again doesn't mean you're failing, it means you're drawing closer to the Lord 50 times more than before.
In the passage we read at the beginning, James is essentially telling us, "If we don't know what God is doing, ask for wisdom." He is saying, "If you can't see where God's hand is in your life, don't give up. Ask God for wisdom and He will give it. Just don't lose faith and start to doubt."
One of my favorite chapters in the Bible is Psalm 139 where the Psalmist describes how intimately God made us and knows us. He knows our insides as much as our outsides. He knows every day of our lives, even before we were born! As you read through that chapter—and I encourage you to do so if you haven't recently—you can hear God saying, "Trust Me because I know your life. Don't trust in yourself." That's what the world does—the world worries about things they have no control over.
It's foolish for us as believers to worry about things that we have to leave in God's hands. Yet too often we find ourselves spending so much time, emotion, worry and anxiety on things that should be simply left in God's hands. When we realize this, we are able to take a step back and say, "Praise God. He'll take care of it."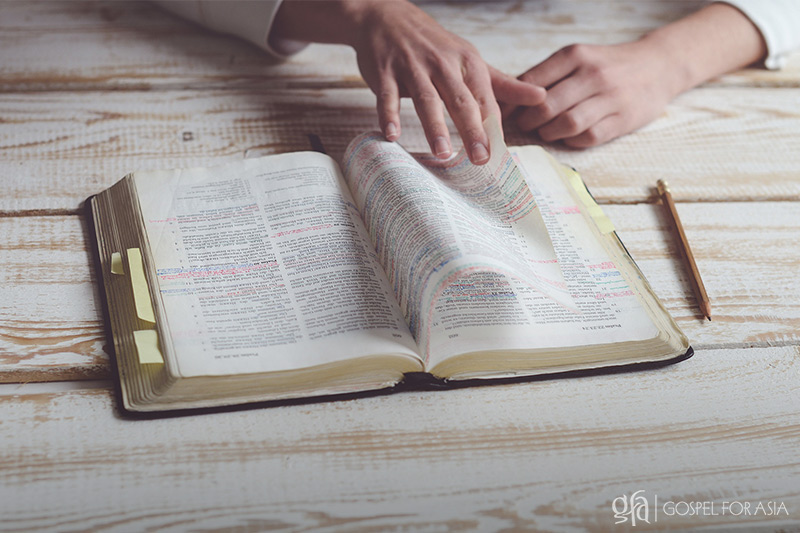 In Luke's Gospel chapter 12, Jesus is talking to His disciples and He tells them, "Therefore I say to you, do not worry about your life, what you will eat; nor about the body, what you will put on. Life is more than food, and the body is more than clothing." He goes on to say, "Consider the lilies, how they grow: they neither toil nor spin; and yet I say to you, even Solomon in all his glory was not arrayed like one of these." Rather than worrying, Jesus encouraged His disciples to, "seek His kingdom, and these things will be added to you" (see Luke 12:22-31).
What is Jesus telling His disciples? He's saying, "Listen guys, as long as you follow Me, you don't have to worry about the normal things that people who don't know God worry about." All of us will go through the normal difficulties of life. At some point, we will all get sick, we will all have headaches, we will all have struggles and difficulties, but as believers we have the Lord on our side to help us go through those things.
My brothers and sisters, it is a good time to be alive, and it is a very good time to grow in knowing the Lord as we walk with Him by faith. This should cause us to say, "Lord, You are absolutely faithful, and I will depend on myself less and I will trust in You more. Not because I know what will happen, but because I know You." We will never survive in life thinking that the Christian life is somehow us figuring out how to make things work in our own lives.
Someone asked me the other day, "How does God's will actually work in my life? How does God actually change my life?" And we talked about how it's kind of funny because many times we read something in Scripture and we're convicted by it, we're encouraged by it, we pray about it, we seek God for it, we fail at it, we seek God about it again, we try again, we fail at it again and finally we forget about it. God then allows a few weeks, or months, or years to go by when all of a sudden we are faced with a similar situation and we find we respond correctly. We look back and think, "Why did I respond the right way this time? When did that happen?" And we're surprised because so often God does His greatest work when we're not even paying attention. It is through this that He Himself receives all the glory.
When we're trying to make life work in our own way and trying to feel faith and courage and all those admirable qualities, we find that it just doesn't work. It's in those moments when God says, "Okay, now it's My turn to do the work." And a lot of times that's what faith is. We grow in our faith when we don't even realize it, because God is absolutely faithful. All He is asking us to do is let go and let Him be God.
Maybe right now you have something in your life that's causing you to have worry and anxiety, which we all experience from time to time. If that is true for you, then right now is the perfect time to just take a minute and say, "Lord, I want to leave this situation before You." And you will be amazed by the peace that comes from that. This is a good time to be alive and to walk by faith.
=====
Click here, to read more blogs on Patheos from Gospel for Asia.
Go here to know more about Gospel for Asia: GFA.net | GFA Wiki | GFA Flickr