Gospel for Asia (GFA) News, Wills Point, Texas
We've talked before about how God answers prayer, and how not a single story you read of lives changed ever happens without prayer. The same is true for our field partners in Asia.
This is a powerful testimony of God moving in response to the prayers of His people. And it starts with a marriage on the verge of destruction.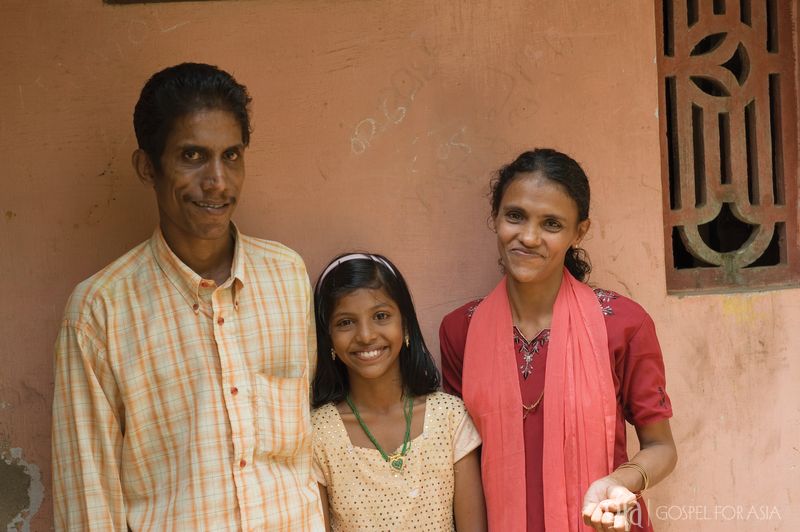 No 'Other Woman' Anymore

Tilak, father of three, wanted to leave his wife. He had found another woman—one he thought could satisfy his desires, and he was willing to destroy his marriage because of it. For two years, his marriage grew steadily worse as he focused his attentions elsewhere. But while Tilak was on the brink of divorce, God intervened in his life: He sent Gospel for Asia-supported pastor Barasaat to minister to him.

As the two talked together, Tilak realized Jesus could give him satisfaction in his marriage.

At Tilak's request, Pastor Barasaat prayed. For an entire week, the pastor prayed God would restore Tilak's marriage, and God did! Jesus blessed this couple with a spirit of love and unity. Their affection for one another grew rapidly as peace and joy filled their home once more. That very weekend, the couple started meeting with others in the village to learn more about Jesus from Pastor Barasaat.

As they witnessed God blessing their marriage and helping them fall in love once again, Tilak and his wife fell in love with Jesus.
Praise God! Through the prayers of a Gospel for Asia-supported pastor, supported by the prayers of sponsors and donors around the world, God intervened in the life of Tilak and brought him satisfaction that can only come through Jesus.
But the thing is, not everyone is happy when men and women commit their ways to the God who walked on earth—that was the case when Tilak and his wife found a new start in Jesus.
They Wanted to Attack Pastor Barasaat

Tilak and his wife were happy again; no one could deny that. But some people in the village were anything but happy about the transformation in their lives.

Villagers blamed the Gospel for Asia (GFA)-supported pastor for the couple's new life in Christ. They wanted to attack Barasaat, so they began looking for an opportunity to do so.

That came one night as the pastor gathered with 20 youth to worship Jesus.

Silent Before His Accusers

The chorus of voices lifted to Jesus was interrupted by the sudden appearance of a crowd of angry men. Ten villagers rushed on Pastor Barasaat and grabbed him by the neck. They began to beat him and dragged him to an impromptu village meeting.

Two hundred angry villagers pressed in on the pastor. They hurled accusations at him. They questioned him. They harassed him. But Pastor Barasaat did not respond. He remembered how Jesus had stood silent before His accusers, and he chose to walk in his Master's footsteps.

Two hours passed as Pastor Barasaat stood silent before the mob, while the 20 youth he had been worshiping with prayed earnestly for the pastor's protection.

And God answered.

The crowd couldn't decide what to do with him. One by one, they grew frustrated and left the scene. God delivered Pastor Barasaat that night, but this was only the beginning of the pastor's troubles.
Isn't that amazing? These young men and women simply prayed, and God stopped the attack.
Stories like this inspire and encourage us to keep pressing on in prayer, no matter what challenges we may face. For Pastor Barasaat and the believers in his village, the challenges were only beginning. But in the face of this, they prayed, and they clung to the promises of God found in His eternal Word.
Five Years Without Water

Pastor Barasaat continued to meet with men and women in the village who knew Jesus or were eager to learn more about Him. But about a month after the impromptu meeting, several villagers decided to ban his family from the village well, forcing them to gather water from the local river.

But Pastor Barasaat and his family weren't the only ones drinking this polluted water—the village well didn't provide enough for everyone, and some people even got sick with jaundice, malaria or dysentery because of the water they drank.

As time passed, things grew more difficult: It was decreed that anyone caught talking to Pastor Barasaat would have to pay an exorbitant fine. People even damaged his home.

Love in the Face of Hatred

It was difficult for Pastor Barasaat and his wife not to feel discouraged through these years. But God gave them strength, and they remembered how anyone who follows Jesus will face troubles in this life. Despite the struggles they faced, Pastor Barasaat and his family continued gathering with other believers for prayer and praise. As a body, they found great comfort in the words of Psalm 91.

The words of Psalm 91 encouraged the believers in GFA-supported Pastor Barasaat's congregation through many years of hardship. God provides His children, like the GFA-supported pastor shown, with His words to encourage and uplift believers every day.
I will be honest, this is one of my favorite parts in this story. Discouragement is such a common weapon used against believers. Dr. KP Yohannan Metropolitan even wrote a book about it. Pastor Barasaat, his wife and the believers didn't know how things would end. All they saw was struggle and hardship—and Jesus. In the midst of their pain and rejection, God continually met them through His Word.They didn't give up. They clung to Jesus even tighter during their darkest days, and they kept going. They kept praying. They kept loving one another.
As Pastor Barasaat and those around him kept their eyes on Jesus, some pretty amazing things happened. Here's how the story ends:
God showed Pastor Barasaat a way he could "bless those who persecute you," as God instructs us to do in Romans 12:14. Pastor Barasaat applied for a Jesus Well (clean water bore well) to be drilled in his village, which was made possible through the generous donations of GFA friends. Within a few months, a new well poured out pure water for all to use.

Fresh, Pure Water Provides a Fresh Start

Pastor Barasaat continued to love on the people in his village as he had done for the last 13 years, praying for the sick and ministering to those in need, but now things were different. Even those who had once been angry with him went to him for prayer when their families were sick.

A 22-year-old man named Dinpal, whose father had died of a waterborne illness, was particularly touched by the new well. The tangible expression of God's love inspired Dinpal's heart to know Jesus, so he talked to Pastor Barasaat. Now Dinpal can hardly keep Christ's love to himself—he joyfully goes around telling others of the God who provides.

Truly, God heard the prayers of His servants and touched the hearts of the people in this village. Praise the Lord!
God moves. We've seen it again and again and again in our own lives, in the lives of those around us, and in the lives of men and women in Asia. People are only now finding out about the God who answers prayer, and that is through the faithful prayers and perseverance of GFA-supported pastors like Pastor Barasaat. That encourages us, challenges us, motivates us to keep praying, to keep pressing on in times of adversity and difficulty. Our God is faithful, and people in Asia get to learn this every day as we keep seeking after Jesus and honoring Him with our lives.
Amen. Praise the Lord!
=====
For more blogs on Patheos from Gospel for Asia, go here.
For more details on clean water bore wells, go here.
Go here to know more about Gospel for Asia: GFA.net | GFA Wiki | GFA Flickr