Gospel for Asia (GFA), Wills Point, Texas
It can be easy to over complicate what it means to serve God.
"It means moving to another country."
"It means I have to minister full time."
"It means I have to go to Bible college first."
God certainly uses all those things and asks many people to do them. But those things in themselves aren't where powerful ministry comes from—it is in obedience to God's leading that the power rests. We expect serving God to be something grand or some huge act, but often powerful fruit for God's kingdom is the result of a simple word spoken, a simple action carried out.
"'It's not by might, nor by power, but by My Spirit,' says the Lord of Hosts." —Zechariah 4:6
Ramesh's story is evidence of the simple power of an obedient servant to his Lord.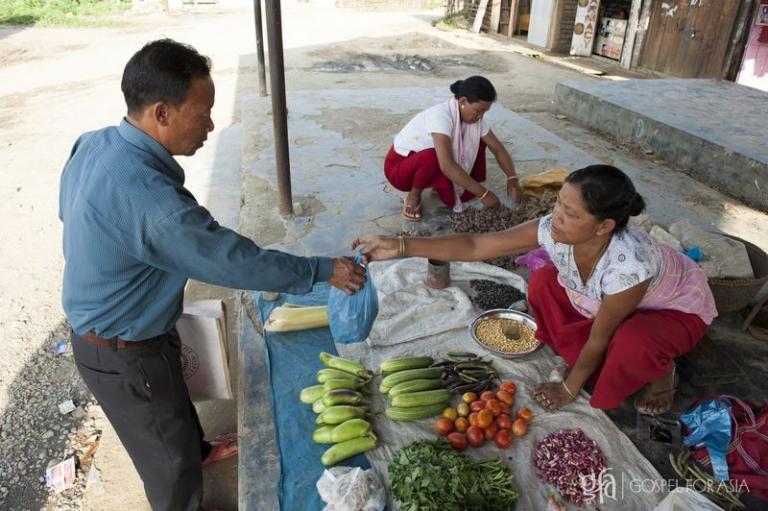 'Chance' Meeting in the Market

Ramesh's wife, Terti, wandered around the market. Colorful piles of fruits, vegetables, clothing and maybe even some jewelry covered the area.

A Gospel for Asia (GFA)-supported pastor also strolled through the market, and soon their paths crossed. They struck up a conversation, and Terti heard about the One who Pastor Kuplan served. The things she heard caused her ears to pique, and she soaked up everything Pastor Kuplan explained.

When Terti went home that day, what she tucked among her other treasures from the market was a piece of Gospel literature, while Pastor Kuplan went home with an invitation to visit the family and tell her husband the wonderful things he had told her about the God who died to save His children.

A Friend Like No Other

The next day, Terti and Ramesh welcomed Pastor Kuplan into their home. It was his first time he was able to freely and openly share about Christ in their village, and they paid close attention to him. Their desire to know this merciful Savior grew, and soon a prayer meeting started in their home. Pastor Kuplan helped them learn songs and Scripture verses, which God used to transform their hearts more and more.

Ramesh and Terti fell so in love with Christ they invited Him to make a home in their hearts. Their neighbors grew enraged at their decision and made life difficult—even destroying Ramesh's crops—but nothing they could do would shake the resolve of the couple.

Although Ramesh and Terti have been shunned by their community, they experience the abiding presence of God in their lives, and they are learning the truth of the old song, "There's not a friend like the lowly Jesus, no not one, no not one!"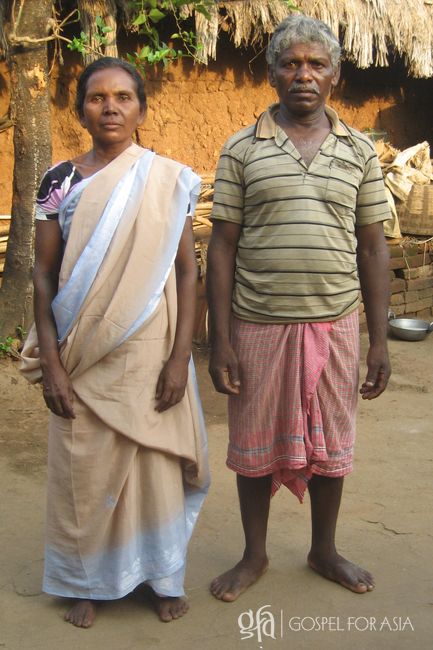 Obedience to the Holy Spirit prompting us to do or say something to someone is critical in ministry.
It was a simple thing the pastor did, providing a fellow shopper with one of the pamphlets he kept in his pocket and answering her questions about Christ. But he could have hesitated, he could have busied himself with looking for a good onion or finding a better deal on rice. Instead, he chose to follow God's prompting and trust that He would work good through the conversation. One simple act led to another, and now, there stands a family strong in their love for Jesus as evidence of the power of God!
In his blog, Dr. KP Yohannan writes more about being empowered by God to "do things that are otherwise impossible." The key: being a partaker of God's divine nature. Having the loving heart of Christ. When we partake of Christ's nature, our hearts overflow with love toward Him and toward all those He loves. The result?
"Once the divine nature overtook their lives, the Lord did amazing things through His disciples. It was not the disciples who did these things. It was God using them as His instruments to accomplish His purposes in His way."
Let us be quick to follow the Lord's prompting.
What simple thing is God asking you to do today? Whether it is to pray for someone, give someone a hug or gift, speak a word of truth to a total stranger, go into full-time ministry or make some other major life decision, obedience to the Lord will be worth it. Nothing is too large or too small to be used by God in a powerful way, when His power is the one behind it!
=====
Click here, to read more blogs on Patheos from Gospel for Asia.
Go here to know more about Gospel for Asia: GFA.net | Wiki | Flickr