waterGospel for Asia (GFA), Wills Point, Texas, Special Report 4/4 on a Christ-like response to the global clean water crisis.
What Scripture Has to Say About Water
It is intriguing, in light of the fact that 71 percent of our Earth is covered by water, that Scripture has a great deal to say on the topic. One commentator suggests that water is mentioned 722 times in the Bible. This total is less than the mentions of God, Jesus, heaven or love, but more than faith, hope, prayer or worship. In Genesis it says: "A river watering the garden flowed from Eden; from there it was separated into four headwaters The name of the first is Pishon … The name of the second river is the Gihon … The name of the third river is the Tigris … And the fourth river is the Euphrates."
For those of us with a Sunday School background, the stories dealing with water are memorable: Moses parting the Red Sea as the children of Israel fled the pursuing chariots of the Egyptians. Moses striking the rock at Horeb so that water flowed in the wilderness to satisfy the thirst of the people and of their flocks.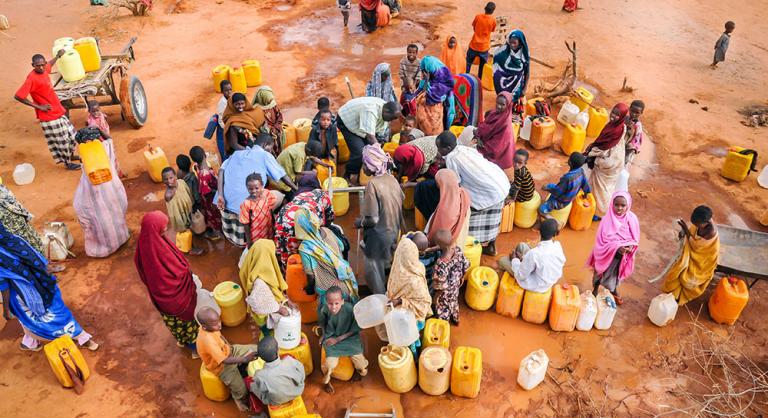 Wells are central stages for story-telling dramas: Abraham's servant finds a bride for Isaac after praying near a well, "Oh, Lord God of my master, Abraham, give me success today and show kindness to my master." Jesus declares His spiritual authority to a Samaritan woman by a well. "Will you give me a drink?" He asks, to begin a dialogue with her, and then eventually He declares, "But whoever drinks the water I give him will never thirst. Indeed, the water I give him will become in him a spring of water welling up to eternal life" (John 4:14, NIV).
Rivers are forded, oases with pools satisfy weary nomads and their families, and always, over and over, water is used as an example of God's blessing. "And the LORD will continually guide you, and satisfy your desire in scorched places, and give strength to your bones. And you will be like a watered garden, and like a spring of water whose waters do not fail" (Isaiah 58:11, NASB).
Water is used as an example of the sacramental, where the holy mixes mysteriously with the physical. People flock to John the Baptist in the wilderness to be baptized for the forgiveness of their sins: "I baptize you with water for repentance. But after me comes one who is more powerful than I, whose sandals I am not worthy to carry. He will baptize you with the Holy Spirit and fire" (Matthew 3:11, NIV).
The heavens open after Jesus is baptized, the Spirit descends in the bodily form of a dove, and a voice is heard declaring, "You are My beloved Son; in you I am well-pleased" (Luke 3:22, NKJV).
Water is a symbol of cleansing, not only in a physical sense but in a spiritual sense. Jesus walks on the water. He teaches by the shores of the seas. Some of His disciples are fishermen who gained their livelihood from waters' depths. In the last chapters of Revelation, which many theologians feel is a prophetic picture of Eden being restored again, these words bring the water theme to a close. Revelation 22, the last chapter of the Bible, the first verse: "And he showed me a pure river of water of life, clear as crystal, proceeding from the throne of God and of the Lamb."
A Christ-like Response to the Global Clean Water Crisis
It is a comfort, to know the fragility of our water sources around the globe is taken into account. Because of community involvement and the compassion of pastors from Believers Eastern Church and other affiliate organizations, Dr. K.P. Yohannan spearheaded the "Jesus Well" project among some of the neediest regions in India, even small villages across Asia, spanning multiple Asian nations. In 2016 alone, Gospel for Asia was able to help provide 6,822 wells. That is 6,822 sources of clean, fresh drinking water. GFA supporters around the world have allowed the rate of installation of Jesus Wells to continue and to remain consistent, with tens of thousands of wells drilled and constructed in the past several years. Now, the Jesus Well project is one of the largest clean water initiatives in the world.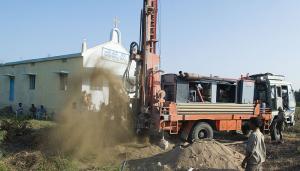 Here, there are no broken wells laying waste and abandoned because well-meaning but neglectful charities dug wells that villagers could not maintain or repair. Jesus Wells are maintained in good repair by GFA-supported local pastors. In fact, wherever possible, the wells are dug near local churches, not simply so that they will be maintained, but so that the beneficiaries will recognize that our love for them is genuine, because everyone is able to drink freely—no matter their income or social background.
Digging a Jesus Well supports the local economy, because local labor and materials are used to drill the wells. This keeps costs low, often even seven times lower than wells installed by other organizations.
Jesus Wells are drilled up to 650 feet deep to ensure a continuous supply of clean water. They can last for 20 years and provide clean water for an average of 300 people every day. Some wells serve even more at a cost of $1400 apiece, and provide practical solutions to our global clean water crisis.
Watch a time-lapse video of an Asian village using a Jesus Well »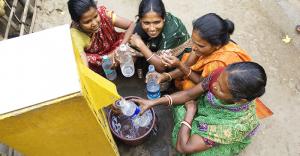 In regions where water might be available, but it's just not safe to drink, GFA-supported workers provide BioSand water filters. These simple structures—locally built from concrete, sand and rocks—filter the water to remove impurities, providing water for drinking and cooking that is 98 percent pure. In 2016, GFA provided 14,886 BioSand water filters for families and individuals.
Gospel for Asia published a story in 2016 that shared the paradox faced by four villages in one region of South Asia. These communities faced severe water shortage during the hot, summer months, but in the rainy monsoon season their water sources were contaminated by chemicals. Their situation was an echo back to Samuel Taylor Coleridge's poem: "Not a drop to drink." Local congregations in the region were concerned about the people and their need for clean water, and in 2014, GFA helped drill four Jesus Wells to provide safe, pure water for these villages. By God's grace, there are now more than 5,000 people who benefit from these wells!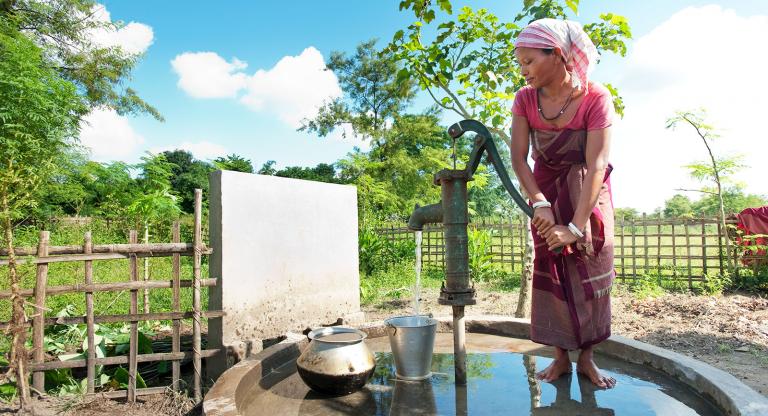 A Jesus Well Transformed Salil's Family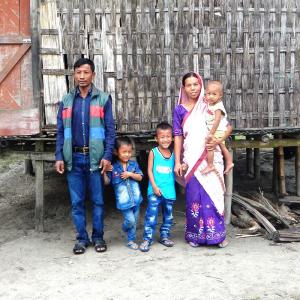 The staggering weight of the global clean water crisis is beyond the ability of most of us to wrap our minds around. Still, more than 150 million people in South Asia alone have either no immediate access to clean water or drink from polluted sources.
But the clean water problem can be devastating for a single family. We see this illustrated in the story of a gentleman named Salil, his wife and his children. Until a Jesus Well was installed in their village, all the water for the community came from a nearby contaminated pond. Salil's family and the other villagers were sick with a plethora of illnesses and diseases. They suffered because of the very water they depended on for life.
The situation drove them even deeper into poverty as their illnesses kept them from work, and their meager income was not adequate to provide for the medicines they needed—let alone their other essential needs. Salil did everything he could think of to provide for his family, but nothing he did was adequate.
When a local pastor requested and received a Jesus Well for the community, everything changed. A thankful Salil said, "Our family is blessed both physically and spiritually. We are free from problems and sickness."
How appropriate: "And if anyone gives even a cup of cold water to one of these little ones who is my disciple, truly I tell you, that person will certainly not lose their reward" (Matthew 10:42, NIV). Those who receive are blessed, and those who give are blessed. The accompanying video will give you a feel for just what that means.
So, our Blue Planet spins in space, obedient to its determined orbit. Its surface is covered by 71 percent water. So far, there has been no confirmed verification of liquid water existing on any other planet in our solar system. As yet, not a single drop of water has been detected anywhere in interstellar space, and scientists have determined that only a planet of the right mass, the right chemical composition and the right location can support liquid water. Let us remember that it is good. It is very good.
=====
Give Towards Clean Water Projects
You can provide life-saving water to people in Asia suffering from the global clean water crisis through Jesus Wells and BioSand water filters, and help support ongoing maintenance of these clean water projects.
This material appeared in Gospel for Asia's special report "The Global Clean Water Crisis: Finding Solutions to Humanity's Need for Pure, Safe Water."
=====
Read Special Report 1/4 – Introduction to the Global Clean Water Crisis
Read Special Report 2/4 – The Global Clean Water Crisis Exists in America, Too
Read Special Report 3/4 –
=====
Click here, to read more blogs on Patheos from Gospel for Asia.
Go here to know more about Gospel for Asia: GFA.org | Facebook | Youtube | Twitter
For more information about this, click here.