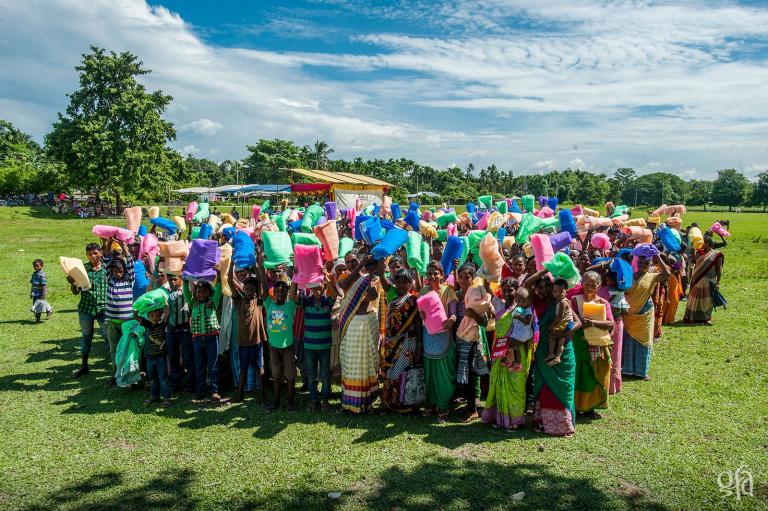 Gospel for Asia (GFA World), Wills Point, Texas – How one Asian daughter used mosquito nets to elevate her family out of poverty and show them the love of God in the process.
We should never underestimate what God can do with something we can hold in our hands. God can use anything to accomplish His purposes, and He uses ordinary people and ordinary things to bring honor and glory to Himself.
Remember the story of Moses in Exodus and how God used a simple stick to reveal His power? Moses had only a walking stick in his hand, but when he dropped it to the ground, as the Lord told him, it turned into a snake. When he picked it up again, it became a walking stick. Later, when Moses raised that walking stick above the Red Sea, the Lord parted the waters and the people were able to walk across on dry land (see Exodus chapters 4 and 14).
Hansini, a 17-year-old girl living in Asia, may not be as famous as Moses, but the Lord has used her in a mighty way to minister His love, grace and forgiveness—available in Jesus Christ—to the people around her in ways that neither she nor anyone else ever expected.
Hansini lives in a remote village where many of the people were so poor they struggled to survive each day.
When Hansini embraced new life in Christ, she not only brought shame on herself but also upon her parents, whom the villagers blamed for allowing her to "run so free that you cannot even make them obey you."
Though her parents tried many times to convince Hansini to forsake Jesus and return to the old ways of her people, she remained committed and faithful. Eventually, the combination of his frustration and the continual abuse heaped upon him by his former friends got the best of her father. When he could take it no longer, he took his own frustrations on her by beating her brutally. Still, she would not deny her Savior.
Another three years passed. Her family had begun to believe that she would never forsake this Jesus. They were right. She never did.
However, the Lord used believers from halfway around the world to change the lives of her family and many of the villagers forever. During a Christmas gift distribution program, Hansini received a sewing machine. Hansini began sewing and selling mosquito nets. That's when the miracles began to happen.
Being able to sew and sell mosquito nets—a precious commodity in a country plagued with vector-borne diseases like malaria and dengue fever—created a significant revenue generator for her. However, she did not use her income for personal gain. She used it to pay her family's debts.
She explained that "Jesus Christ is the giver of all good gifts. It is because of the love and grace of Christ that our family is able to overcome all our financial struggles."
It was difficult to deny Hansini's decision to embrace Christ. It was difficult to deny that the sewing machine was a gift from God. It was equally difficult to deny the love of Christ extended through their own daughter, whom they had scorned and abused. Observing the love of Jesus extended through her to them, Hansini's parents decided to embrace Jesus as well.
The miracle of the mosquito nets did not stop there. Villagers took note of how Hansini had suffered ridicule and rejection for years. Yet, she continued to demonstrate her selfless love to lift her family out of abject poverty by making and selling, of all things, mosquito nets.
They began to see that Jesus had worked miraculously through one faithful young lady. They began to see the beauty and grace that comes only through a relationship with Him. They were witnessing the love of Jesus at work in and through one person making mosquito nets.
The villagers are no longer hostile. Some are even coming to church with Hansini, where they are learning about the amazing love of Jesus.
In the several years that have gone by, Hansini has accepted the invitation of her villagers to teach their daughters how to sew. She teaches sewing classes to young girls six days a week. She also uses those classes to teach her students about the love of Jesus.
Moses is a biblical "giant of faith." But that's not because he was mighty and powerful. It's because he committed to following the Lord regardless of what others thought.
Sometimes we can think that we can never be a Moses. Perhaps in those times, we might consider being a Hansini—a faithful follower with a mosquito net in her hand.
What do you have in your hand that God can use?
=====
To donate distribute mosquito nets today, go here.
To read more on malaria prevention, go here, or visit these patheos posts:
How Malaria Spreads and Kills and How to Help | Effective Means to Preventing Malaria | Motherhood & Mosquito Nets
---
Sources:
Image Source:
=====
Click here, to read more blogs on Patheos from Gospel for Asia.
Go here to know more about Gospel for Asia: Wiki | GFA| Facebook | Youtube