WILLS POINT, TX – Gospel for Asia (GFA) – Discussing Pastor Roshan, from alcoholism, to being filled with the Spirit, through limitation and imprisonment, and the impact a bicycle can bring, maximizing the effectiveness of national missionaries to reach people for Christ.
Pastor Roshan slung his bag over his shoulder and helped his wife onto their bicycle. They had a lot of ground to cover. As they cycled out of their village, Roshan found a sustainable pace for the trip. His muscles might be tired by the time he reached his destination, but that didn't matter. Teaching from God's Word in the distant forest villages and seeing believers grow in their love for Christ made the trip seem like a small sacrifice.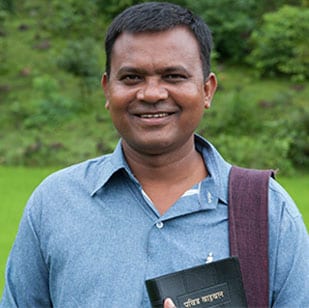 Roshan didn't always have a bicycle—or ministry in any of these villages. In fact, just a few years earlier, his relationship with Christ was anything but exemplary.
An Alcoholic Sunday School Teacher
Roshan grew up in a nominal Christian environment. He attended a church and was even assigned roles of prominence within the congregation, but in reality, everyone knew his heart's affection was for alcohol, not Christ. He neglected his wife and children and often squandered all his earnings on drink. While intoxicated, he roamed his village and intimidated those he met, even threatening to kill them. Then on Sunday, he went to church and led Sunday school, teaching action songs and Bible stories.
"People knew I was of not-good character," Roshan says. "Still, nobody minded, and I was given all these responsibilities in the church."
However, Roshan's brother, a Gospel for Asia-supported worker, counseled Roshan often and prayed he would leave his destructive ways and pursue Christ. Slowly, Roshan's conscience began to awaken within him.
One day, Roshan jolted awake at 3 a.m. Conviction washed over him as he felt the Lord working within his heart. He realized he could no longer continue in his selfish life.
"I knew it was the Holy Spirit who told me that going out with friends and involving in drinking, gambling and quarreling and fighting with people is not going to give me life," he says. "The Lord touched my heart that early morning. That was the turning point of my life."
Strong Character, Limited Body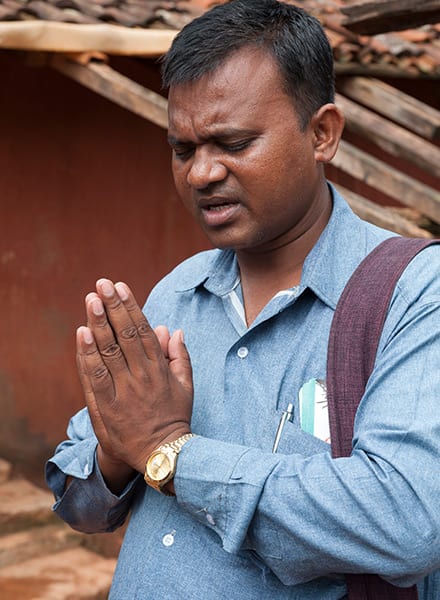 Roshan bravely turned toward a new life as a God-honoring husband and father. He recognized his duty of providing for his wife and children, but the only work he could find was manual labor. At that time, he weighed barely 80 pounds. Years of drinking and irresponsible behavior had left him ill and weak. Even so, he woke up early every day and walked around four-and-a-half miles to his jobsite, where he carried and hoisted sacks of coal weighing as much as he did. Then he walked all the way home.
Life was tremendously difficult, but Roshan's determination held fast through the strength of God's favor.
He labored this way for three-and-a-half years, until he felt God impressing ministry upon his heart. In obedience, Roshan equipped himself for ministry at a Bible college and then returned to his home village.
His passion to see his own family thrive grew to include every individual he met. The same energy and courage he applied to his manual labor job now found an outlet in his ministry. The needs within a cluster of villages tucked in a forest several miles from his hometown gripped his heart, and he began making the journey regularly. Years before, Roshan had walked nearly five miles to his job in order to care for his family, and he was prepared to do the same for other families so they could know the love that transformed his life. Thanks to the generosity of believers around the world, he didn't need to spend hours walking anymore: He owned a sturdy bicycle that allowed him to travel much faster and easier. He could even bring his wife with him to minister to the ladies they met.
Thanks to the generosity of believers around the world, he didn't need to spend hours walking anymore: He owned a bicycle that was sturdy and allowed him to travel much faster and easier.
Faithfulness Despite Imprisonment
During the next three years, God worked through Roshan in powerful ways. Several families in each village began gathering for prayer and Bible study, and soon it became clear they needed a permanent place where they could worship together. God provided yet again through His children in various places, and construction for a church building began.
But the construction activity disturbed some of the community members. They started believing Pastor Roshan received the funds for the building through an insurgent group that haunted their area. Under these false accusations, Pastor Roshan spent the next 18 months of his life behind bars.
Shock and discouragement cast a shadow over Roshan during the first few days of his imprisonment, but he quickly aligned his heart with the peace of Christ. He still carried a deep desire to see troubled lives transformed—and there were many troubled men in the prison around him.
"No one can come personally here and tell [the inmates] about Jesus, live with them and show them what a christlike life is," Roshan remembers thinking early in his imprisonment. "So I thought maybe this is how the Lord is going to use me."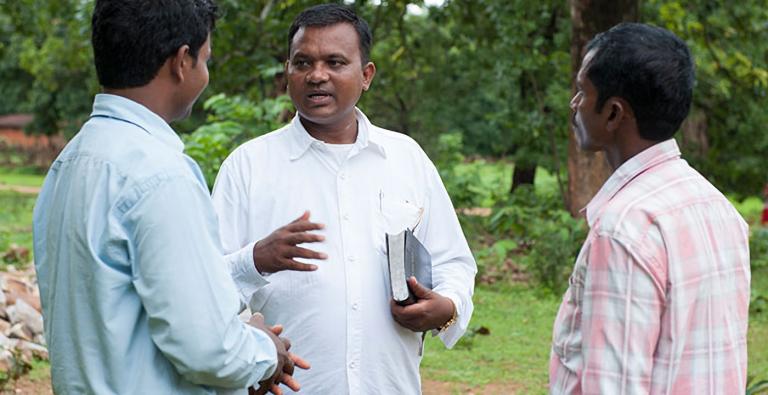 And the Lord did use him. When Roshan's release occurred 18 months later, dozens of inmates had expressed a desire of living for Jesus.
Even during Pastor Roshan's absence, his ministry continued. His wife, Saachi, assumed her husband's mantle of ministry while he was absent, using his bicycle to continue visiting believers and answering questions about Christ in various villages. She even traveled several miles to the construction site regularly and oversaw the completion of their place of worship for her husband. Through their teamwork as a couple, even while separated, lives changed within prison and without.
Maximizing the Effectiveness of Willing Workers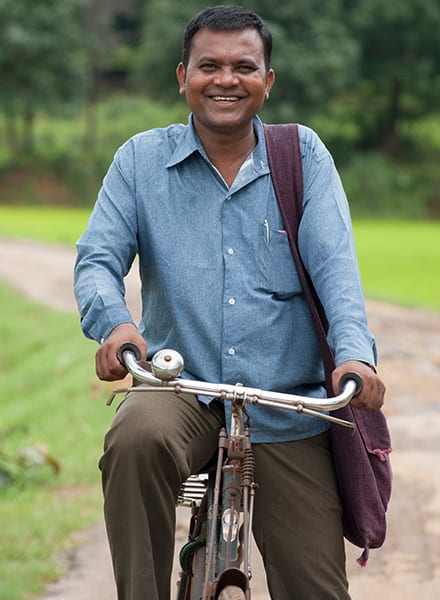 Pastor Roshan's bicycle served as a tool to increase his effectiveness in ministry. Without it, he would have had to spend more time walking and less time ministering, and his ministry in distant villages would have been severely hampered. It even enabled his wife to minister in a greater capacity.
Transportation impacts the productivity of national workers and breadwinners alike. How different Pastor Roshan's heavy-labor days would have been if he had owned a bicycle then! He had to walk around nine miles round trip every day for one year, which is the equivalent of walking from Augusta, Maine, to San Diego, California—this was in addition to his grueling heavy labor and ill health.
Similarly, schoolchildren who live in remote areas often lack transportation and struggle to attend school. Walking several miles alone to class each day is unsafe in many areas, especially for young girls, and the wear on their bodies hinders their studies—and their futures.
Your donation today to provide national workers, breadwinners or school children with a sturdy, Asian-made bicycle will dramatically impact their lives. They are pouring diligent effort into their different roles—you can enable them to maximize their effectiveness!
---
*Names of people and places may have been changed for privacy and security reasons. Images are Gospel for Asia stock photos used for representation purposes and are not the actual person/location, unless otherwise noted.
---
gfa