WILLS POINT, TX – Gospel for Asia (GFA) – Discussing the reality of millions of children in Asia, a life strangled by their circumstances of poverty, denied also of a better future, the opportunity for education.
I want you to close your eyes for a minute. Picture your childhood, where you grew up and where you went to school. Remember the experiences and adventures you went on as a child. Now take all of those cozy memories and change where they took place. Playing with your favorite toy in your bedroom? Now you're playing with it in a dirty alleyway. Doing your homework at the kitchen table? Replace the kitchen table with a dirt floor. Helping your dad or mom with a project around the house? Now you're working alongside your parents under the hot sun, doing any labor job you can find to help the family earn money.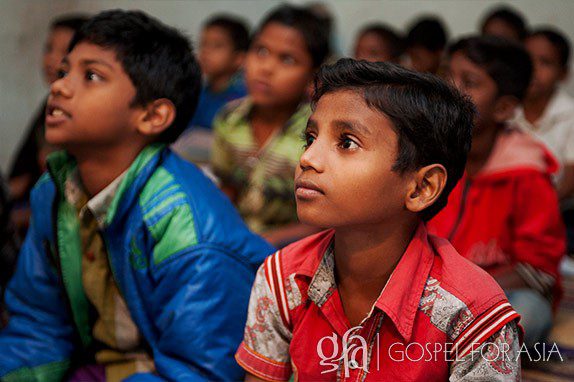 Bir's World
For millions of children in Asia, that is their reality: playing in the dirt, struggling in school and laboring alongside their parents. Some don't even possess the opportunity to go to school, let alone the ability to afford it. For others, like Bir, their circumstances strangle their education.
At 6 years old, almost all of what Bir knew was poverty. He scavenged for plastic bags his parents could sell while they labored in the fields. It was a struggle to make ends meet. What little money they had left over sent Bir to school—but learning did not come easy for the young boy.
Every subject whether it was math, English or the sciences, Bir simply could not understand. Bad grades hounded the young boy. What hope Bir had for a good future began to ebb away. If this trend continued, Bir's dreams would soon be out of reach.
Light at the End of the Tunnel
Then by the grace of God, a GFA-supported Bridge of Hope center was established in Bir's village. Hearing of the benefits offered by the program, Bir's parents decided to enroll him. Almost immediately, a change began to take place. Thanks to the tutoring and encouragement of the staff, Bir's grades improved rapidly. Before, Bir could not understand anything his teachers were saying. Now with the extra training at Bridge of Hope, the subjects came easy to him.
Any school supplies Bir needed was provided. Notebooks, workbooks, pens, pencils, backpack, school clothes, soap, toothpaste—you name it, the young boy was given it. With better tutoring and better supplies, Bir's future began to brighten.
The help he received completely turned around Bir's mindset. The young boy vigorously did his work, shedding any doubts or misgivings he had about himself. As the years passed, Bir reached the top of his class. By the time he graduated, Bir's goal was to enter a local college to continue his education.
Looking to the Future
Bir no longer has to worry about his future—thanks to Bridge of Hope, the poverty of his past will no longer shackle him. The destitution he faced is now overshadowed by memories of warmth and love from his Bridge of Hope teachers.
Learn more about how Bridge of Hope changes the lives of children in Asia.
---