WILLS POINT, TX – Gospel for Asia (GFA) – Discussing Saju and Aasia's story, one far too common to those in the grips of extreme poverty, and the tangible examples of God's love: tin sheets, protection from rain.
Drip-drop. A rain shower patters the roof.
Drip-drop. Raindrops leak through holes in the tattered roof, falling on the inhabitants: a middle-aged couple, their children and grandchildren.
Drip-drop. Raindrops soak the family's clothes, bedding and dry rations.
Drip-drop. The family flees to sleep under a leak-free roof.
Drip. Shame. Drop. Discouragement.
Rain keeps falling through the roof—the roof the family can never afford to adequately repair. And the waters rise.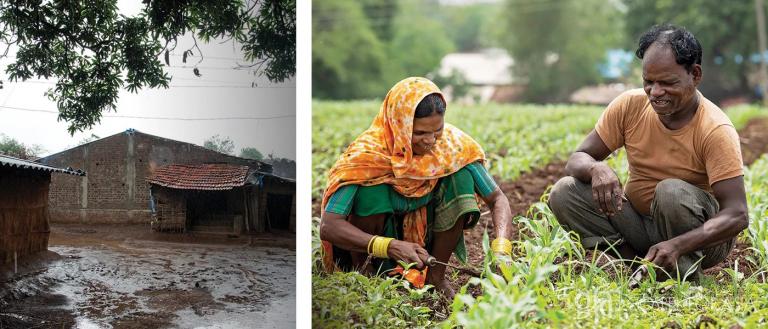 Drowning in Hopeless Poverty
This is Saju and Aasia's story—at least part of it. Like many others in their community, they struggled to feed their family by working on the land. In a rural area with no industry, people work in agriculture, but roughly half don't own land. They labor eight hours a day in other people's fields to earn approximately $1.50 USD.
Exhausted and hopeless, many men numb themselves with alcohol and gambling, wasting their meager earnings and leaving their wives and children malnourished. Illiterate themselves, they never imagine sending their children for higher education.
The cycle of poverty continues.
Saju and Aasia were among those blessed to own land, but financial hardship pushed them to mortgage their land to moneylenders. They began working as daily wage laborers in others' fields, sometimes camping out in a nearby state to find better wages.
Meanwhile, their tattered roof loomed over their heads. Made of thatch and plastic tarps, it quickly got holes, and for five years they endured the disrepair. During the rainy season, when rain leaked into their home, Saju and the children often got sick with coughs or fevers.
Because they had already mortgaged their land, they couldn't take out more loans to fix the roof. Saju grew discouraged.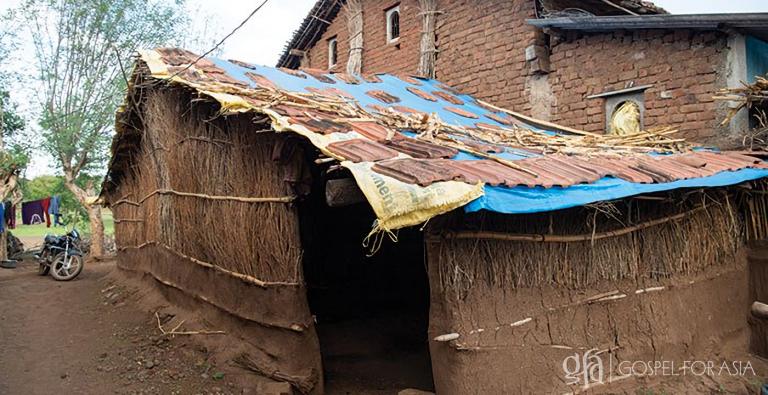 "I used to feel sorry for myself, and I used to feel bad that I was not able to at least give good protection to my family and to my children," Saju says. "Because of lack of resources and money, I was not able to have my house repaired."
Forecasting Showers of Blessing
Gospel for Asia (GFA)-supported pastor Ganesh met Saju and Aasia one day in 2014 as he was visiting homes in their village. Pastor Ganesh knew about the struggles Saju and the other villagers faced. He himself had grown up in the same region, and he wanted people to experience God's compassion.
As the pastor shared about Jesus' love, Saju and Aasia couldn't grasp what that meant, but they were interested to hear more. They continued welcoming the pastor into their home, and he eventually began coming weekly.
During Pastor Ganesh's visits, he noticed the tattered, ineffective roof, and he learned that the family earned tiny wages in the sugarcane fields and depended on loans several months of the year.
One day months later, the pastor had good news for the family. He told them they would be receiving a gift through the Christmas gift distribution program he was organizing to bless families in the region!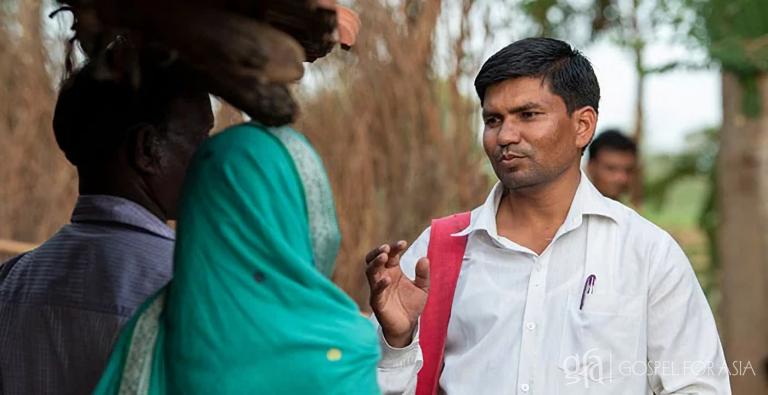 "I was very encouraged that at least there are some in the church … who think about us, who are worried about our condition," Aasia says.
New Roof, New Lives
When Saju and Aasia received five tin sheets at the Gospel for Asia (GFA)-supported Christmas gift distribution event, joy filled their hearts. As they placed the shiny tin sheets on their home, they knew their children and grandchildren would finally have good shelter. No longer would heavy rain force them out of their home, spoil their food or make them sick.
Saju and Aasia saw God's love in the tin sheets. Although they had already started believing in Jesus, the life-protecting gift tangibly showed them how much He cared for them. They wanted a deeper relationship with Him.
"When I received this tin sheet as a Christmas gift, it helped me see God's love in my life, because God loved me so much that He provided this gift for us," Saju says. "I know that He not only loves us and … gives eternal life, but also meets all our personal needs."
This love and generosity also impacted their neighbors, awakening in them a curiosity about Jesus. The weekly visits Saju and Aasia received from Pastor Ganesh soon became a prayer meeting in their home. Eventually, about 10 people in total gathered under the tin-sheet roof each Wednesday to seek the Lord.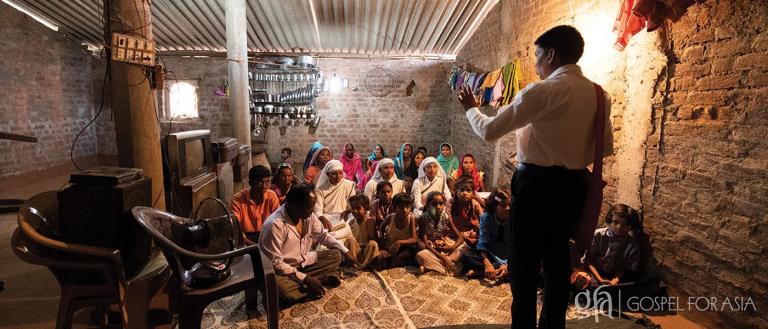 Pastor Ganesh continues to help people like Saju and Aasia receive life-changing gifts so others can know the compassion of the God who sent His Son for them and knows all their needs. Now Saju and Aasia are pressing on to know the Lord, of whom Hosea said, "He will come to us as the showers, as the spring rains that water the earth" (Hosea 6:3, ESV).
As Saju and Aasia experience His blessing, they want more people to know the hope they found shining through the rain showers.
"When we see people living in abject poverty and struggling in their daily life … such people find a great hope and relief financially when they receive such Christmas gifts," Aasia says. "It also helps them see how the Christian God actually loves them and cares for them."
---
Learn more about how generosity can change lives. Gifts like pigs, bicycles and sewing machines break the cycle of poverty and show Christ's love to impoverished families in Asia. One gift can have a far-reaching impact, touching families and rippling out to transform entire communities.
*Names of people and places may have been changed for privacy and security reasons. Images are Gospel for Asia stock photos used for representation purposes and are not the actual person/location, unless otherwise noted.
---