WILLS POINT, TX – Gospel for Asia (GFA) – Discussing Jayant and his family, tormented by evil he and his family found the true life and deliverance through Jesus Christ even through means like film ministry.
Jayant lay on his bed in complete stillness, but his mother, Aesha, knew it would only last for a moment. He soon would be thrashing under the covers uncontrollably and shouting—tormented with fear and anxiety. Jayant's sickness was destined to get only worse, but Aesha would try anything to find him relief.
Family Seeks New Life in the City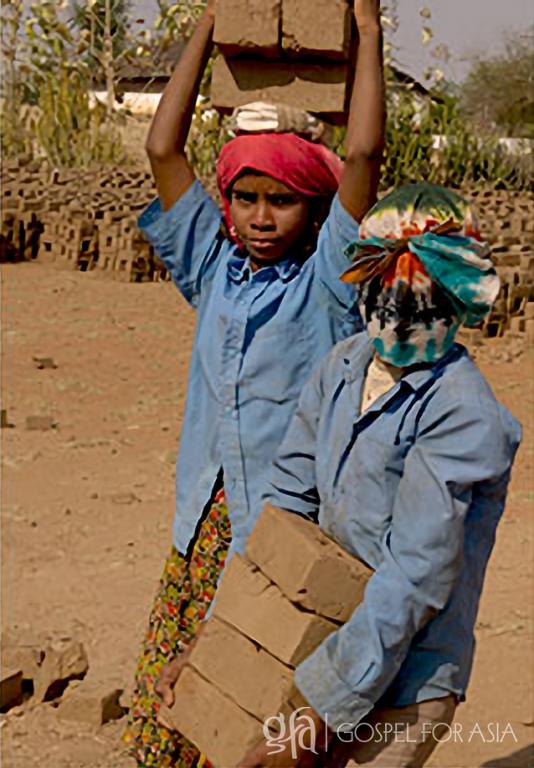 Jayant was 15 years old when he realized there was no peace in his parents' religious ritual. Even though he had participated in the traditional religion since childhood, he knew there was emptiness in the words. One only had to look at his family's condition to see.
Jayant worked hard as a mason with his father, Mahavir, and his siblings, earning daily wages so his family could survive. But their condition never changed.
The family decided to move to a new city, hoping to find relief from their struggles, and though they found only similar work, it paid more in the city. Their quality of life increased, and they experienced hope as they enjoyed their new location—until Jayant fell ill.
Son's Illness Upsets New Life
Jayant's parents took him to the hospital where the doctors were baffled by his condition. He struggled every day with deep fears and grew weak no matter how much he ate. He even became violent at times. Taking Jayant from one doctor to the next quickly wore out his family's finances.
Still, Mahavir and Aesha continued to take Jayant to the hospital as his condition worsened, hoping to find the true source of his illness. The doctors began testing Jayant's brain and determined he had a psychological disorder. His parents would just have to keep him home.
That answer was not good enough for Mahavir and Aesha. With no medical help, they decided to carry Jayant to a local witch doctor. For the first time, they were informed that their son was being attacked by an evil spirit.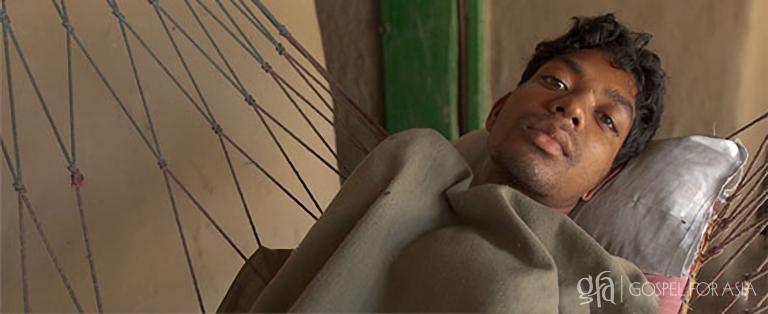 Days Turned into Years
Mahavir and Aesha tried many things to get the evil spirit to leave Jayant, but their hope of deliverance fell into the bottomless pit of their god's silence.
Jayant continued to grow skinnier, yet he had supernatural strength that came in outbursts of violence. For four years Jayant remained inside his home, unable to work. This completely discouraged Jayant's parents, and they gave up faith in the gods they once relied on.
Mahavir and Aesha were in complete despair when a strange group of men came to their village. The men announced that they were going to show a film nearby, and out of curiosity, Mahavir and Aesha decided to go.
As the sun set, the couple was amazed as the life and healing power of Christ were pictured in front of them. Each moment the film showed Jesus healing the lepers and raising the dead, Mahavir and Aesha grew in faith that their son could be healed.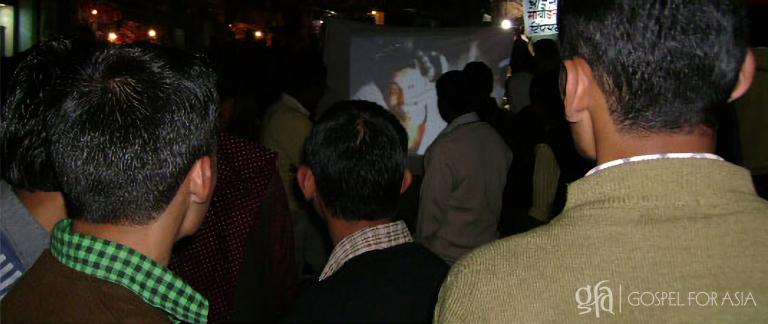 Son Finds Deliverance through Film Team's Prayers
When the film ended, Mahavir and Aesha spoke with the Gospel for Asia (GFA) mobile team and shared the condition of their son. They asked the team to come to their home to pray for Jesus to heal Jayant just as He had healed people in the film.
When the film team arrived at their home, Jayant looked at them with a deathly silence that ended as soon as the film team began to pray. As they earnestly cried out in Jesus' name, Jayant began screaming. Gradually, though, the evil spirit left Jayant, and he was calm and able to speak.
In the days that followed, Jayant experienced full healing and peace. He and his family reached out to a local Gospel for Asia (GFA) pastor who told them more about Jesus. At the end of the visit, the whole family accepted the freedom of Christ into their hearts, and they now worship with other believers.
Every day, families just like Jayant's are transformed by seeing Christ's life and power portrayed on film. You can send out even more teams equipped to show this film and spread the freedom of Christ.
---
*Names of people and places may have been changed for privacy and security reasons. Images are Gospel for Asia stock photos used for representation purposes and are not the actual person/location, unless otherwise noted.
---