WILLS POINT, TX – Gospel for Asia (GFA World) founded by Dr. K.P. Yohannan – Discussing Gospel for Asia's ministry commitments during the past 40 years and how they have remained the same but have taken on new forms over the decades.
On July 3 of this past year, Gospel for Asia (GFA) celebrated the 40th anniversary of its founding on July 3, 1979. Throughout these years, the Lord has continually allowed us the privilege of seeing lives in Asia change for the better. He has proven Himself faithful in every way, and we rejoice in what He has done in and through this ministry.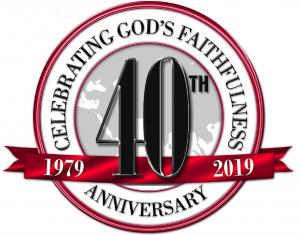 We are thankful for our many faithful supporters, through whom the Lord has worked to touch the lives of countless millions in Asia. And we are grateful for the men and women serving on the field, giving of their time, energy, emotion and every part of their lives in order that more may experience the love of God.
Our vision for ministry during these 40 years has remained the same, but the working out of that vision has taken on new forms over the decades. Here are just a few of the ways Gospel for Asia (GFA) focuses on helping the people of Asia.
Transformation. The foundation of Gospel for Asia's ministry is, and always has been, doing whatever possible to help transform families and communities with God's love, especially among those who have little or no opportunity to hear of His grace. Tens of thousands have joyfully understood Christ's offer of new life and have chosen to follow Jesus over the past 40 years.
Compassion. Every personal connection with the people of Asia springs from the same compassion that Jesus demonstrates for all the people of this world. Gospel for Asia (GFA) workers are devoted to not only telling others about Jesus but also to personifying His love in action. This is how we become the hands and feet of Jesus. Compassion takes on many forms, from treating the heartbreak and physical wounds of leprosy patients to giving women sources of income to prevent prostitution to providing aid to families suffering in the wake of natural disasters. GFA-supported Sisters of Compassion are committed to serving the Lord by doing some of the lowliest tasks associated with tending to the downcast.
Sanitation. Inadequate sanitation continues to be a common problem in emerging countries. Even in countries where economic growth is being driven to new heights, millions suffer from unsanitary waste removal. Hundreds of thousands of people in remote villages across Asia continue to practice open defecation, creating breeding grounds for vector-borne diseases. Gospel for Asia (GFA) is transforming the lives of families and entire villages through improved sanitation. In 2016 and 2018 combined, GFA installed more than 17,500 sanitary toilet facilities in needy communities.
Health & Healing. Health and hygiene are among the many concerns and issues today. Disease affects millions and kills just as many. Some of the hardest-hit communities are in South Asia, where poverty and destitution leave families vulnerable to many illnesses. Unable to afford medical care or proper food, many people are afflicted by preventable diseases that are ravaging their lives. GFA-supported health initiatives seek to minister to these people and bring them health and hope amidst their troubles. GFA-supported workers organize medical camps to curb disease rates and care for those already sick. Whether it be in remote villages or crowded cities, the sick and the hurt bring hope and comfort. When many are otherwise unable to afford treatment or lack access to medical care, these camps provide them with the care they need—free of charge. Gospel for Asia (GFA) conducted more than 1,100 medical camps in 2018. That is more than an average of three per day.
Practical Empowerment. It takes more than encouragement to empower people who have either no marketable skills or means to generate income. GFA-supported workers provide literacy training for tens of thousands of women each year. Through Gospel for Asia's Women's Literacy Program, the written world is opening up to thousands of women for the very first time. The foundational text for the classes is Scripture, so participants gain Biblical knowledge even before they've completed the course. Knowing how to read is one step. Having a marketable skill is another. GFA-supported workers organize vocational training that makes it possible to learn a new trade and succeed. For instance, through a six-month tailoring course, women learn how to sew blouses, trousers, undergarments, and many other practical items they can sell to provide a healthy income for their families.

Nonetheless, those women could not generate income without the proper tools. GFA-supported workers provided nearly 9,000 sewing machines in 2019 to women trained in their use.
These ministries remain just a part of all that Gospel for Asia (GFA) is committed to doing to share God's love with the people of South Asia. Whenever we see a need, we ask the Lord, "What can we do?"
Please pray with us that we will be able to continue sharing hope, practical help and God's love throughout South Asia.
---