WILLS POINT, TX – Gospel for Asia (GFA World and affiliates like Gospel for Asia Canada) founded by Dr. K.P. Yohannan – Discussing Kripal and his family, the deep poverty, illness, grief and despair, and the help and hope brought by Gospel for Asia (GFA) pastor and the gift of goats through Gospel for Asia's Gift Catalog.
Water dripped through the roof made of tiles and grass and landed in puddles around four children and the frail body of Kripal's wife, Bani. A strange sickness held her life in its grip and kept her from eating, slowly stealing her strength until she couldn't even walk properly. Doctors and those who practiced traditional healing ceremonies failed to cure Bani, but that didn't stop them from demanding payment.
In addition to Bani's health problems, the family was distressed by another faceless trouble: During the night, they heard strange noises on their roof. It worried them and interrupted their sleep.
Gradually, Kripal's family slipped into poverty, grief and despair.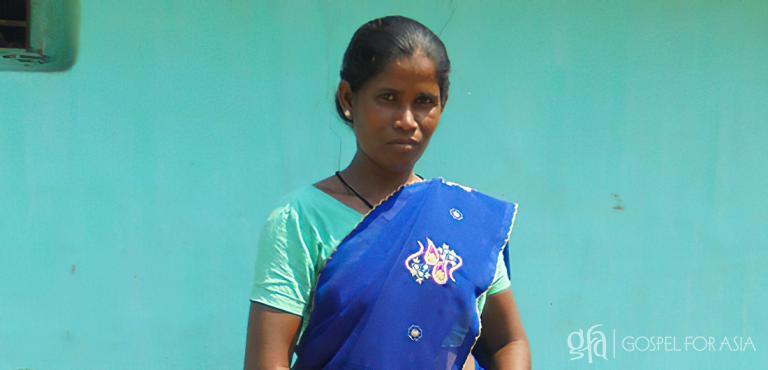 Hope Comes by Word of Mouth
Kripal's grief and problems were evident, and a family of believers in his village watched his struggles. They sympathized with his poverty and sorrowful plight, and they shared his story with their pastor, Gospel for Asia (GFA)-supported pastor Taranga, and asked him to visit Kripal.
Without delay, Pastor Taranga and a group of believers visited Kripal and Bani. They prayed earnestly for Bani's healing and asked the Lord to deliver the family from the distress that burdened their hearts. They also prayed for a way for Kripal to climb out of the deep poverty his family had fallen into because of Bani's health issues.
As Pastor Taranga and the believers continued visiting Kripal's family and praying for them, the Lord worked His miracles in Kripal's and Bani's lives. Bani gradually gained back her strength and found freedom from her mysterious illness, and the unusual noises her family heard around their home vanished, so they finally enjoyed peaceful sleep again.
Touched by the mercy and love they experienced, they desired to know Jesus and be known by Him.
Kripal and Bani realized that, while all their own efforts to find healing and peace brought no relief, Jesus graciously answered the simple prayers of His children on their behalf. Touched by the mercy and love they experienced, they desired to know Jesus and be known by Him.
A Helping Hand for Struggling Family
Kripal's family faithfully gathered with Pastor Taranga's congregation for times of worship and fellowship, and they grew together in their knowledge of God. With good health and new peace in their hearts, their lives were much improved. However, their financial situation continued to trouble them.
The effects of Bani's sickness and their search for treatment had left them very poor, and though she was healthy now, they still couldn't make ends meet. Their roof leaked, their children needed clothing and school supplies, and providing food for a family of six was no small task.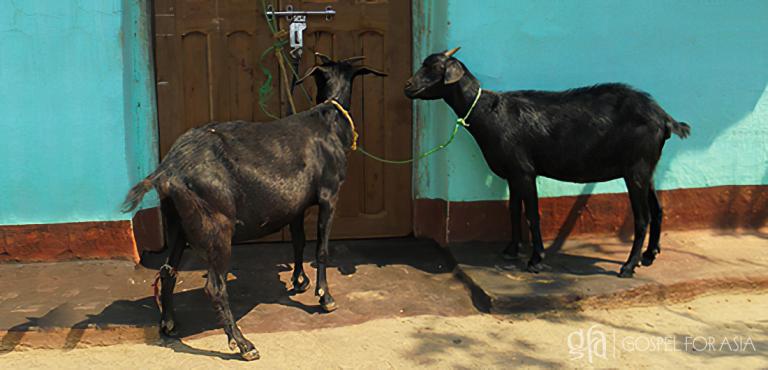 But God was with Kripal and Bani, and He saw their struggles. Faithful to care for His children, God prompted believers to help Kripal's pastor give families income-generating gifts, the kinds found in Gospel for Asia's Gift Catalog.
Soon, Kripal and 200 other people eagerly gathered to receive gifts that carried the potential to completely change their lives. Dozens of families walked up to receive cows or sewing machines—their new sources of income and hope—and when Kripal's name was called, a pair of goats stood ready to meet their new owner.
Goats Multiply, Blessing Increases
Kripal quickly embraced his new livelihood as a goatherd and faithfully cared for his precious gift. His area was well suited for raising goats, and the gift that started out as two quickly multiplied. Within one year, Kripal had 12 bouncy goats under his care!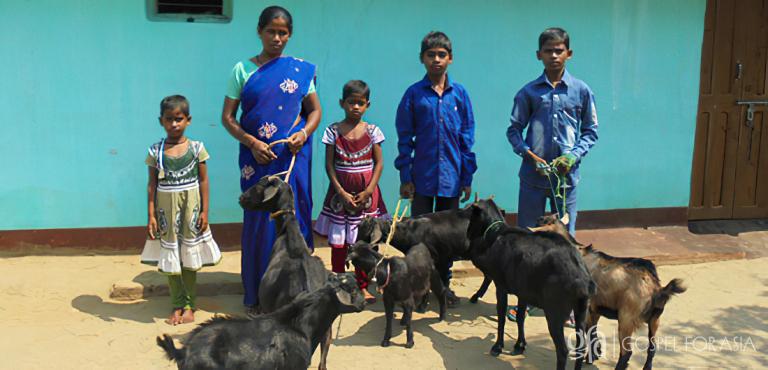 Today, Kripal's goats have enabled him to pay his children's school fees, and whenever his family needs rice, potatoes or vegetables, Bani has enough money to go to the market. Kripal even sold six goats to purchase tin sheets for his roof, so now their house keeps them dry and warm, even during the rainy season.
Kripal and Bani are full of joy and gratitude to the One who is near to them each day. They praise God for not only extending His healing hand toward them, but for also offering them a helping hand and enabling them to care for their family.
Tell People of God's Love
Only a few years ago, Kripal's home was filled with anxiousness, sickness, poverty and despair, but Christ led his family into a new life filled with hope and peace through a personal relationship with their Healer.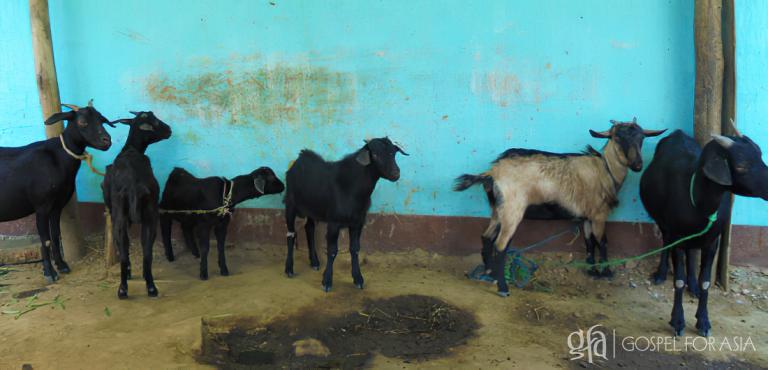 You can be Jesus' hands and feet to families like Kripal's. By giving gifts that meet practical needs and carry the story of the hope God gave to the world, you can help moms, dads, grandparents and children discover Emmanuel, God With Us.
---
Learn more about the GFA-supported national workers who carry a burning desire for people to know the love of God. Through their prayers, dedication and sacrificial love, thousands of men and women have found new life in Christ.
*Names of people and places may have been changed for privacy and security reasons. Images are Gospel for Asia stock photos used for representation purposes and are not the actual person/location, unless otherwise noted.
---