WILLS POINT, TX – Gospel for Asia (GFA World and affiliates like Gospel for Asia Canada) founded by Dr. K.P. Yohannan – Discussing Nabhi, her sickness and suffering, the poverty and hardship her family faced, and Gospel for Asia (GFA) Bridge of Hope that provides in their time of need.
By the time Nabhi was 8 years old, she had been diagnosed with a brain tumor, a blood disorder and a genetic defect causing a hole in her heart. Nabhi had experienced much physical suffering in her young life. Her parents, Jayanti and Padmai, worried about their daughter and feared they would not be able to afford her medical treatments. But the family put their faith in Jesus.
Gospel for Asia Providing Help Through Hardship & Need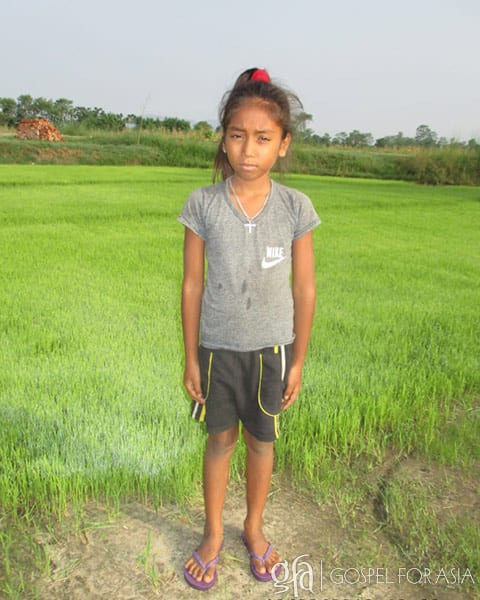 Jayanti and Padmai worked hard to care for their daughter. Through their very meager incomes as a hotel cook and a homemaker, they did their best to support their family, attend to Nabhi's health needs and prioritize her education.
Despite Nabhi's health difficulties, frequent sickness and hospitalizations, her family enrolled her in school, as well as one of our Bridge of Hope centers. In addition to giving Nabhi school lessons, the Bridge of Hope program provided her with medical care, food, clothing and school supplies.
Nabhi's parents were blessed by the love of Christ they experienced through the Bridge of Hope staff and were very grateful. Jayanti did not expect to receive so much help from others when he enrolled his daughter in the program, but he knew to put his trust in Jesus, who always meets their needs.
"Bridge of Hope decreases some of my burdens and fulfills my daughter's needs from time to time," Jayanti said. "If the Bridge of Hope center would not have been there, then I would not have educated my daughter well. Thank you, Bridge of Hope!"
Read how Bridge of Hope provides relief
---
Learn more about the Gospel for Asia Bridge of Hope program and how you can make an incredible difference in the lives of children, bringing hope to their lives and their families, transforming communities.
*Names of people and places may have been changed for privacy and security reasons. Images are Gospel for Asia stock photos used for representation purposes and are not the actual person/location, unless otherwise noted.
---