WILLS POINT, TX – GFA World (Gospel for Asia) founded by K.P. Yohannan, which inspired numerous charities like GFA World Canada, to assist the poor and deprived worldwide, issued this last part of a Special Report on a surprising antidote and solution to world poverty: farm animals.
Cursed No More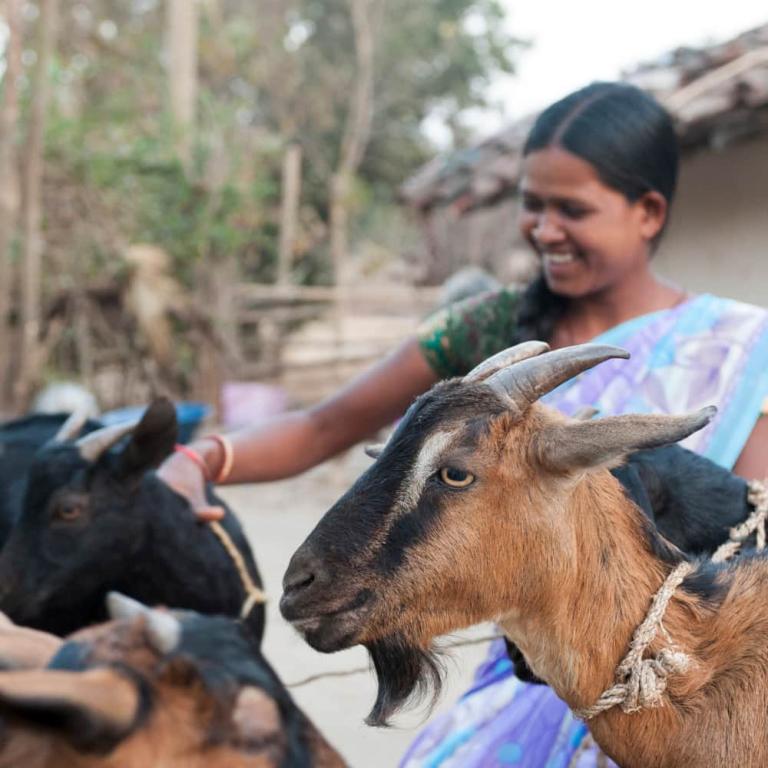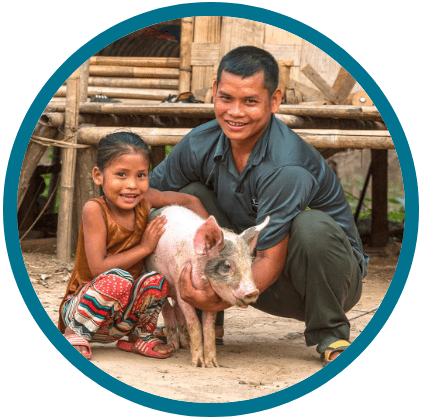 Pigs may not be the most elegant of creatures, but they provide more meat for people around the world than any other animal.[13] There are some obvious reasons for this. Pigs are remarkably prolific, typically breeding twice a year and producing 12 piglets in each litter.[14] The phrase eating like a pig has some basis in reality; pigs can and will eat most anything, from grain-based feed to our leftover food scraps.[15] Having little to do but eat, they grow very large very fast; a pig can be ready for slaughter in two to three months. Or it can be allowed to grow for up to eight months for an even bigger yield. Pigs require little space, are docile and, contrary to myth, are actually quite clean.[16] It's no surprise that pigs fetch a good price in the marketplace and can provide the basis for a very profitable farm business.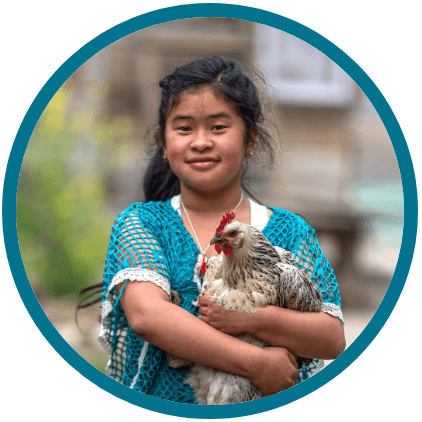 Even a severely impoverished family can usually afford to raise a few chickens. These birds can provide protein-rich eggs, often on a daily basis, as well as a healthy source of meat. They're happy roaming in virtually any yard or field and require little in the way of food and maintenance. Donors who may not be able to fund a larger animal for a family can usually help provide a chicken for just a few dollars. And that chicken can mark the beginning of a turnaround for a family that has nothing.
Besides providing for their families, livestock farmers contribute to the welfare of their communities by helping to alleviate malnutrition, which is still rampant in developing countries. Meat is a primary source of protein as well as vital micronutrients.[17] But in many places, it's hard to find. Instead, villagers rely on scant vegetation and grains, which can't supply all their nutritional needs. By providing animals for food to these deprived communities, relief organizations and their donors can enhance the general health of entire regions.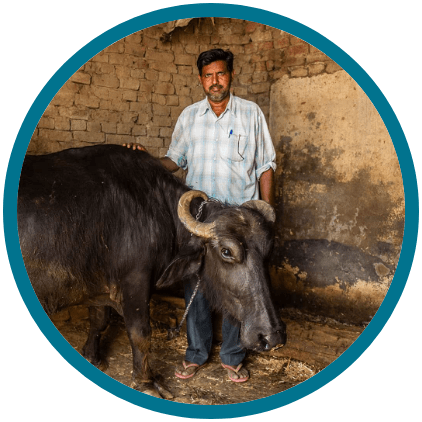 Of course, farm animals are good for more than just food. Their manure helps to fertilize the land, aiding in crop growth. It is also used for fuel in many places. Water buffalo are almost unheard of in the West, where plowing and transportation are handled by machines. But in developing countries, especially Asia, these huge creatures are known as "living tractors."[18] It's not unusual in Asia to see villagers on the roads with water buffalo hauling heavy loads. Using a water buffalo to plow, a farmer in Asia can plant five times as much as would be possible by hand.[19] That advantage can mean the difference between poverty and plenty. Water buffalo are also used for their meat, hides, horns and milk. In some places, cows also perform these same functions.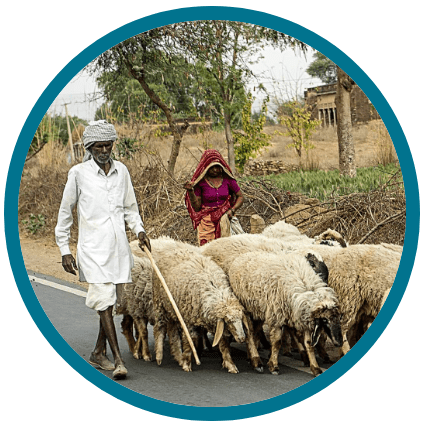 Along with providing mutton, which many people rely on for food, sheep produce valuable wool that can be sold at a good price. Some sheep farmers spin the wool themselves, providing yarn for clothing that they can sell or use for their own families. For farmers with limited space, sheep have many of the same advantages as goats and serve many of the same uses.
Any or all of these animals can make a lifesaving difference for people in the developing world. They are all relatively inexpensive to provide and can bring a family or an entire community into lasting health and prosperity. This is why so many relief agencies now focus on this approach, rather than well-intended but ineffective methods of the past. Most people in the world are accustomed to agriculture. Providing them with living assets they can put to immediate use is a wise, compassionate way to help them succeed.
Love that Makes a Difference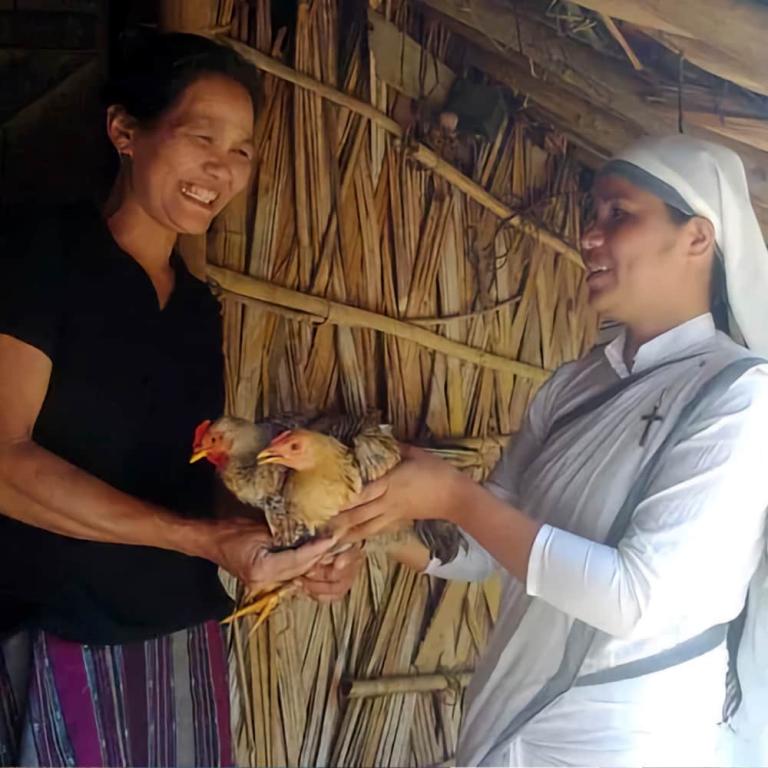 A Cruel Challenge—and an Inspired Solution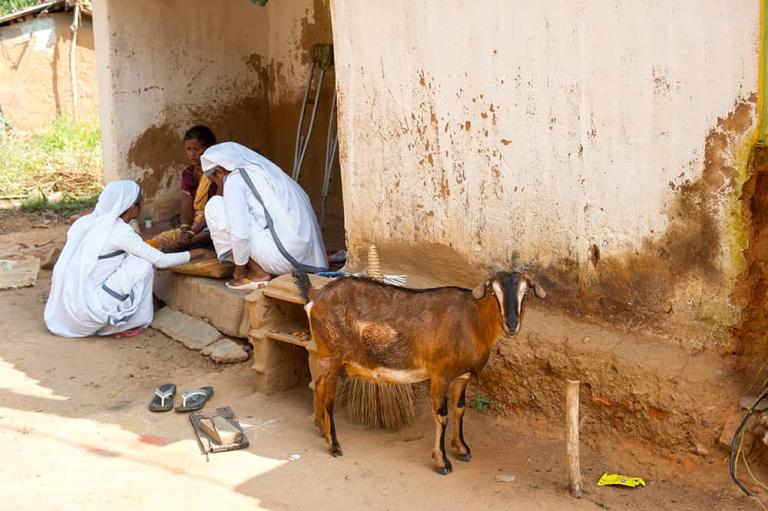 One of the most dramatic illustrations of how raising animals can benefit the disadvantaged comes from a sequestered leprosy community in South Asia. For many leprosy victims in these regions, the stigma associated with this condition often pushes those afflicted with it to the margins of society. Their physical handicaps and separation from society make it difficult for them to earn a living outside of begging. But in one community, the residents have discovered an ingenious way to overcome their challenges: raising goats.
Because leprosy often results in nerve damage, leaving fingers disfigured, leprosy patients can't perform many of the strenuous tasks that would be required for rearing large animals or shear sheep. But they can raise goats, which require little hands-on care—an answer to their dilemma. With their goat herds, they can earn what they need to survive each month—and live with dignity instead of begging in the streets.
These stories reveal the life-changing benefits that can come from raising farm animals. And they show the profound impact compassionate gifts can have on those who are struggling in life.
Even a Small Gift Can Make a Big Impact
Alleviating extreme poverty around the world remains one of the most daunting challenges of our time. But there are effective ways to help poor families overcome impoverishment, like the gifting of income-producing farm animals.
It's easy to change a life by donating a goat, cow, pig or even a chicken to a deserving family in the developing world. There are many organizations that facilitate this, and many opportunities to do so. A gift that entails only a small sacrifice can bring a lifelong change for people struggling to survive. And for those who give, the blessings far outweigh the sacrifices.
---
Give Animals to Help Poor Families in Need »
If you want to help impoverished families with a gift that can provide them life-saving income for many years to come, consider a one-time donation to give farm animals – a surprising antidote to overcoming persistent poverty.
---