WILLS POINT, TX – Gospel for Asia (GFA World) founded by K.P. Yohannan, which inspired numerous charities like Gospel for Asia Canada, to assist the poor and deprived worldwide – Discussing Palila and her family's struggle with poverty, and the sewing machine gifted by GFA World that helped bring new hope to their life.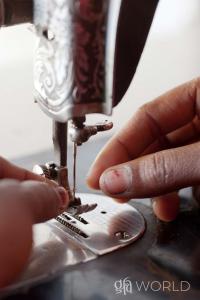 Palila glanced at her three children, and her mind welled with worries that they would not be able to receive a proper education. Though her husband worked hard as a daily laborer in the agricultural fields near their home, his meager income, equating to less than $9 per day, was not enough to fully support the family. Palila knew something had to be done to bring in more money, but what?
An Unexpected Gift
The village where Palila lived with her family was also home to Gospel for Asia (GFA) pastor Taggart, who served a small church there. One December, after hearing about Palila and her family's financial needs, Pastor Taggart submitted Palila's name to receive a gift from a Christmas gift distribution conducted by his church. Palila was given a sewing machine that, for her, was a beautiful symbol of hope and possibility. Overcome with gratitude, she knew that by using this gift she would be able to better provide for her family.
Stitching a Future Together
Palila used her sewing machine to repair items for her fellow villagers as needed and earn an income. After only one year, Palila's new job provided additional income to fully support her family when combined with her husband's! Through her sewing, Palila could pay her children's tuition for a good school and relieve the family's financial stress.
Seeing their most pressing needs provided for through the gift of a sewing machine, Palila and her family obtained new hope as the pieces of their life were stitched together through the grace and mercy of God.
---
See how you can help families like Palila's by giving the gift of a sewing machine.
*Names of people and places may have been changed for privacy and security reasons. Images are Gospel for Asia World stock photos used for representation purposes and are not the actual person/location, unless otherwise noted.
---